Use a Single Select Node to present multiple-choice options to the user. For instance, you can ask the user if their transaction has been approved by their Legal Department using a simple yes or no answer in order to see if you should do business with them. Then, once the user selects an answer choice, the user will be forwarded to the appropriate next Node in your Module.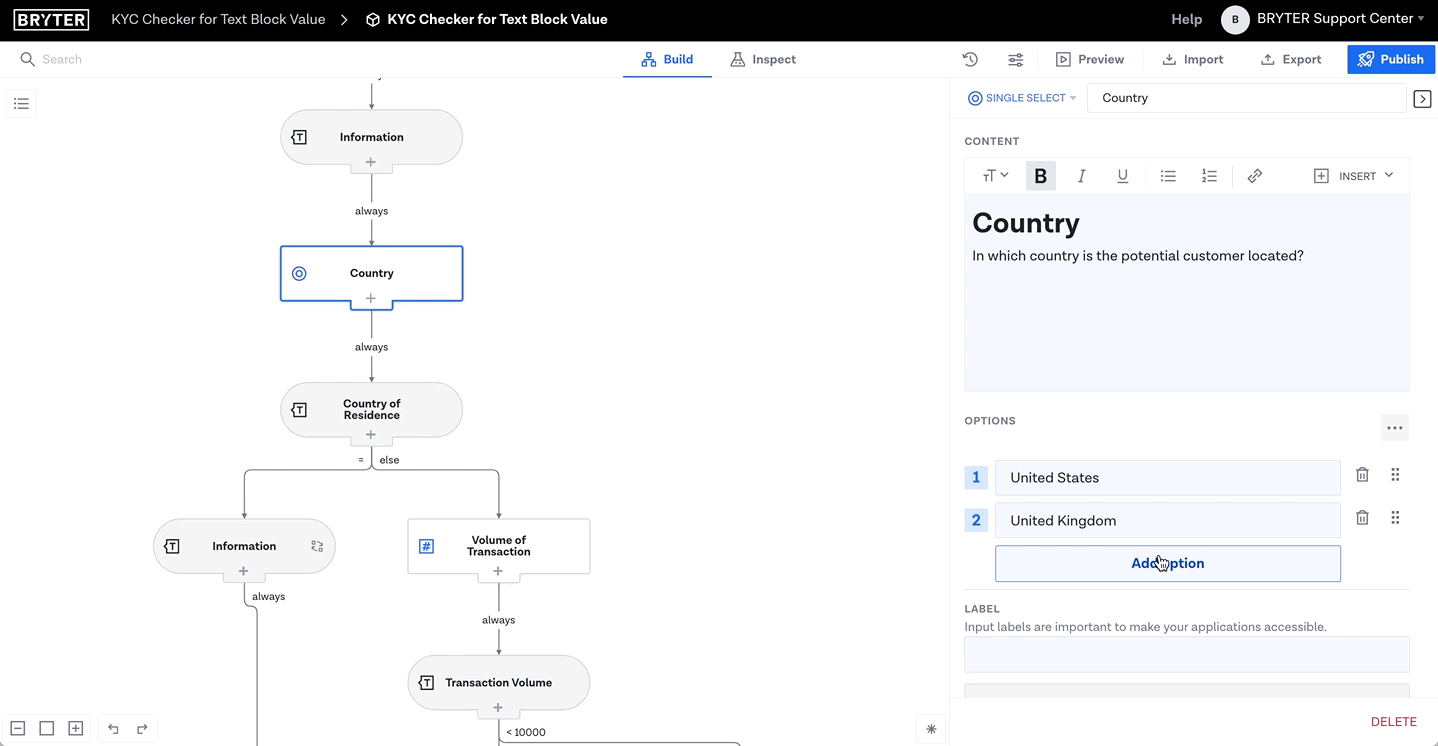 Why is Single Select useful?
The Single Select option allows you to ask yes or no questions or present multiple choices. Because it is so versatile, BRYTER displays the Single Select option as the default response type when you create a new Node in your Module. You can use Single Select, for instance, to generate the correct NDA by picking between two answers, to choose a legal form, or specify a country.
Example Use Cases
Generate the correct NDA by picking between two answer choices
Give users the option to generate either 1) a mutual or 2) a unilateral NDA. The Single Select Node requires users to pick between two options. Based on the user's response, the Module's path will change.
Choose a legal form
If your legal evaluation of a business partner depends on their legal form, you can use Single Select to display all legal forms as answer choices. Based on the user's response, you can continue with different follow-up questions.
Specify a country
Use the Single Select Node to create a country picker. The user will pick their country of residence from the available options, which will prompt specific follow-up questions. This is particularly useful if the user's country of residence has an effect on the evaluation of a legal case.
💡 We suggest that you display the Single Select answer choices as a drop-down menu.
How to use Single Select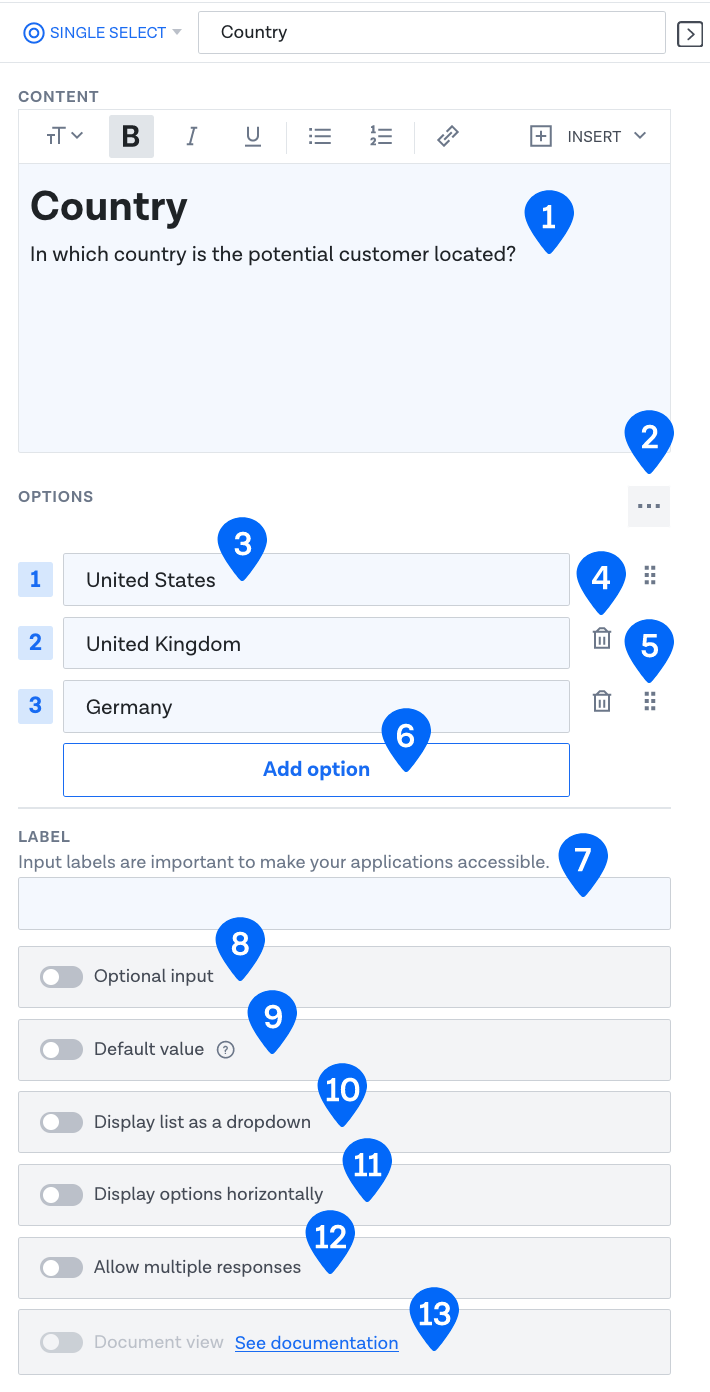 [ 1 ] Content
Use this area to ask a user to select one or more options. You can use the same formatting options available to you when creating other Nodes in your module. As with other Nodes, click on INSERT to add content insert items (e.g., Conditional Blocks, Info Blocks, or Images). You can also reference values from other Nodes, for instance, Text Block Values, in this field.
[ 2 ] Context menu
In the context menu (three dots), you can use options from a data source or assign numeric values to options.
[ 3 ] Text input fields
In the numbered blank fields below the Content area, you can add your answer choices, the options.
[ 4 ] Trash can
Use the trash can icon next to an option to delete the answer.
[ 5 ] Six dots
Use the six dots icon next to an option to change the order in which the answers are displayed by dragging an option up or down.
[ 6 ] Add option
Select Add option to add more answer choices.
[ 7 ] Label
In this field, you can add a label to enable users with accessibility needs, e.g., people with visual impairment, to navigate the wizard confidently with screen readers.
[ 8 ] Optional input
Toggle Optional Input to allow users to skip it.
[ 9 ] Default value
Enable Default Value to pre-fill Input Options with a pre-defined value.
[ 10 ] Display list as a dropdown
Toggle this button to display your response choices in a drop-down menu. This is highly recommended if you have more than five response options.
[ 11 ] Display options horizontally
Toggle this button to display your response choices horizontally rather than vertically.
[ 12 ] Allow multiple responses
Enabling allow multiple responses activates Collections which allows authors to dynamically collect the appropriate number of responses for a certain question.
[ 13 ] Document view
Select Document view to display a PDF document in the published module's end-user interface next to the Wizard.