What are assigned numeric values?
In BRYTER, authors can choose to assign numeric values, i.e., add a number value to options in a Single Select Input Node. This is an alternative way to apply Risk Scoring but can also be used to create logical groups.
| | |
| --- | --- |
| Context menu in Single-select Input Node | Options with assigned values |
| | |
Why would you use assigned numeric values?
Authors can minimize the number of Nodes required to apply risk scoring and simplify their graph and its logic. Using assigned numeric values can also help with simplifying and speeding up testing and reviewing Modules that use scoring.
Example
| | |
| --- | --- |
| Before assigned numeric values | After assigned numeric values |
| | |
How to use numeric values in single select nodes
In a Single Select Node (standalone or sub-input in a Multi-input Node), add your options.
Select context menu icon [...] for options in a Single-Select Node
Select Assign values to options

Add assigned values to all the options

Use assigned values for number calculations, Transitions, or similar further down in your graph

In a transition: The assigned value can be selected in the value picker and will be displayed underneath the Single-Select Input Node.

In a calculate action: The assigned value can be added like any other number value through @-referencing.

Example use cases
Questionnaires with a Likert scale
If your questionnaire includes a so-called Likert scale similar to the one below, you would have a single-select node with 9 options ("Strongly disagree", .... "Neither agree nor disagree", ... "Strongly agree") and would need to add 9 updated value nodes to assign a number value to each option.

With numeric values assigned to such a Node, authors can save time and can build Modules with fewer Nodes.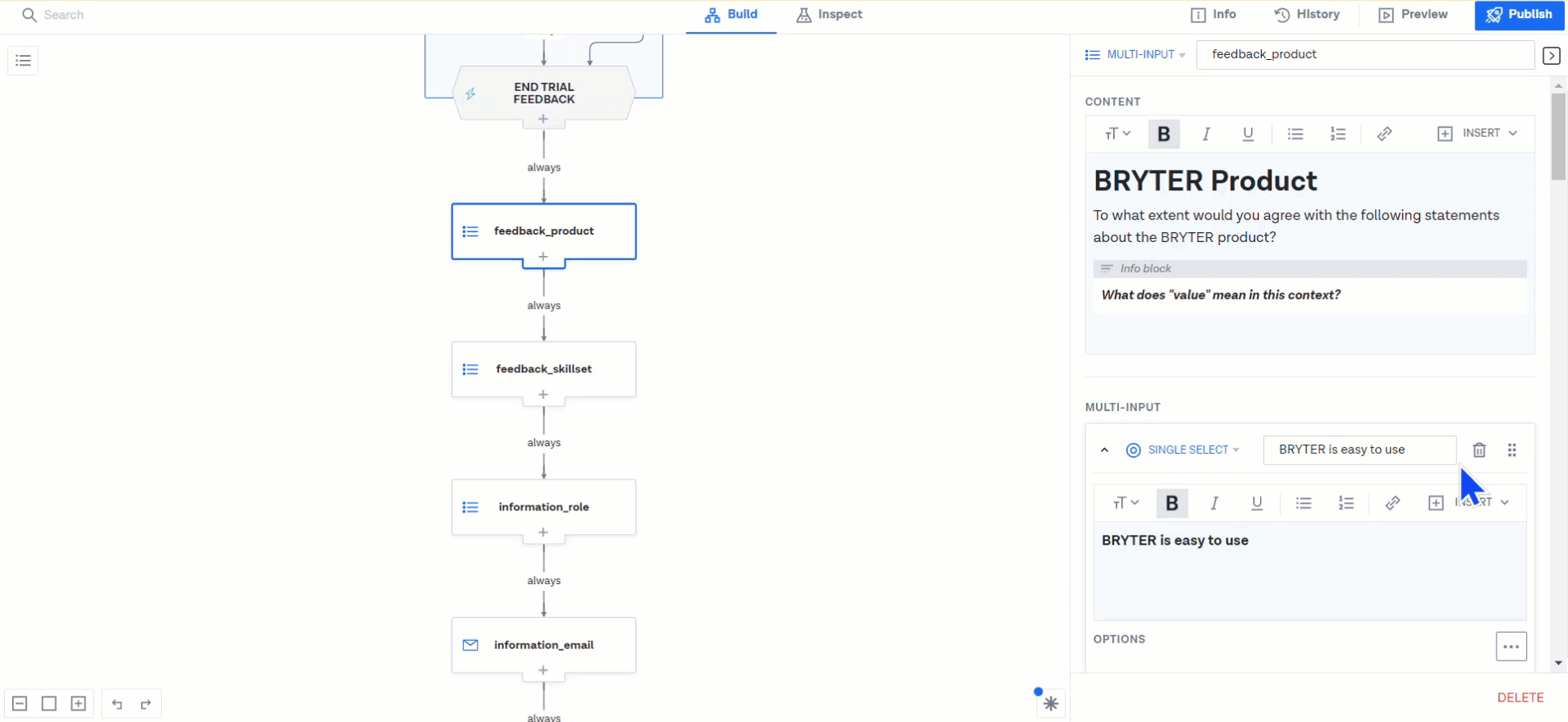 Data breach assessor
Similar to the use case above, authors often apply a scoring mechanism to assess the severity of a reported data breach. Using numeric values in single-select nodes will reduce the number of nodes significantly and make maintaining modules easier.
Create logical groups
Assigned values can come in handy even in use cases without scoring or calculations. In some Modules, you might want to show specific content based on a categorization into groups, e.g., countries grouped into continents (Asia = 1, Europe = 2, Africa = 3, ....).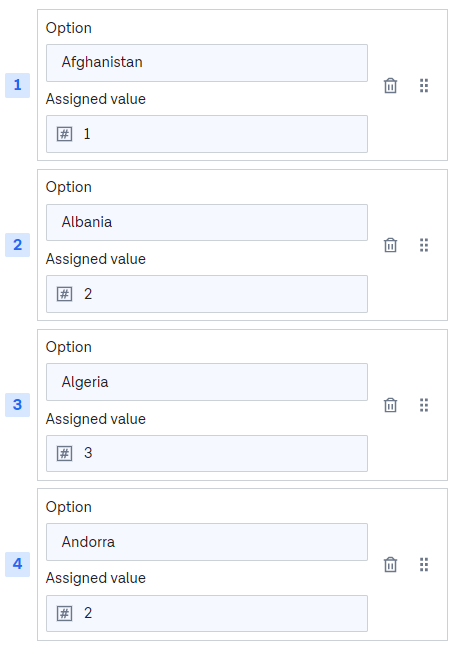 These values can then be used at a later stage to show specific content or add specific Text Block Values (clauses) to a document.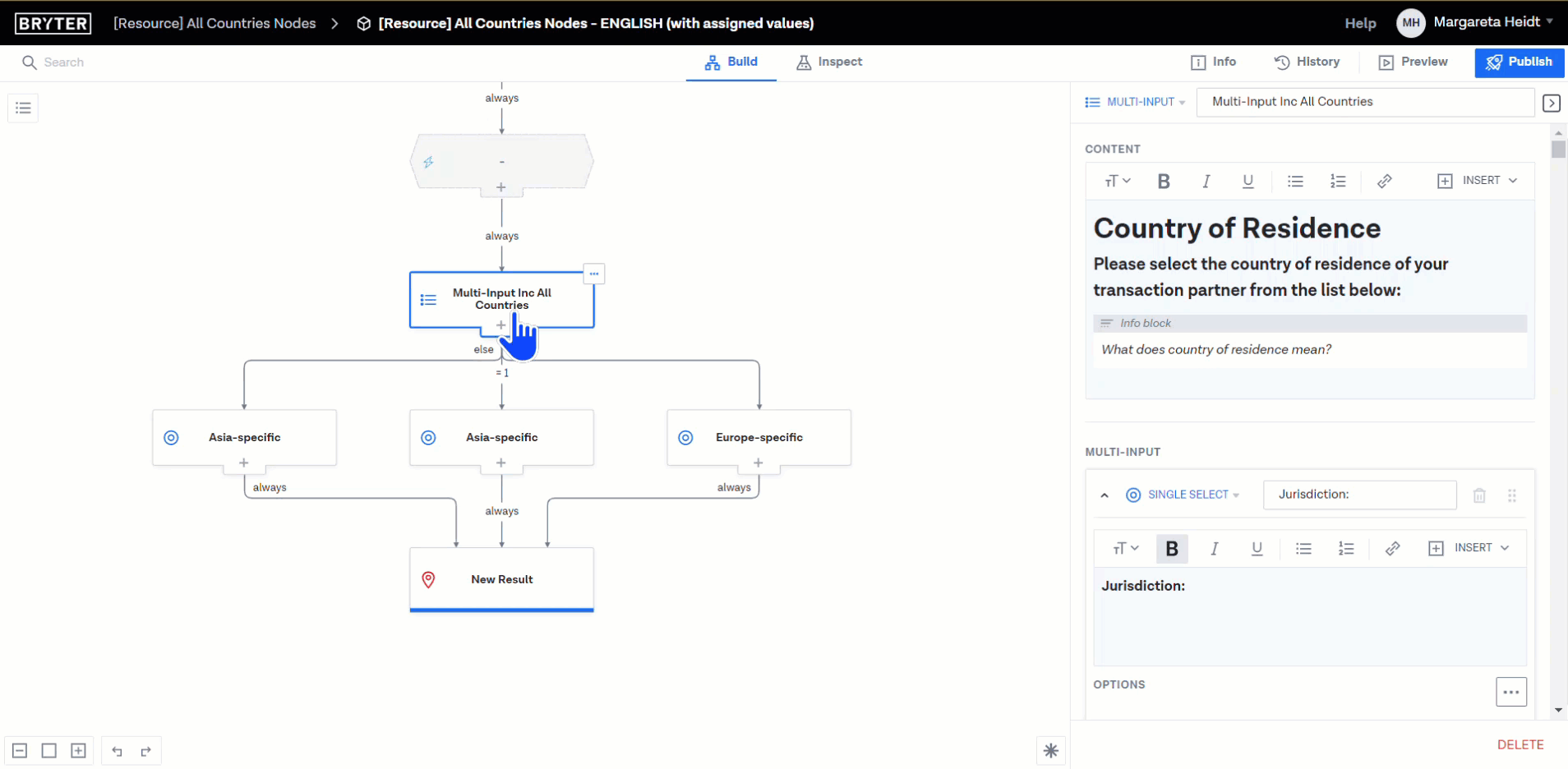 Known limitations
Authors can only use numbers (integers and also floats) as underlying values
Authors cannot set assigned values using referenced values
Assigned values cannot be used on the right side of conditions
Assigned values do not work in combination with data sources
Likert, Fragebogen, Scoring, number values, numeric values, Bepunktung, Group, Categorize