What are date input nodes?
Date input nodes are typically used to obtain a specific date (year, month, and day) from your end-user. The date value provided by the end-user can be used in conjunction with action nodes such as Calculate Dates and Calculate Days between Dates or value nodes such as the Date Value.
How are data inputs used?
Editor
Use the Date answer type in a node to obtain a specific date (year, month, and day) from your user. For instance, your users can submit the date of last business contact for a risk assessment or the date of a deadline that you can use to populate a contract.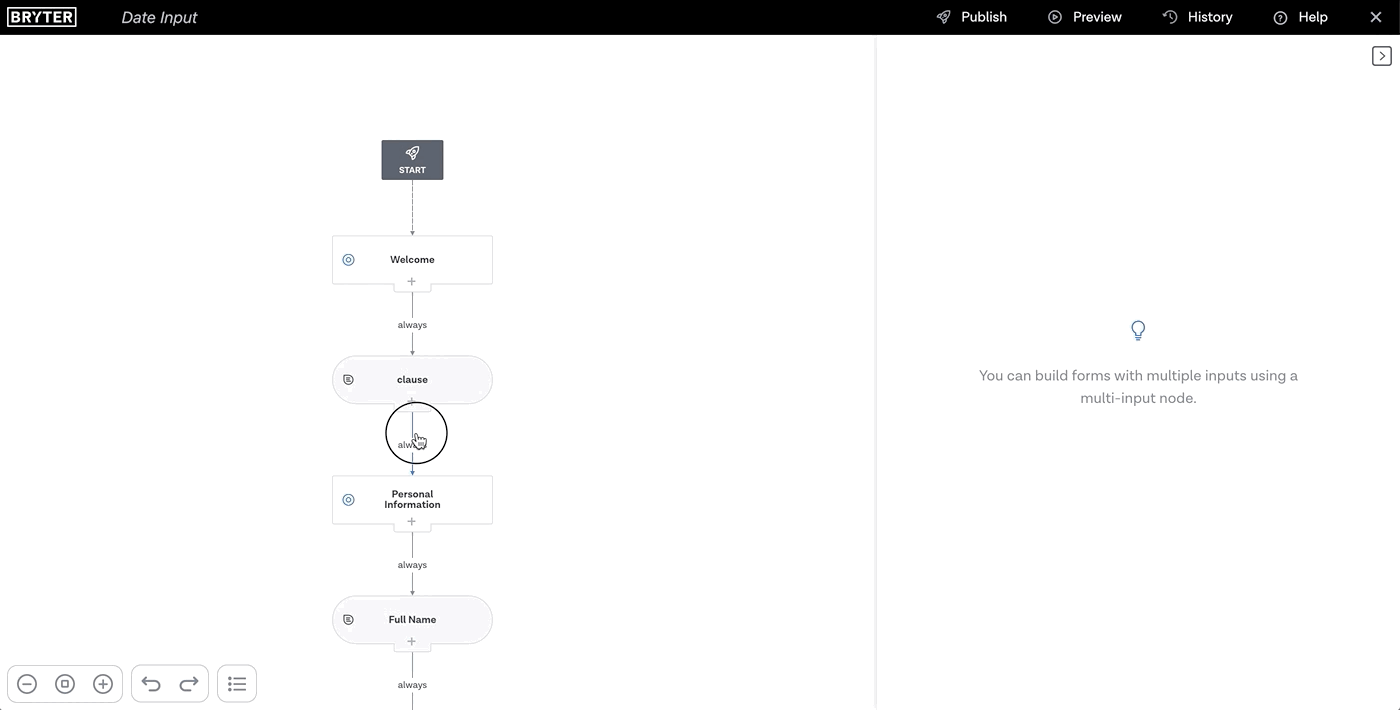 Wizard
Your end-users can decide to use the date picker to select a date or to type in the date in your published modules. Please note that typing dates in works for all default date formats but is not supported for custom date formats.
Example use cases
Calculate last business contact for risk assessments
Perform due diligence and do a risk assessment by asking your user to submit the date of last business contact. Then, reference the user-submitted date to perform a date calculation action and determine if it's been over a year since your last date of contact. If so, perhaps it's risky to do business.
Enter dates to be referenced in a contract
If you're using your module to generate a contract, you can ask your user to submit specific dates, such as their first working date or the date of a deadline. Reference this date to create a document such as an employment contract or business contract.
Parameters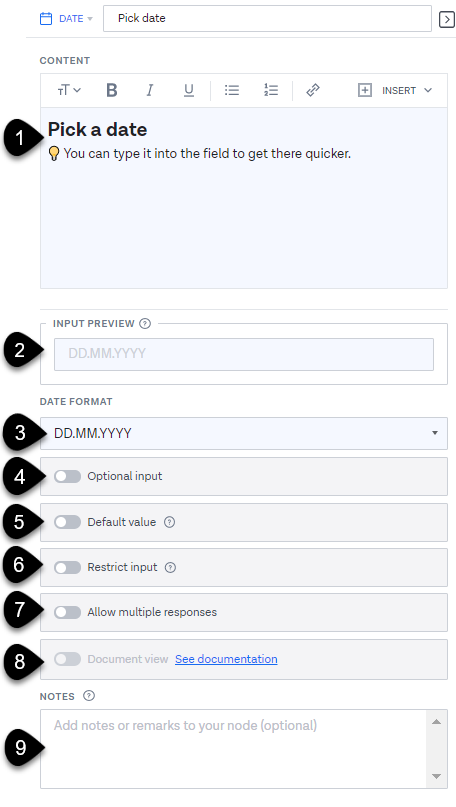 [ 1 ] Content
Use this area to ask your user to submit a specific date. You can use the same formatting options available to you when you create other nodes in your module. As with other nodes, click on INSERT to add content and insert items (conditional blocks, info blocks, or images). You can also reference values from other nodes in this field.
[ 2 ] Input Preview
This area reflects the state and the appearance of the input as presented to your end-user. If you choose to toggle on any of the options below, placeholders, default values, or ranges will be displayed accordingly.
[ 3 ] Date format
Select the Year-Month-Date format you want your users to use.
[ 4 ] Optional input
Toggle this option if the response is not mandatory for the module. The text "(Optional)" will be added above the input field in the published module.
[ 5 ] Default value
Toggle this option if you would like to prefill the input field with a pre-defined value. You can either type in this default value or reference any value defined in the module. Users can either confirm or change this pre-filled value by typing their answer into the field.
[ 6 ] Restrict input
Toggle this option if you want to limit the user's response by specifying the earliest and/or latest date. You can also reference existing date values like the date your user starts the module ("date of user's interaction") or use the date picker to select a custom date.
💡 Consider restricting date inputs by setting a latest date to avoid incorrect data inputs, e.g. 8978-12-31.


[ 7 ] SOON: Allow multiple responses
Toggle "Allow multiple responses" on if the end-user should be able to dynamically enter multiple entries of the same input type. The feature allows to dynamically collect the appropriate number of responses for a certain question. Those can be displayed at later nodes inside the frontend (wizard) or populated into documents or written into a database.
Document view allows you to display a PDF document in the published module's frontend next to the Wizard. You can either select a PDF document from a file upload node, a generated document, or by inserting a file retrieved from an integration.
[ 9 ] Notes
Use notes to keep a better overview of your module or to add descriptions of the node content. Notes can also be used to leave comments for collaborators or to flag any to-dos.
Keywords: Datum; Dateneingabe; Termin; Meetings; Calendar