Enable Document View to display a browsable document preview to your end-user in a published Module.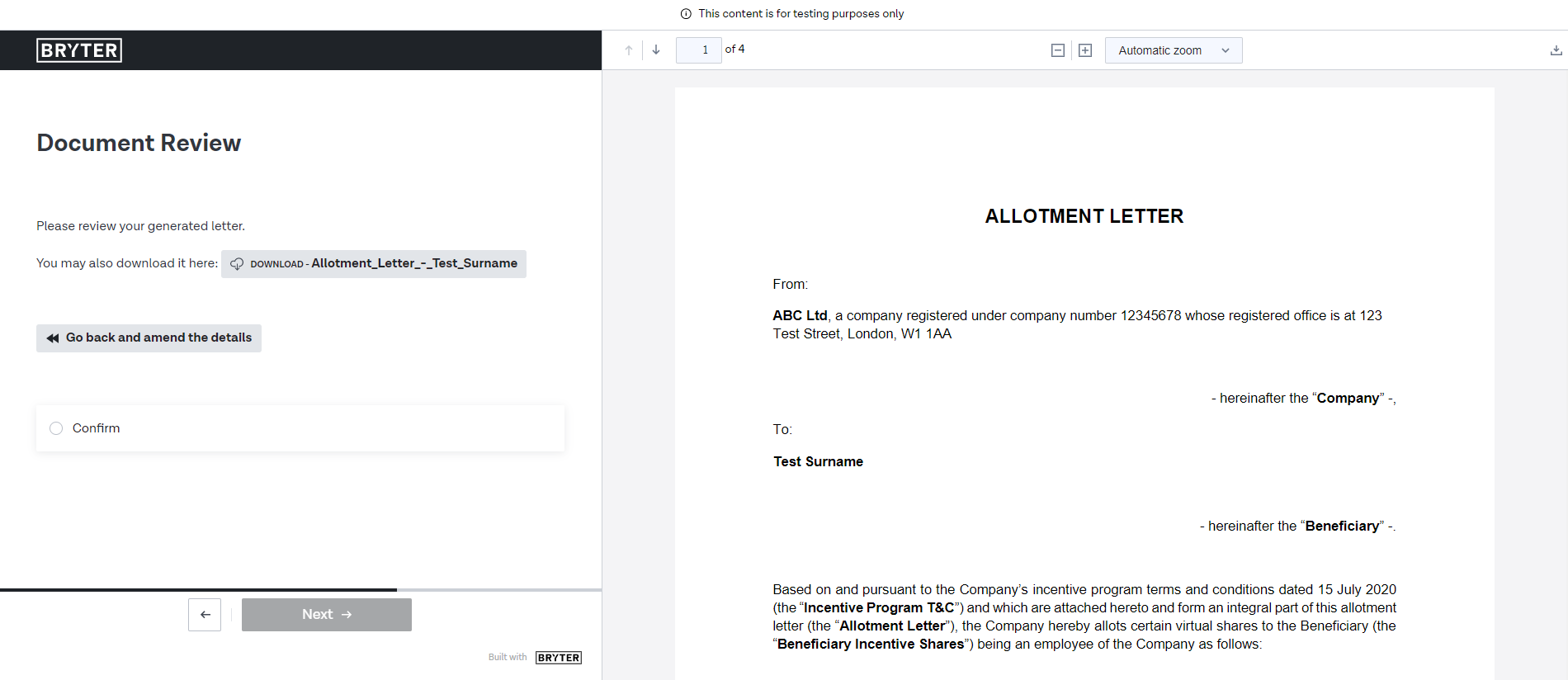 Follow the links below to be directed to the respective section or review them in order by scrolling down to the next heading:
What is document view?
Document View allows you to display a PDF document in the published Module's End-User Interface next to the Wizard. You can either select a PDF document from a File Upload Node, a generated document, or by inserting a file retrieved from an Integration.

Why would you use document view?
Document View can enhance your users' experience tremendously. Here are four reasons why one would use document view:
Allow end-users to copy from the document displayed in the preview and paste into the Wizard
Show final, generated document in preview before allowing to download
Allow the end-user to keep track of the current state of document creation by adding document previews after each Input Node
Use Highlight and jump to a text in Document View to find certain clauses easier by highlighting the first occurrence in the displayed document.
How to use document view
First, activate the Document View setting on any Input or Result Node in the editor.

Once Document View is activated, choose the required PDF. Documents will be displayed when they have either been uploaded with a File Upload Node, can be retrieved through an Integration, or from a Create Document Action Node with the format set to PDF.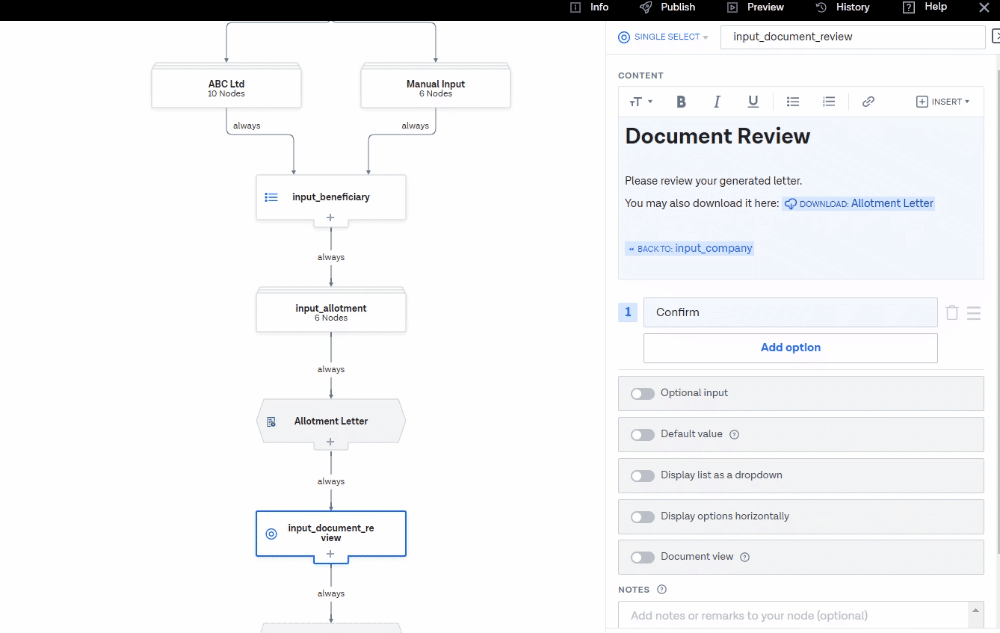 In the published Module, the Wizard will be displayed on the left side of the screen and the document preview will appear on the right side of the screen once the user gets to a Node where Document View was enabled.
Use case examples and best practices
👍 Good use cases for document view
Allotment Letter Generator
Contract Risk Assessment
NDA Generator or Reviewer
💡 Best practices
Add a Link Back to the Input Node when you use Document View to display documents that you are generating. This will allow users to quickly jump back and update or change their previous update. If they continue from there, the changes will be displayed in the newly generated document in the preview.
Restrict the file types to DOCX and PDF in your File Upload Node to avoid display errors in your published Module. Simply change your selection from Documents or Images to Custom and Deselect all options but DOCX and PDF.
FAQs and troubleshooting
What sources can a document come from?

Documents can be made available through a File Upload Node, a Create Document Action, or an uploaded file in Content field of the Node in which you use Document View.
I can't activate Document View. What could cause the issue?

If you are not able to activate Document View, chances are there is no document available. A common mistake is that a DOCX file has been uploaded to the Content field of a Node. This option supports PDF files only.
Why is my document is not shown in the Module?
This issue can occur when you have used a File Upload Node as the source for your document. The File Upload Node allows for formats other than DOCX and PDF. When a user uploads a different file type (e.g., PPTX or PNG), no document will be displayed.
💡Change your selection from Documents or Images to Custom and restrict the uploadable file types to DOCX and PDF.
What is the file upload limit?

20 MB is the maximum file upload limit for the File Upload Node.