Use the File upload answer type in a node to allow your user to submit a file or image. For instance, you can ask your users to submit supporting documents or provide a company logo.
Example use cases
Ask the customer to submit supporting documents
Let's say you need specific documents to make a proper evaluation of your customer. Use the File upload answer type to ask your user to submit a file. In this case pick Documents as the desired input option. Note that you can also reference these files to use them as email attachments.
Obtain your customer's logo
If you want to add a personal touch when you generate a document for your customer, you can use the Image upload option to ask your user to submit their logo. In this case pick Images as the desired input option.
Parameters
[ 1 ] Documents
Click here to allow your users to upload a document. For security reasons only the following file types are accepted: DOC, XLS, PPT, DOCX, PPTX, XLSX, PPTX, ODT, ODS, ODP, PAGES, NUMBERS, KEYNOTE, PDF, TXT, and CSV.
[ 2 ] Images
Click here to allow your users to upload an image. Only the following file types are accepted: JPEG, PNG, WEBP, and GIF.
[ 3 ] Custom
Click here to allow documents as well as images or to build your own upload filter by picking each allowed file type manually.
[ 4 ] Placeholder text
Use this option to specify a placeholder text to give your user guidance on the type of information they need to submit.
[ 5 ]
Allow multiple file uploads
This option allows the user to upload multiple files at once. They will be packed in a single ZIP-file which you can download or send as an email attachment.
[ 6 ] Optional input
Toggle this option if the response is not mandatory for the module.
Custom file types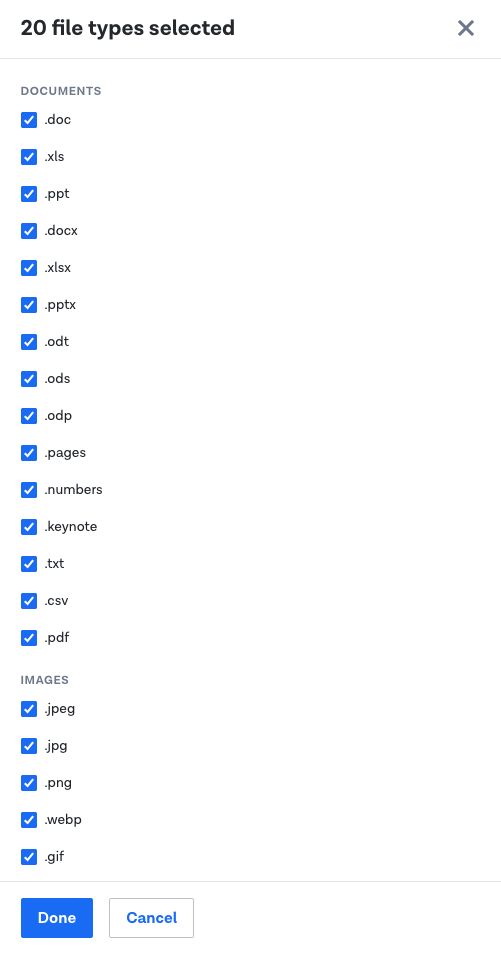 Please note that the file upload size is currently limited to 20 MB.
Here is an explanation of custom file types:
DOC: Legacy Microsoft Word document
XLS: Legacy Microsoft Excel document
PPT: Legacy Microsoft Power Point document
DOCX: Microsoft Word document since 2007
XLSX: Microsoft Excel document since 2007
PPTX: Microsoft Power Point document since 2007
ODT: Open Office text document
ODS: Open Office spreadsheet document
ODP: Open Office presentation document
PAGES: Apple Pages text document
NUMBERS: Apple Numbers spreadsheet document
KEYNOTE: Apple Keynote presentation document
TXT: Simple text file
CSV: Structured text file which can be opened in Microsoft Excel
PDF: Adobe Portable Document Format
JPEG: Standard image file with a different file extension
JPG: Standard image file
PNG: Image file similar to JPG but with additional options like transparent backgrounds
WEBP: Image file which can compress data smaller than JPEG
GIF: Animated image file
❗ In case files are bigger than 7 MB and at a later stage will be referenced in an Email Node, the file will be attached as a Hyperlink (which is active for 7 days and is hosted on a BRYTER unspecific URL). If the hyperlink expires, a collaborator with access to the module stats can still retrieve the file(s) from the Module Stats.