Use the Send email action to send emails with optional attachments to multiple addresses. For instance, you can use the Send email action to collect user data, to send results to a user or to trigger a warning email.
Example use cases
Collect Data
Keep track of users' responses by sending the data to an email address. After collecting a list of user responses through your module, you can reference the data in the Content parameter of the Send email action and send an email to yourself. Or you can also collect user responses in a document, then attach this document to an email and send it to yourself using the Send email action.
Send the result to the user
Increase user confidence in your module by emailing them a record of their interaction and relevant additional information. We suggest that you include a detailed explanation concerning the result of the module.
Trigger a warning
Set up your module to automatically send an email to a dedicated person based on the information your users enter. For instance, you can trigger the email if a user indicates that they're interested in an investment approval but you've determined that the investment objective might be risky.
Procedure
Follow the steps below to add a Send email node to your module.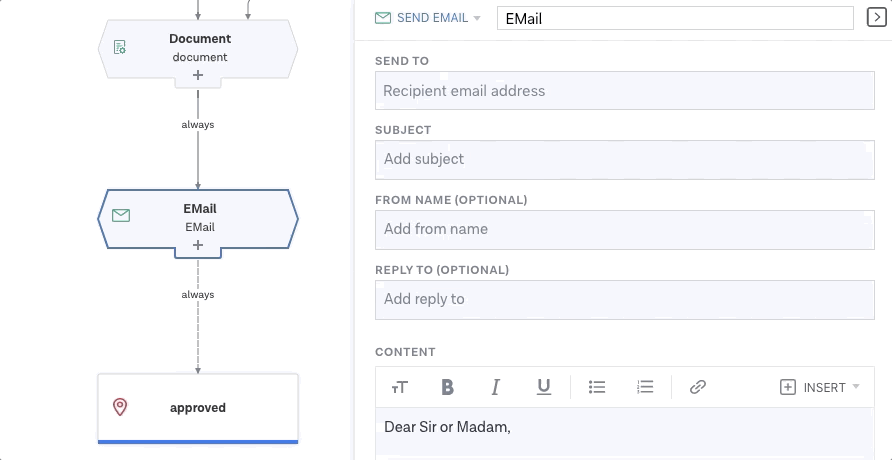 Click the plus icon " + " on a node.
Select New Action.
In the attribute editor that opens, choose Send email.
Double-click Send email and give your email a name. This name will not be displayed to your users or the email recipient.
You should now see several empty parameters on the attribute editor, as shown below. Learn about filling out this form in the Parameters section below.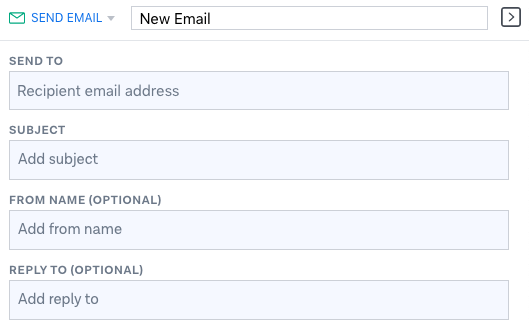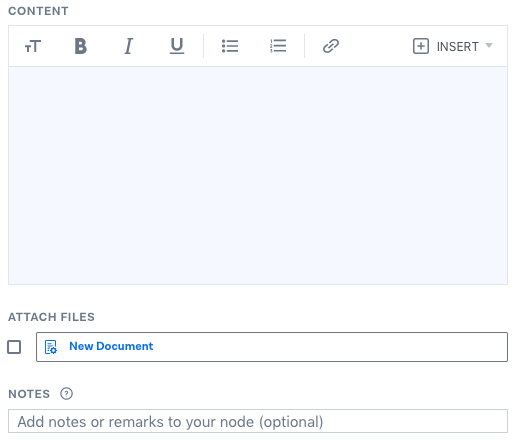 Parameters
From name
This is an optional field. Enter the name of the sender into this field directly or reference data stored in other nodes.
Reply to
This is an optional field. Enter a reply-to email into this field directly or reference an email collected in another node.
Send to
Enter the email of your recipient(s) into this field directly or reference an email collected in another node.
Subject
Enter a subject line. This will be displayed to the email recipient as the subject line of the email. You can enter the text into this field directly or reference data stored in other nodes.
Content
Enter text into the CONTENT field, as shown below, to populate the body of your email.
You can use the same formatting options available to you when you create other nodes in your module. As with other nodes, click on INSERT to add content insert items (conditional blocks, info blocks or images). You can also reference values from other nodes in this field, as shown below.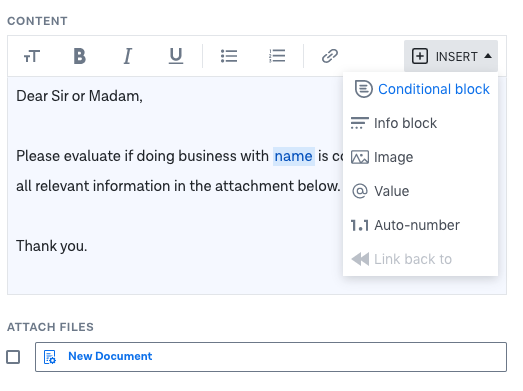 Attach files
A list of available documents in your module should be listed here. Tick the box in front of a document to attach it to the email. Please note that the total attachment size should not exceed 20 MB. Large individual files (bigger than 7 MB) uploaded by the author will be attached as a Hyperlink (which is active for 7 days and is hosted on a BRYTER unspecific URL).
Limitations
Attachment size is limited to 7MB for documents that are directly attached and 20 MB for attachments that are made available as hyperlink leading to a BRYTER unspecific link.
The "Send to" field is limited to 12 email addresses.
When including tables in Send Email Action nodes, some formatting elements (e.g. borders) might not be displayed.