BRYTER uses roles to control access to functionality within the platform.
There are different mechanisms for assigning roles to user accounts:
where single sign-on is not enabled, admins can assign roles to user accounts in the Admin Console.
where single sign-on is enabled, admins can choose to not map roles. They can then manage the roles assigned to user accounts in the Admin Console, independent the identity provider.
The three roles available are in a hierarchy of permissions from Admin through Author to the User role which has the least permissions. All new users are assigned the role User until they are assigned a different role.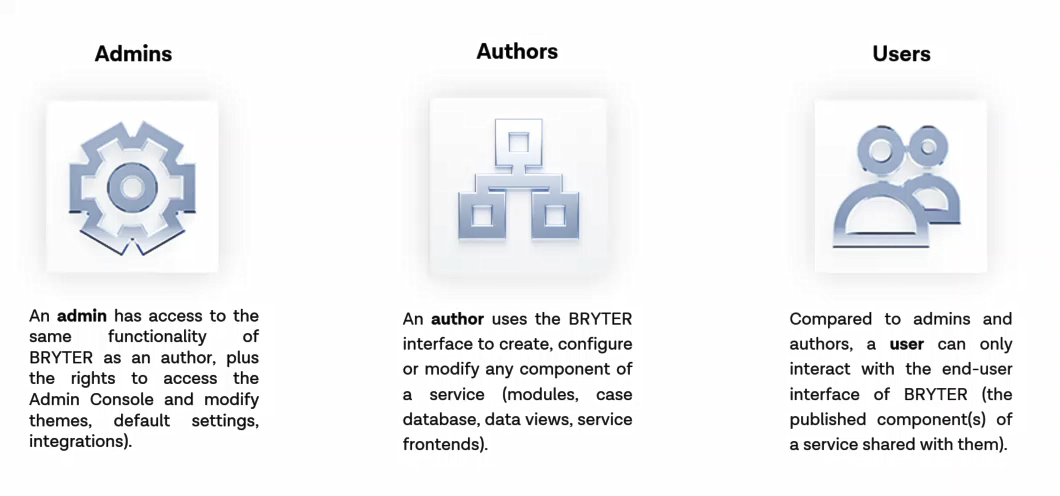 Users
User accounts assigned the role User can access the solutions built by authors and admins including published applications, modules, and data views.
A more granular access control mechanism is administered by authors who can restrict access to published modules.
Authors
The number of author accounts available to an organization is defined in their license agreement.
Authors create all the components of a solution. They can:
access the workspace including all the applications they have created
access any applications for which they are collaborators
create applications
create and delete modules
add collaborators to modules
publish modules
restrict access to modules via publishing settings
view module statistics
Admins
User accounts assigned the role Admin have access to the Admin Console where they can control BRYTER settings for the entire organization.
Admins can:
access all applications and modules and can add themselves as a collaborator
view statistics for the entire organization, including modules and user sessions
access all modules and add themselves as collaborator
add new user accounts
Keywords: profile; role