BRYTER covers all areas of full-stack no-code development, from prototyping your first idea to the final delivery of a fully embedded and integrated Application. Maintenance and changes within the Application can be achieved within BRYTER without any IT resources. It enables you to build Applications without coding skills.
---
Workspace basics
The Workspace is the first interface an author sees when logging into BRYTER. It is the part of BRYTER where authors create and manage Applications and build and edit Modules in the no-code Editor.
💡 Experienced authors can configure Data Views, Case Databases, and Portals in this area.
---
No-code editor and Wizard basics
The web-based, no-code editor enables authors to create a tree-structured Module with Actions, Inputs, Values, and Results. The editor supports standard programming functions like variables and collections and adds specialized functionality like a powerful date calculator and excel-like functions. The heart of the editor is its easy UX, which enables non-tech people to easily model complex knowledge. For advanced users, a debugger and quick check is provided.
The dynamic Wizard enables authors to view their Module as it would appear on an end-user's device. Using Preview, authors can switch between the editor and the wizard to track their progress in real-time and test for functionality.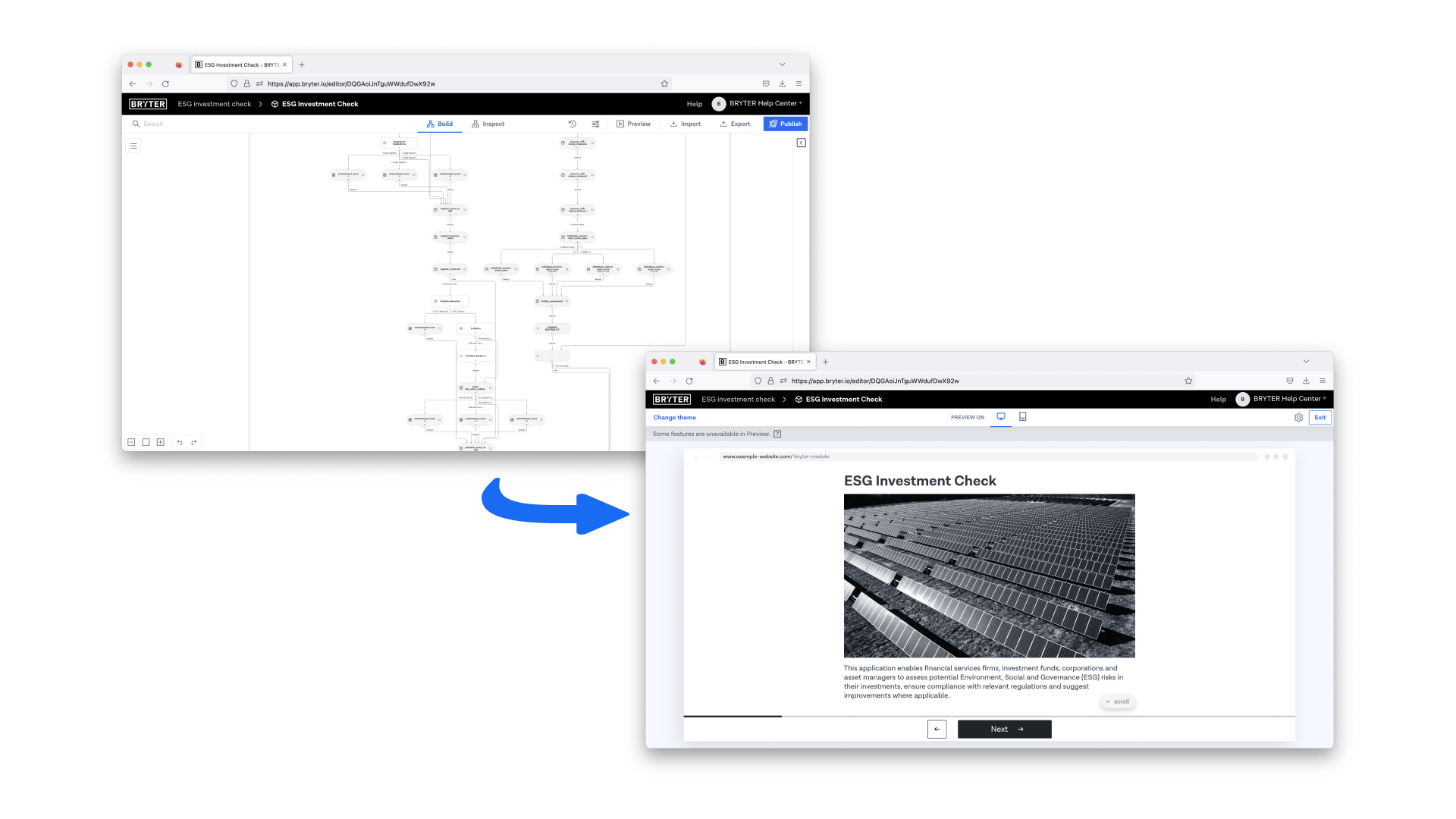 A complex Module in the no-code editor (left view) and in the wizard (right view)
Nodes are the basic building blocks of a Module. Each Node represents a step in a process – or a page in the end-user interface – and is linked to other steps through the use of Transitions.
To get to a specific result in a Module, an author will use:
💡 There are two different categories of Nodes: those visible to end-users (Input Node and Result Node) and those that are only visible to authors (Action Node and Value Node).
Connect Nodes with Transitions
Transitions are paths between Nodes. They determine how an end-user passes through the Module depending on the Conditions set. A Node can be connected to multiple Transitions. Depending on the Condition, the matching Transition will be chosen by the Module as the end-user makes their way through.
---
Collaborate, publish and share
A key component in automating an Application is to make it accessible to others. BRYTER offers an extensive publication suite that enables authors to publish an Application in various formats: As a stand-alone website, as a responsive mobile web app, MS Teams and SharePoint apps, or embeddable in an intranet. The look and feel of everything authors build can be easily customized with the Theme Editor. Also included are different publishing Environments: one to test, and one to run ready Applications.
💡 Building Modules in an Application is usually a joint effort: Add colleagues as collaborators to your Application and share the workload. Note that editing a Module at the same time is currently not supported.

---
Resources
Now that you are familiar with the basics of BRYTER, here are some helpful articles to expand your knowledge of the platform.
Helpful resources
---
The BRYTER Knowledge Hub 💡
The first step is always the hardest… The following resources will equip you to tackle any of your use cases: