What is an Action Node?
Actions are Nodes that perform operations not directly visible to the end-user. Actions can calculate values, generate complex text elements or connect to databases. Using Actions is similar to programming an application but without writing any code. They allow you to automate processes and connect multiple applications or data sources. You don't need to be a developer to take the full advantage of Actions and they are also very useful even in simple use cases.
Compared to other Nodes, Actions are building blocks that are geared toward generating or processing datapoints. Unlike Input Nodes that are outward-facing, Action Nodes, like Value Nodes, are inward-facing, i.e., perform operations that are not immediately visible to the end-user unless they are referenced (Document Action, Calculation Result) or send to an email value (send email Action). Action Nodes are distinct from Value Nodes in that they "do" something, i.e., initialize or progress a process, whereas Value Nodes are used to "set" or "create" values for later use.
In the editor, when you select New Action, authors can now use three tabs to browse the Action Nodes list: Actions, Case Databases, and Integrations. This makes it easier for authors to find the right Action Node, especially when there are many Case Databases or Integrations.
What can I do with actions?
Perform mathematical operations and calculations (as you would in Microsoft Excel) such as calculating fees or currency conversions
Use date calculations to determine deadlines for processes.
Create documents based on templates that are filled with content from input or value nodes.
Use the email action to inform other people within an organization or to build approval processes.
Read data from Application case databases or write newly gathered values into a case database in the same Application.
Connect integrations to different data sources and systems. You can edit data that comes from a database or use existing Microsoft Excel spreadsheets in BRYTER. It is also possible to use external applications like Kira to extract information out of documents and process them in BRYTER.
Using a combination of Integrations, Actions, and Conditional Logic, you can build self-service tools which are completely 'contactless' – fully automating a process. 
Action node categories
There are three categories and several types of actions, each geared towards generating or processing data.
Learn more about the categories of Action Nodes:
Actions – standard actions that are available by default such as sending an email or creating a document
Case databases – case databases configured in the same Application that can be used to read values out of stored records or add new records by writing values into a case database
Integrations – default integrations such as the URL Parameter or added configurations to pull or push data into or out of third-party tools such as document extraction software or document management systems (and many more)
Action Node types
In every category, authors can find a selection of different available types of Actions, Case Databases, or Integrations. Find some of the common or default types below:
Actions
Case Databases

Integrations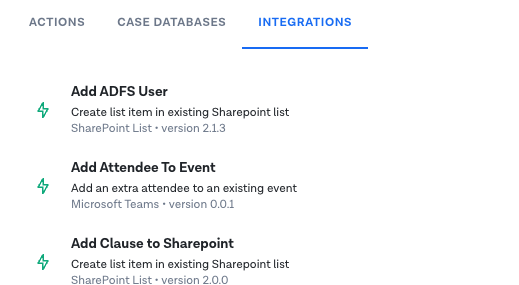 How to add Action Nodes
Actions can be placed between Nodes on transitions connecting them or below existing Nodes by clicking on the +. There are also cases where a Module can be built only using Integrations, Actions, and Conditional Logic to batch process data from and to databases.