What is Search and Replace in Text Value?
With a Search and Replace Action node, allows authors to search and replace in a text value. Authors can ensure a same-case match or replace only the first instance, and reference values are supported for replacing with formatted content. With this node, authors can for example build use cases that allow replacing content in extracted data before re-inserting in a new document.

Why would you use this node?
This Action node allows you to replace text values, for example in extracted data pulled from an integrated contract analysis tool, before re-inserting into a new document generated in a Create Document.
How to use Search and Replace in Text Value
Add or insert the Search and Replace Action node in your graph from the actions drop down.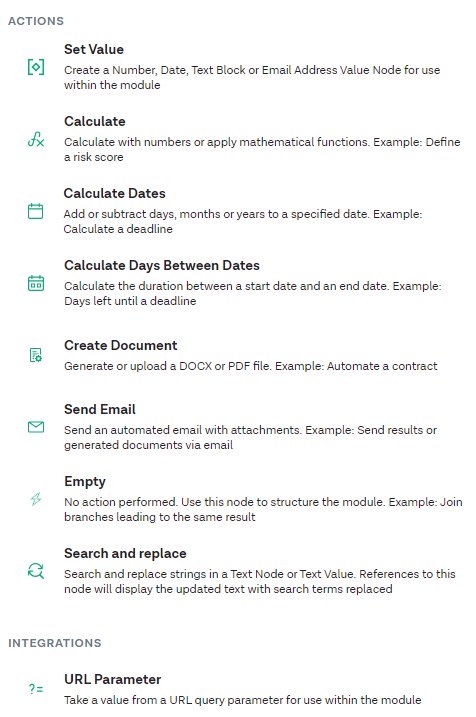 After adding the node, you can select the node with the extracted clause or the text value that needs to be searched and requires replacement.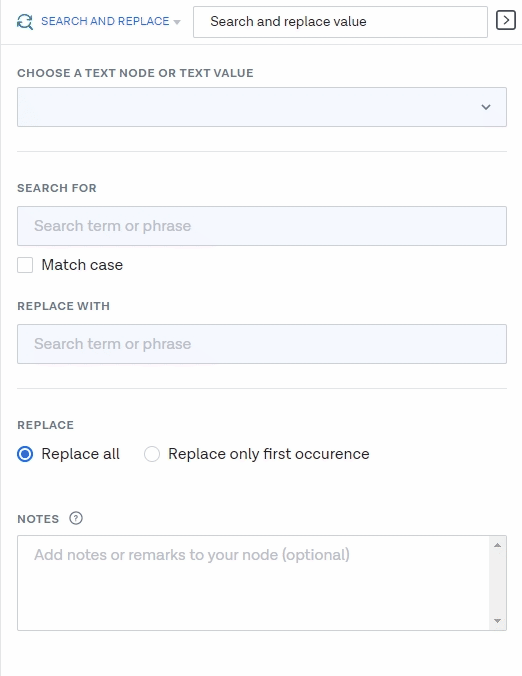 First provide the text input node or text value in Choose a Text Node or Text Value. This is the source of the text where search and replace will be applied. Search for is a field to enter the term to evaluate. This can be an explicit value typed into the field or a reference to a node.
❗ Note: references will be evaluated without formatting. Searching for "hello" and "hello" are equivalent
Match Case will restrict matching to the case of the search term. In the string "Hello, dave" "Hello" would match; "hello" would not.
Replace with is a field to enter the term with which to replace. This can be an explicit value or a reference.
Use case examples and best practices
In a document referred to as "agreement", authors can extract all text with an integrated document analysis tool. With the Search and Replace in Text Value node, authors can replace "agreement" with "amendment", and output as a new document with any additional changes.
Limitations
Removing and replacing formatting is treated like the Microsoft Word find and replace feature. A key limitation exists regarding structured content. For instance, a bulleted list contains several items, but it does not actually contain the bullet (as it can be changed to a numbered list, etc). When using a reference to a bulleted list as a search term, the bullets will be ignored the bullets. This means that a full bulleted list as a search reference cannot be matched with this feature.