The module overview provides module authors with an additional way of viewing the content of their module. In the module overview the content of all nodes and the conditions applied on transitions are displayed in a tabular list.
This display is accessible through the list icon in the lower lefthand corner of your graph.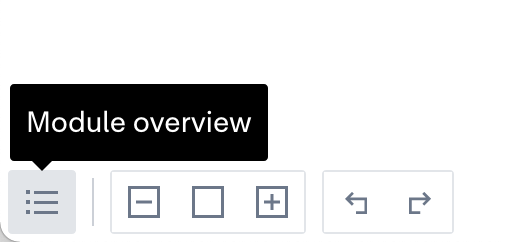 In the module overview, authors can see the content of all nodes and conditions of all transitions. This allows authors to view node contents, all options or fields and notes in their module. Individual nodes can be expanded or collapsed or the entire list can be expanded by untoggling 'Compact view' to scan the content of the module.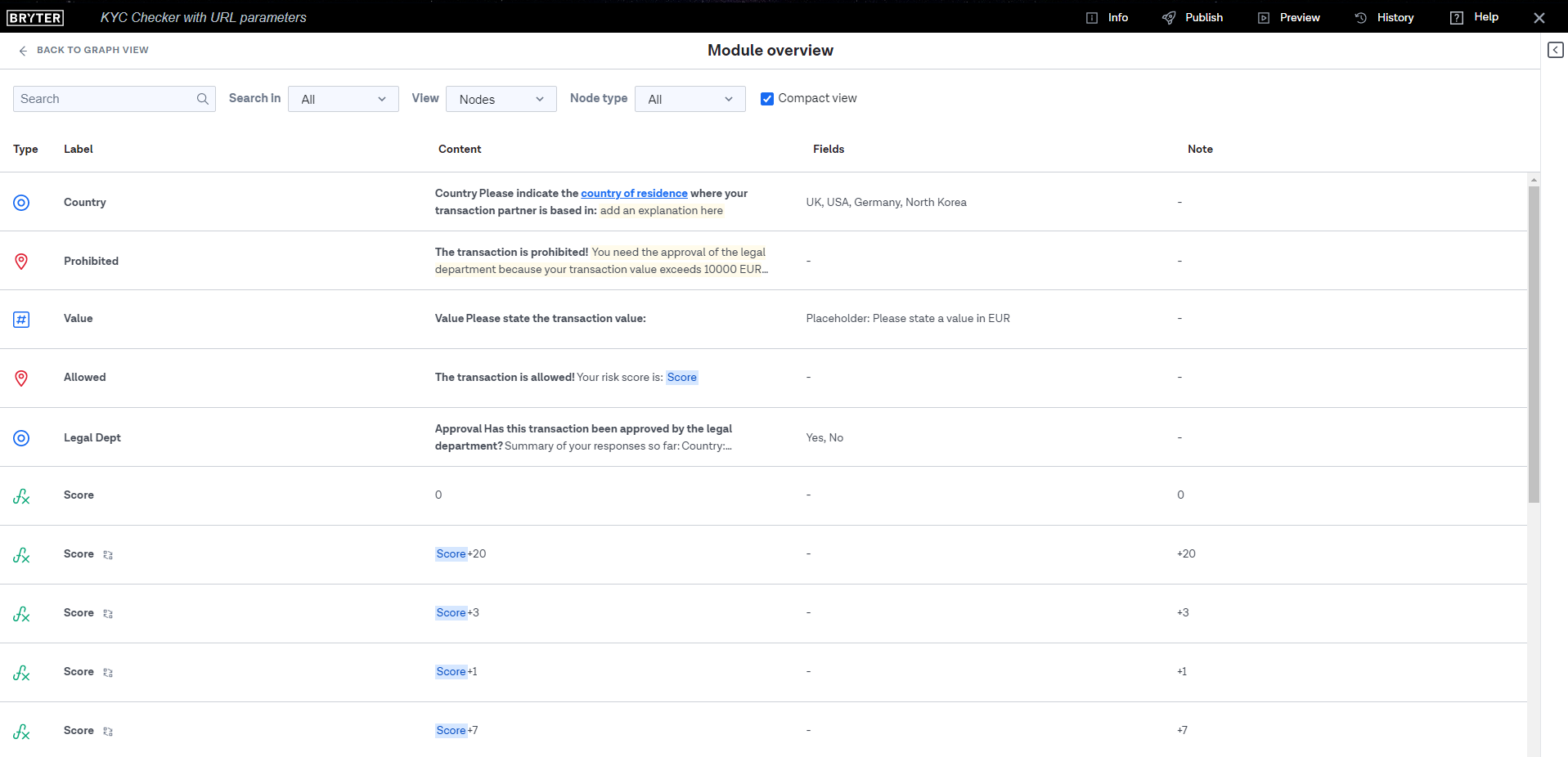 Search module overview
Realtime search across all nodes or only selected node types can be used to easily analyze or review certain nodes or to find and navigate to specific parts of your module.

[ 1 ] Search
The search field will search all titles, content, fields, and notes of the current list of nodes. Searching for a search term will filter the list to only nodes that match. The area (Content, Fields, etc.) where the term is found will be highlighted in green.

[ 2 ] Search in
'Search in' allows you to limit the areas a search term matches to only Label, Content, Fields or Notes when searching Nodes.

[ 3 ] View
'View' lets you choose between Nodes and Transitions. Choosing 'Transitions' will display all conditions and transition labels. "Always" conditions are omitted by default and can be activated by untoggling 'Hide "always" rules'. Please note that Transitions are only searchable by label.

[ 4 ] Node type
'Node type' allows you to choose to filter to only a specific node type. You can decide to select one specific node type, such as 'Create document action node' or select one specific category of node types, such as input nodes, action nodes, value nodes, result nodes, or integration nodes.

[ 5 ] Compact view
'Compact view' is selected by default. Nodes and their respective content are truncated to display only two lines. Unchecking the box will expand all rows and display all content of the nodes.
The truncated view of individual rows can also be expanded via a carat that appears once you hover over the row. When expanded, the arrow direction of the carat is reversed. Clicking on it again will collapse the content.

[ 6 ] Back to graph view
Clicking on 'Back to graph view' will close the module overview and opens up the graph view of your module.
Use module overview
The module overview allows authors to find and review their content and underlying logic without the need to navigate the graph or previewing the module. It additionally allows authors to display the content for non-authors in a view that does not require knowledge of the graph at large.
Authors can quickly find 'unknown variables' or broken @-referenced values by scrolling through the list. Additionally, content changes or adding options to nodes can be easily done by searching and filtering the module. Selecting a row will select the node. If the sidebar is expanded, the node can be edited without returning to the Graph view.