What is a Node?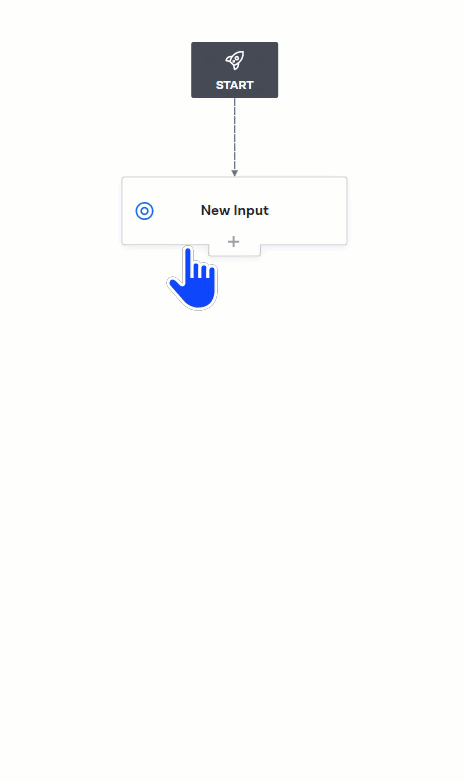 Nodes are the basic building blocks of a module. Each Node stands for a step in a process - or a page in the end-user interface, and is linked to other steps through the use of Transitions. Further, Transitions represent the path from one Node to another. Authors can define and shape the logic of a module by adding Conditions to Transitions.
To get to a specific result in a module, an end-user will:
Respond to the displayed questions (they are represented as Input Nodes)
Enter data into Input Nodes (It can then be stored by Value Nodes or processed by Action Nodes)
Move from one Node to another using Transitions
Arrive at Result Nodes that can contain, e.g., an explanation of a business decision, a document for download, etc.
How can Nodes be used?
Create a Node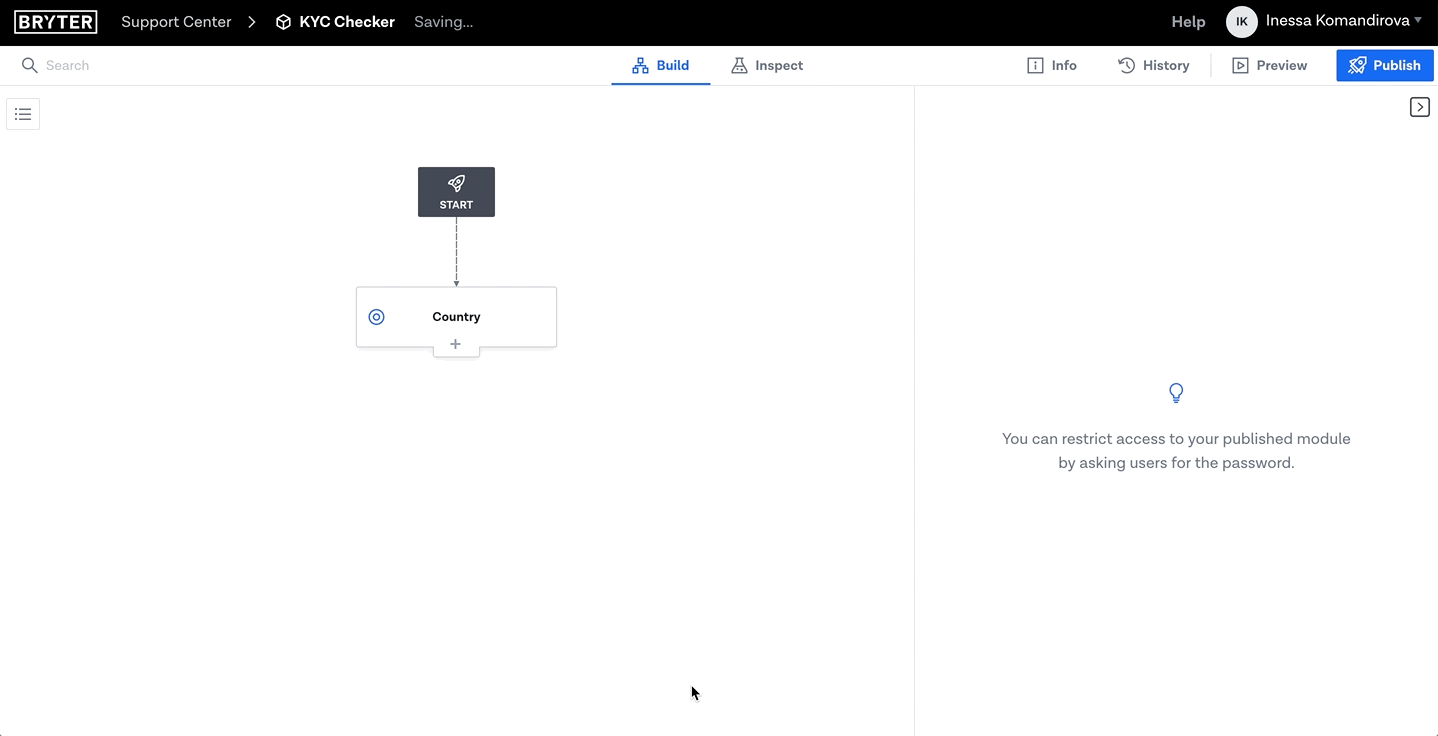 Open the BRYTER editor. When you create a new module, the editor automatically displays the first Node to help you get started. To add more Nodes, follow the steps below.
Click the plus icon " + " on a node.
Select New Node.
In the attribute editor which opens, Single select is set as the default question type.
Double-click New Node and give your node a name.
You should now see several empty parameters on the attribute editor. At this point, you can decide if you want to stick with the default single select node type or choose a different type of Node to obtain a different response type from your user. Learn more about populating the fields in the attribute editor from the article about each Node type.
Note that you can also select a Node and use the usual keyboard shortcuts to copy (CTRL-C (on Windows)/ CMD-V (on Mac)) and paste (CTRL-V (on Windows)/ CMD-V (on Mac)) Nodes.
Add Transitions between Nodes
When you create a new Node, a Transition is automatically placed to connect your new Node to your previous Node. Click on the dashed line between two Nodes to customize the Transition based on conditional logic, as shown below.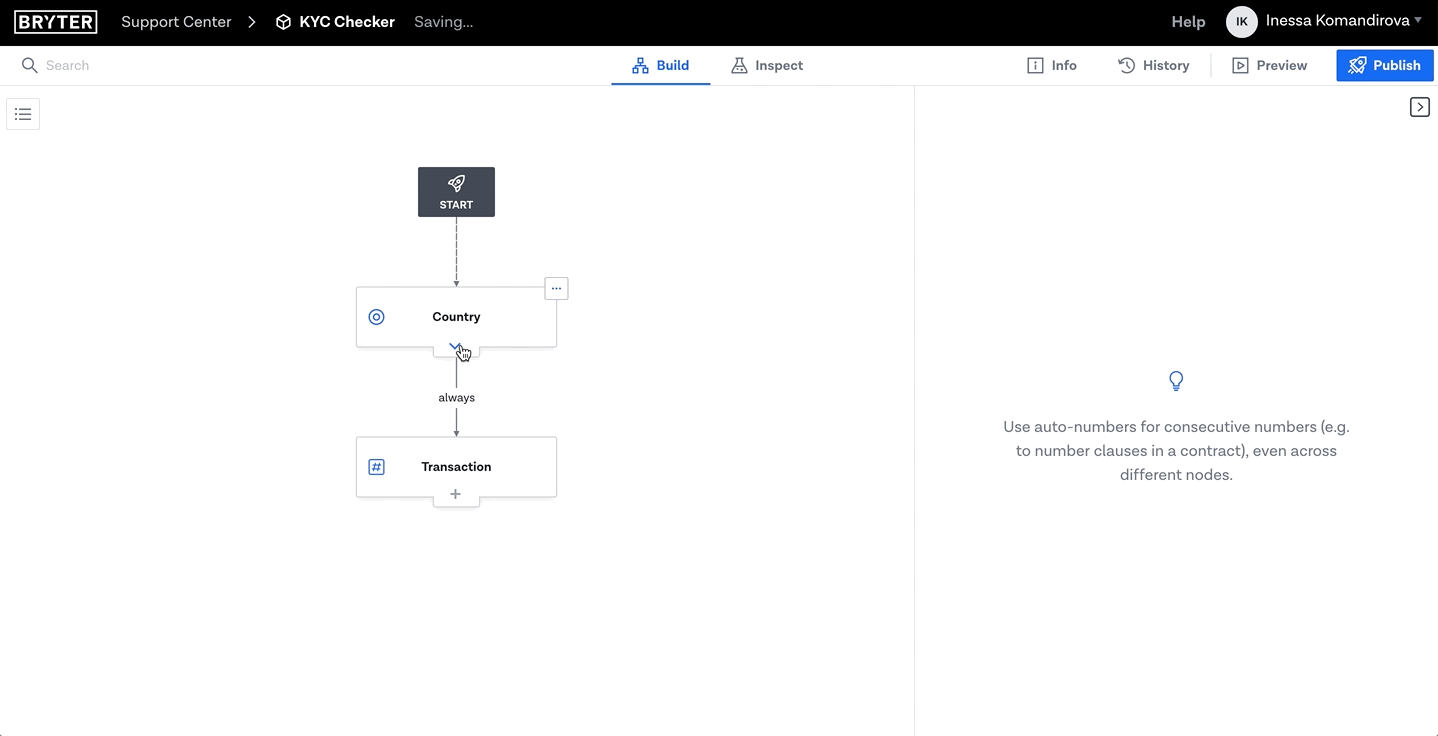 Add value nodes to your workflow
Whereas input nodes allow you to gather data points or "values" from your end-users, as an author you may wish to set values yourself that are used in several locations in your module (e.g. an email address in several email action nodes or handovers or in documents).
Trigger
Finish off your module with Result nodes
Remember to create a Result node at the end of your module. A Result node represents an endpoint. Keep in mind that you can have multiple Result nodes. In our example, we have placed two Result Nodes ('Approved' and 'Prohibited') to account for two outcomes of our KYC Checker.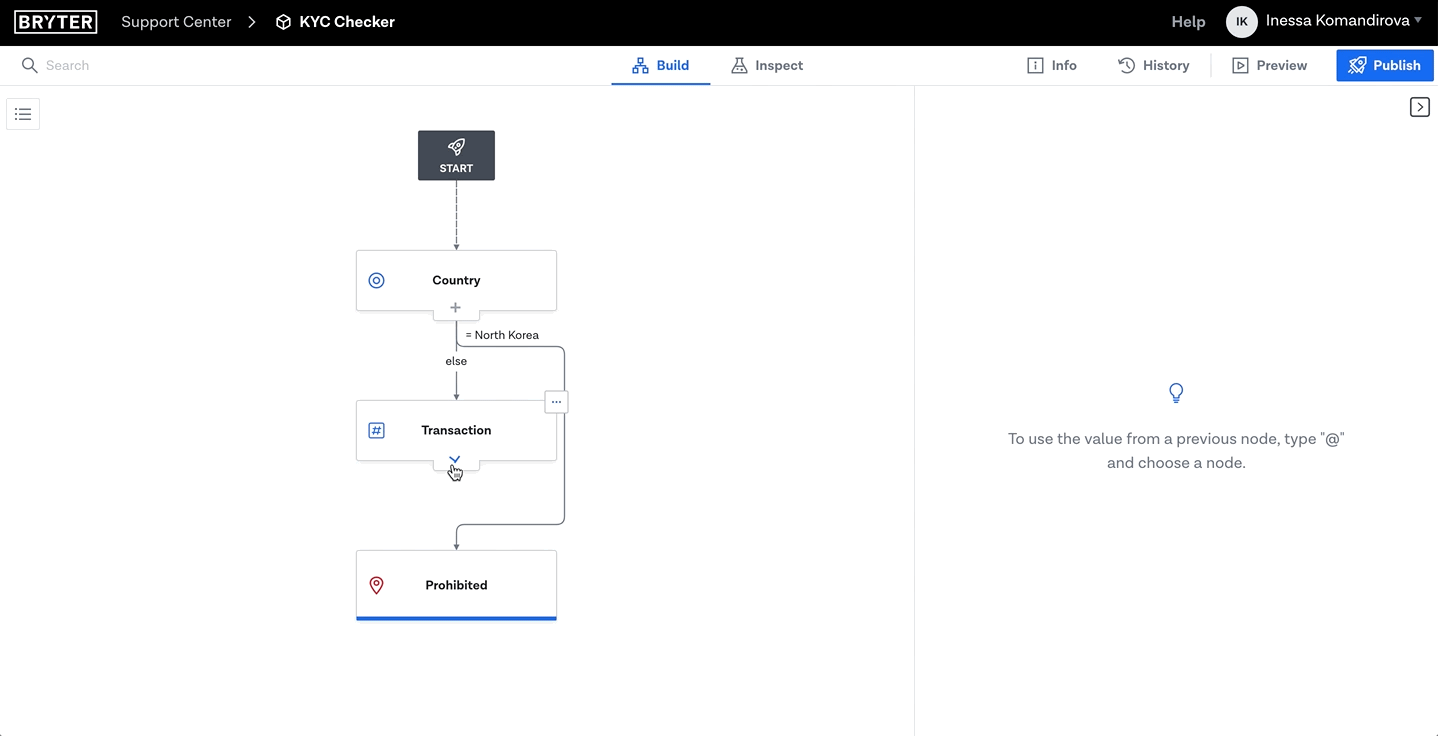 What if I add a Node by mistake?
Undo and redo
You can use the arrow icons in the bottom left of the canvas to undo and redo your actions.
Delete a Node or a Transition
Click into a Node or a Transition. Then, delete it by clicking on 'DELETE' in the bottom right corner of the attribute editor. Note that you can also simply hit the delete button on your keyboard.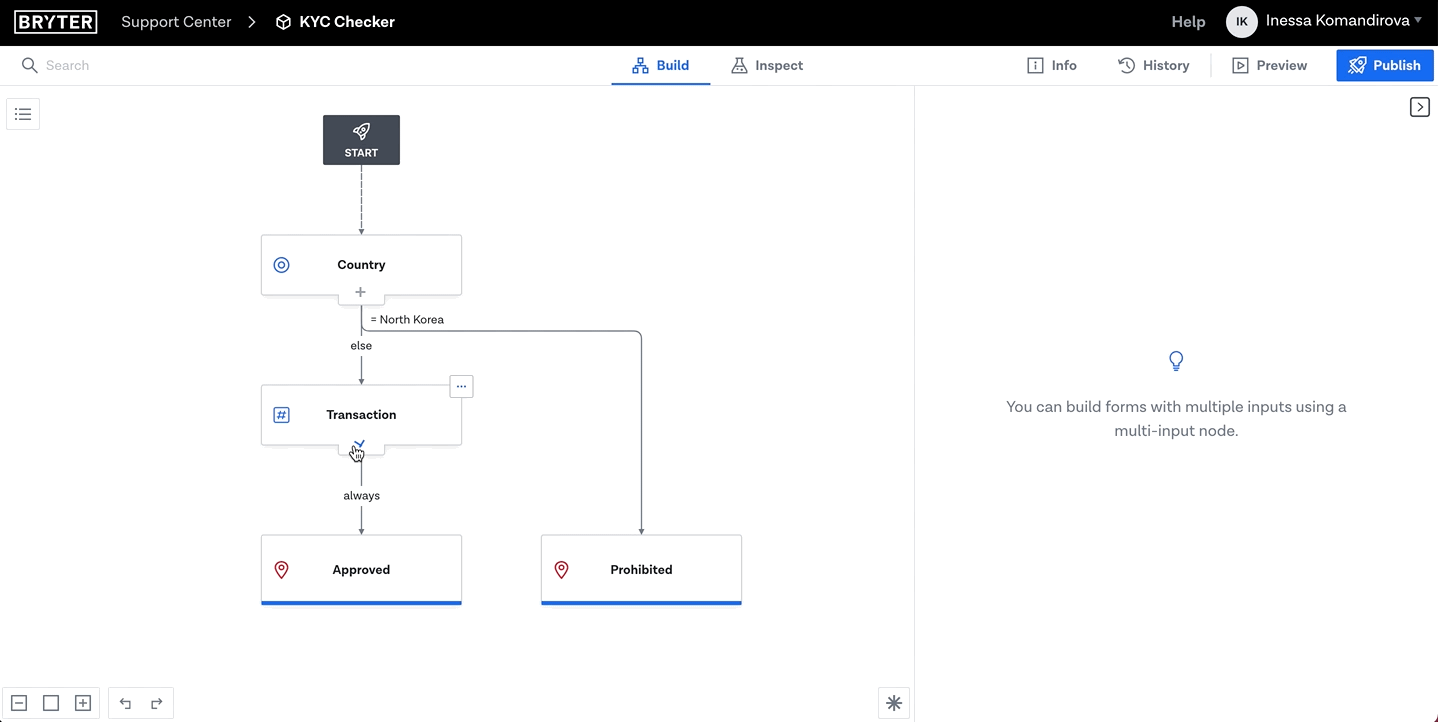 Input Nodes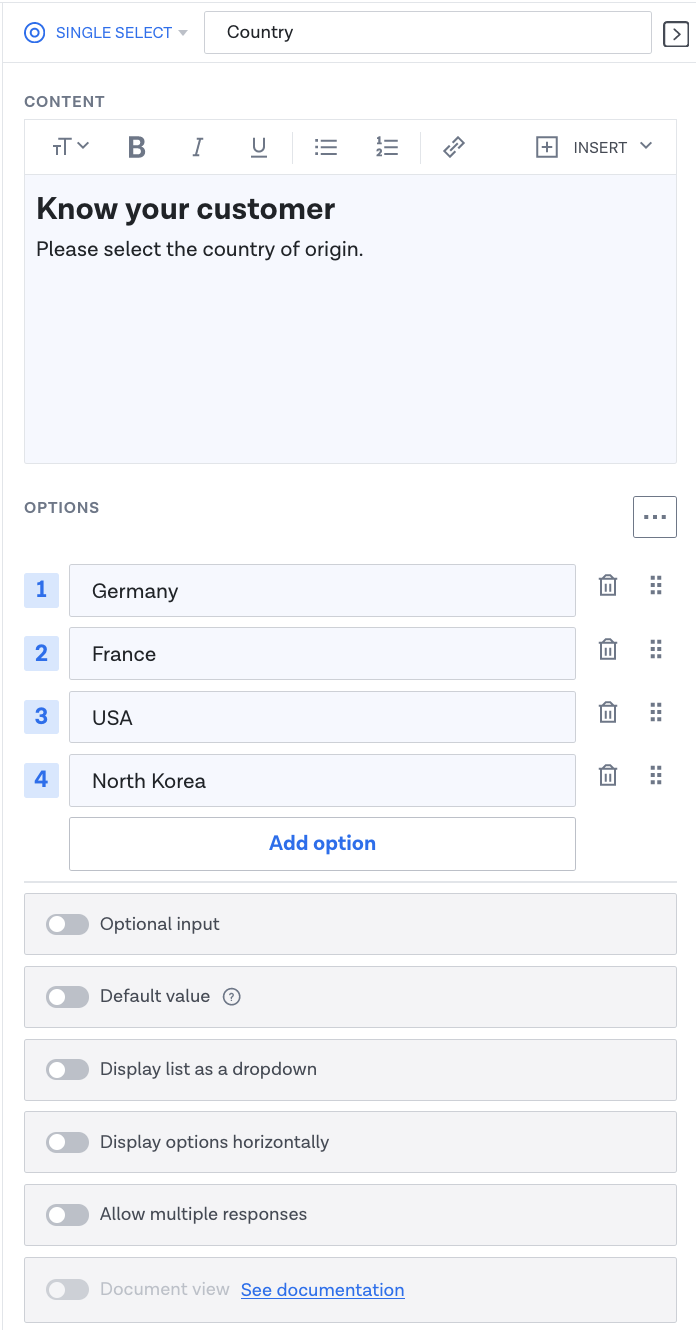 An Input is a type of Node that lets you pose questions and get responses from your user, as shown above. Each Node represents a 'slide' that users see when they interact with your module, as shown below.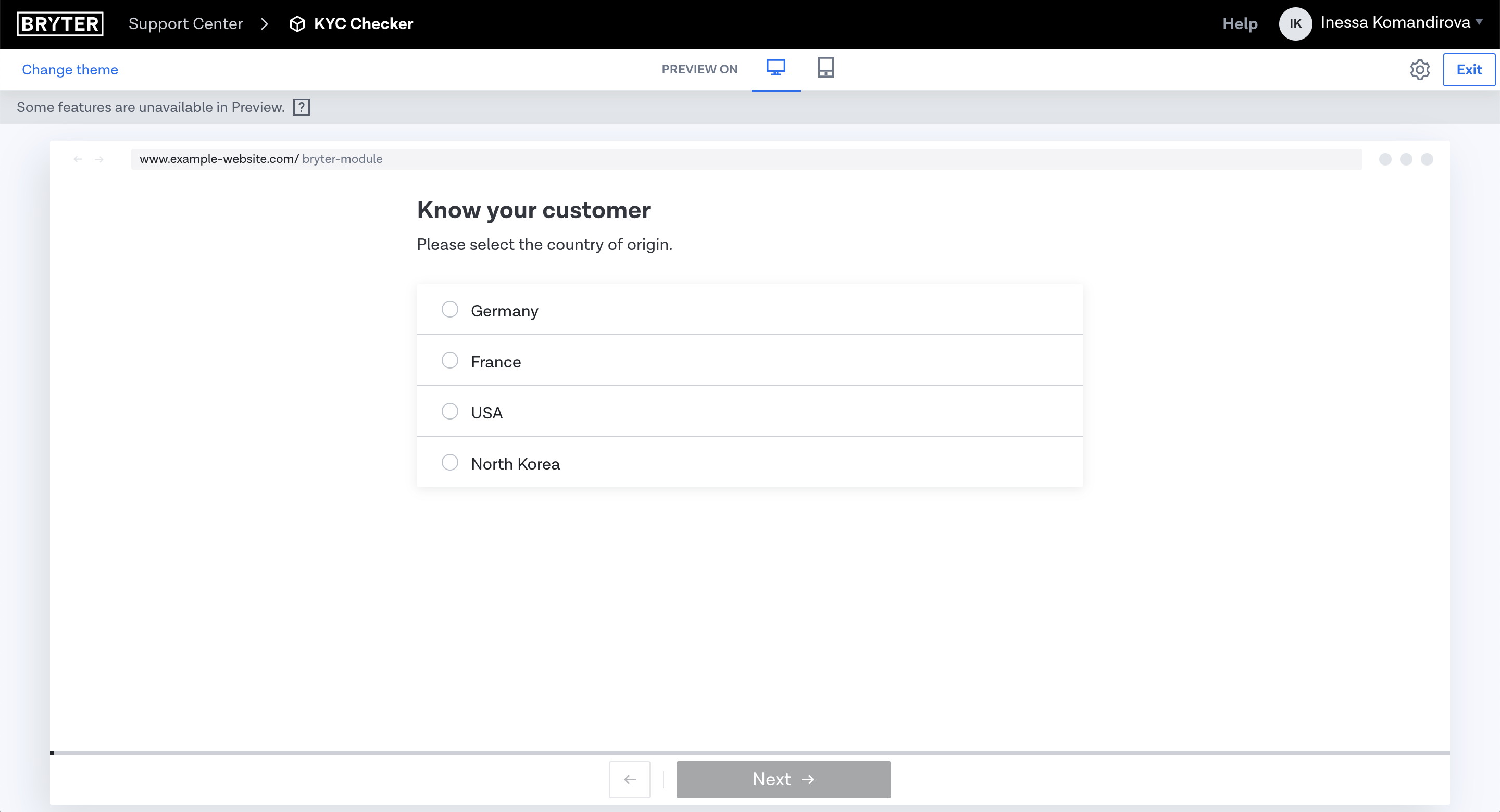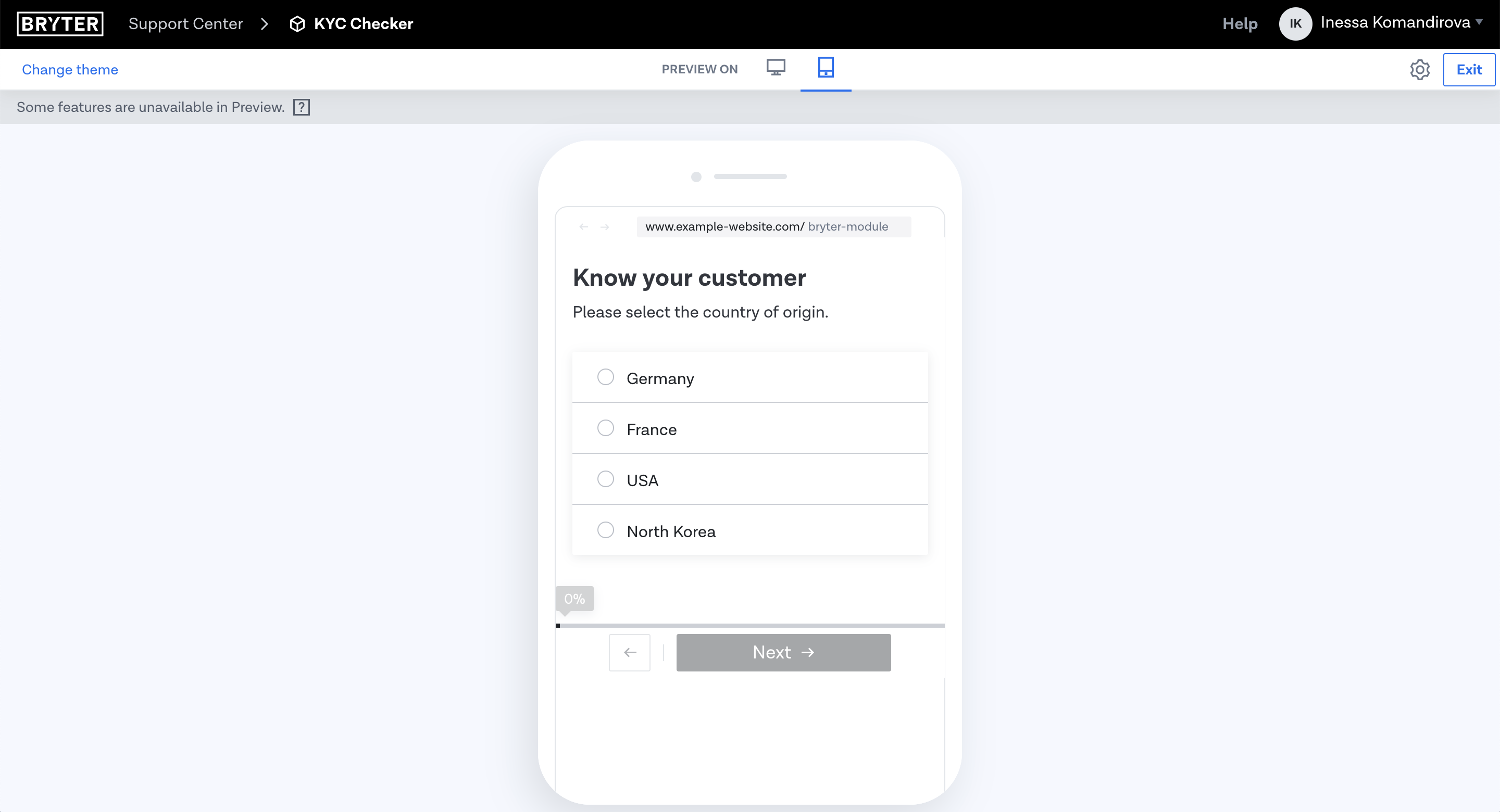 What can Input Nodes do?
In general, you can use Input Nodes to pose a question and obtain a specific piece of information from your user. 
There are several types of Inputs, each geared towards obtaining a different type of response. Learn more about each type of input below:
    Single select - Ask your user to select one response.
    Multiple select - Ask your user to choose one or more options.
    Text - Ask your user to submit a string of text or a paragraph.
    Email - Ask your user to submit their email.
    Number - Ask your user to submit a numerical response.
    File upload - Ask your user to upload a document or image.
    Date - Ask your user to enter a date from a calendar date picker.
    Content only - Display content only without asking for any user input.
    Multi-input - Ask your user to submit multiple types of responses.
As each Input represents a 'slide' that users see when they use your module, you can establish connections between different Inputs to create a path for them through your module. For example, you can ask users to select a country of origin. Then, based on their response, you can choose to either terminate the module (if conducting business with their country is prohibited) or obtain more information from your user. 
Actions are Nodes that perform operations not directly visible to the end-user. Actions can calculate values, generate complex text elements or connect to databases. Using Actions is similar to programming an application but without writing any code. They allow you to automate processes and connect multiple applications or data sources. You don't need to be a developer to take the full advantage of Actions and they are also very useful even in simple use cases.
Compared to other Nodes, Actions are building blocks that are geared toward generating or processing datapoints. Unlike Input Nodes that are outward-facing, Action Nodes, like Value Nodes, are inward-facing, i.e., perform operations that are not immediately visible to the end-user unless they are referenced (Document Action, Calculation Result) or send to an email value (send email Action). Action Nodes are distinct from Value Nodes in that they "do" something, i.e., initialize or progress a process, whereas Value Nodes are used to "set" or "create" values for later use.
In the editor, when you select New Action, authors can now use three tabs to browse the Action Nodes list: Actions, Case Databases, and Integrations. This makes it easier for authors to find the right Action Node, especially when there are many Case Databases or Integrations.
This building block can be set to a number, a date, a Text Block, or an email address. While Input Nodes are outward-facing by posing a question and requiring a response from an end-user, Action Nodes and Value Nodes are inward-facing. The main difference between the latter is that Action Nodes "do" something, i.e., initialize or progress a process, whereas Value Nodes are used to "set" or "create" values for later use.
BRYTER supports Text, Number, Date, and Email as basic value types that can either be referenced in the Module or a document output or changed or updated with an Action Node. With Value Nodes, authors can use or create these value types:
Using an Input Node to ask your end-users for a certain value for later use in your Module or
Using a Value Node to set or create such a value as an author yourself
Result nodes need to be added to your module to conclude the module and specific end-user session in the module stats. Every time end-users arrive at a result node, the module session will be marked as complete. If one of the paths in your graph does not end with a result node, Quick Check will display an error and guide the author to the detected error.
Two types of results exist:
Redirect result: Allows to redirect to another (or the same) module, data view, or external URL.
End result: Concludes the session and restricts end-users from clicking back when they reached an end result node.