What are Text Block Value Nodes?
Text Block Value Nodes enable authors to create variable content through, what we at BRYTER call, Text Block Updates. The text can be referenced in another Node or when creating a Document.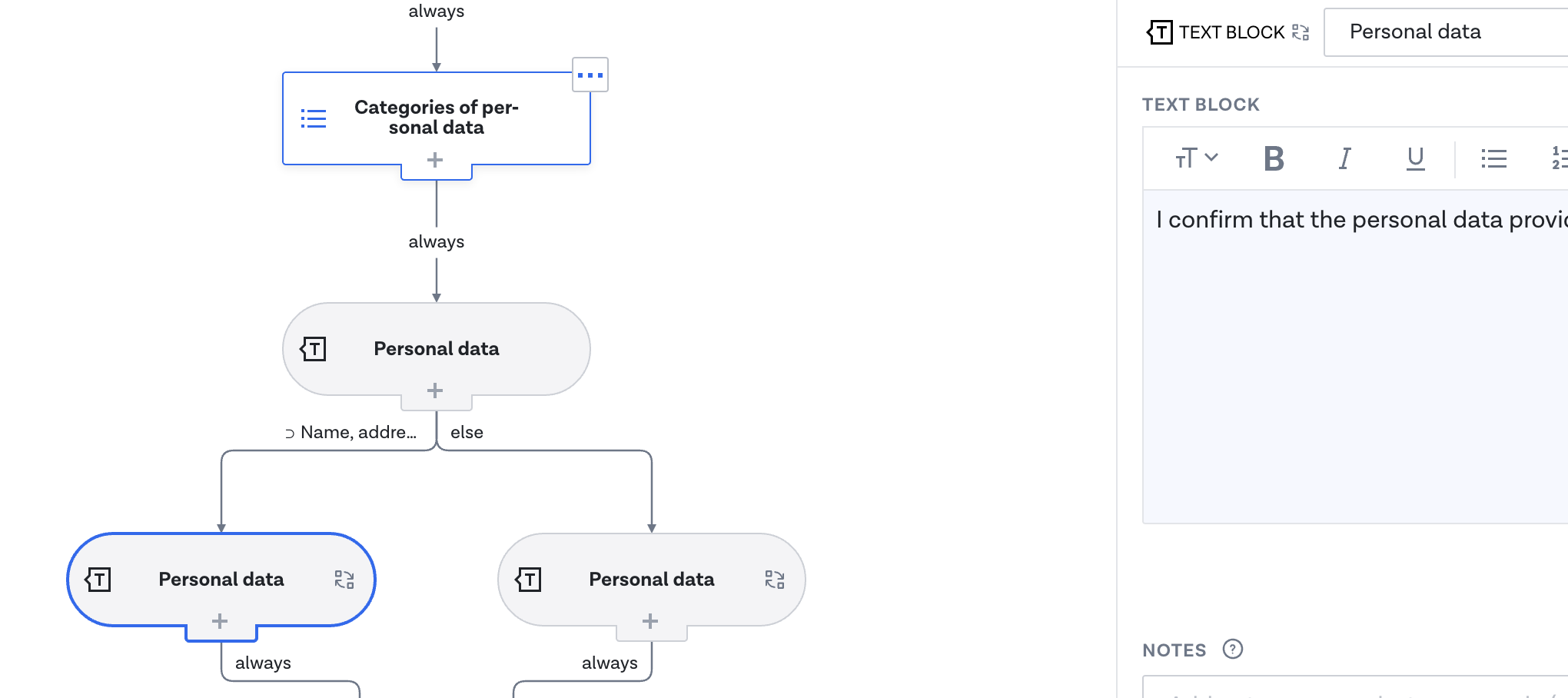 Why would you use Text Block Value Nodes?
Value Nodes have the distinct ability to "set" or "create" values for later use. You can use Text Block Values to, for instance, create and store paragraphs or generate easy-to-see conditional logic. A blank Text Block Value is placed, serving as the source for other Nodes to come. Other Text Block Values are then placed and updated depending on an end user's input, overwriting the original Node with the input from the relevant custom Text Block.
Example use cases
Create and store paragraphs
Let us say you want to generate a Non-Disclosure Agreement in your Module. This NDA contains clauses or sections which only need to be inserted if the user gives a particular response – the inclusion of this text depends on certain conditions being met. You can use the Text Block Value to store the content of these conditional sections. Then, you can later reference these Text Blocks while creating a document.
Generate easy-to-see conditional logic
Use the Text Block Value Node to store text that you can reference based on conditional logic in your Module. We recommend using the Text Block Value (along with Conditions in your Transitions) instead of Conditional Blocks. While both function in the same way, it is easier to visualize the conditional logic behind Text Block Values since you can view them directly in your graph. In contrast, Conditional Blocks embedded into the CONTENT area of various Nodes are harder to visualize without selecting the specific Block.
How to use Text Block Value Nodes
Follow the directions below to add a Text Block Value Node to your Module. This section covers the basic procedure to add a Text Block to your Module. See below for more advanced instructions.
Select the plus icon + on a Node.
Select New Value.
In the attribute editor which opens, choose Text Block.
Double-click New Value and give your Text Block a name. This name will not be displayed to your users.
You can now enter text into the CONTENT field of the attribute editor. Learn about adding content in the Parameters section below.
Link your Text Blocks to add clauses
Sometimes, you want to use your Module to generate a document with clauses that are inserted based on certain user responses. This section demonstrates how to do this by linking your Text Blocks. Note that this is an advanced usage of the Text Block Value.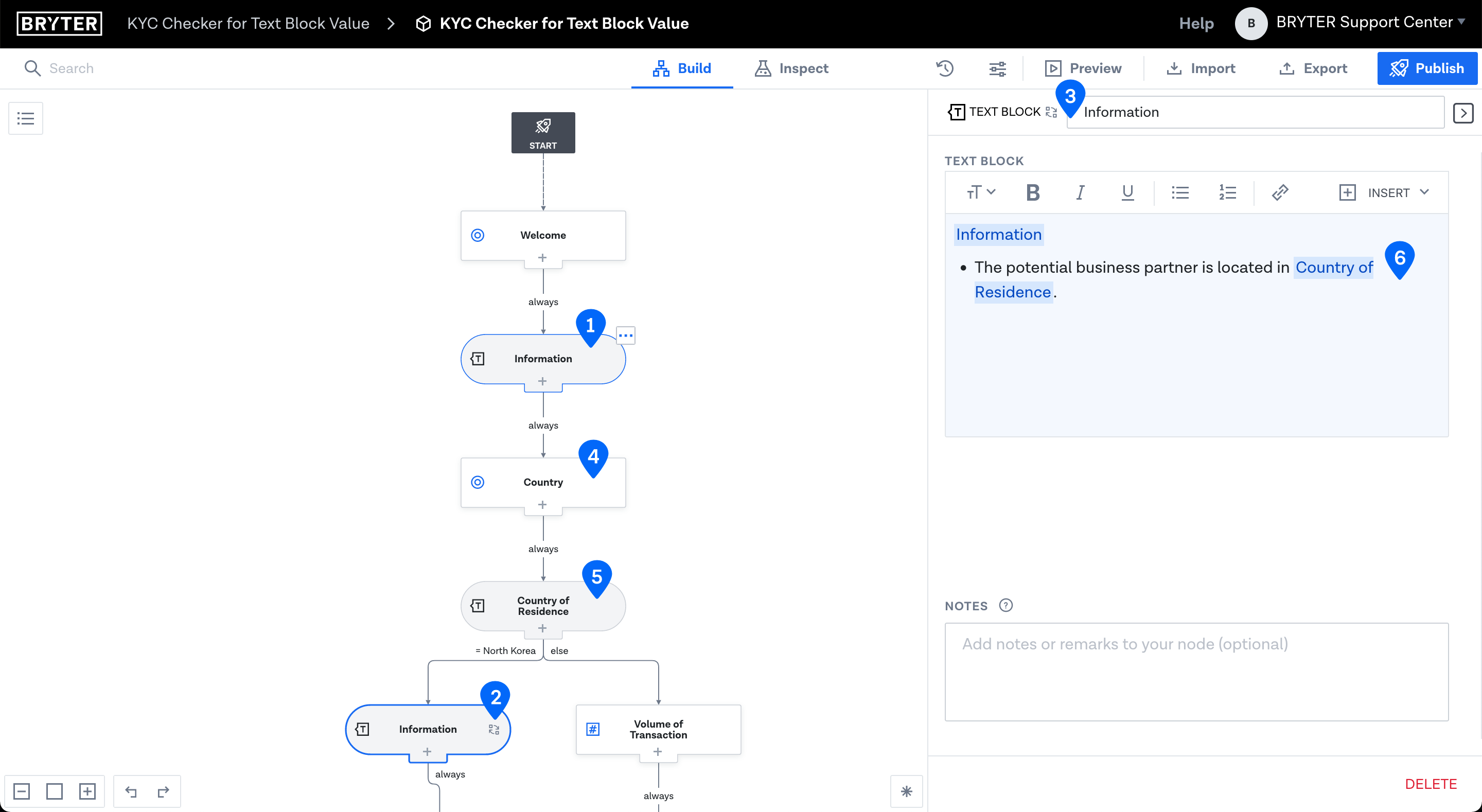 Add a blank Text Block
First, follow the steps in the procedure above to add a Text Block to your Module. We suggest that you add this Node as high up in the graph as possible. [ 1 ]
Then, rename your Text Block. You will give your other Text Blocks the same name in order to link them together. Once your Text Blocks are linked, you can use their shared name to refer to them from a document or email. The relevant Text Block based on your decision tree will be selected.
Add linked Text Blocks
Now, you can start adding clauses (additional Text Blocks) to your Module which are inserted based on the conditional logic you specify in your Transitions.
To do this, you will create additional Text Blocks. Rename these Text Blocks with the same name as the blank Text Block you created above. Notice that a circular arrow icon appears in front of your Text Block's name [ 2 ], [ 3 ]. This indicates that your new Text Block is linked to the Text Block with the same name above. Populate the CONTENT parameter of the Text Blocks. Learn more about the CONTENT parameter below. [ 6 ]
Create and store clauses
While it is possible to reference user input from Input Nodes directly, the referenced input may at times not match your desired format. [ 4 ] You can create Text Blocks and populate them with more suitable text or combine several bits of information to form one cohesive clause. [ 5 ]
Output your clauses
After you have created your Text Blocks [ 7 ], you can reference them in your Result Node or in a document [ 8 ], [ 9 ] using their shared name [ 10 ] (in this case "Information"). The relevant Text Block will be displayed to the user based on their interaction with your decision tree.
Parameters
Content
Enter text into the CONTENT field, as shown below.
You can use the same formatting options available to you when you create other Nodes in your Module. As with other Nodes, select INSERT to add content insert items (Conditional Blocks, Info Blocks, or Images). You can also reference values from other Nodes in this field.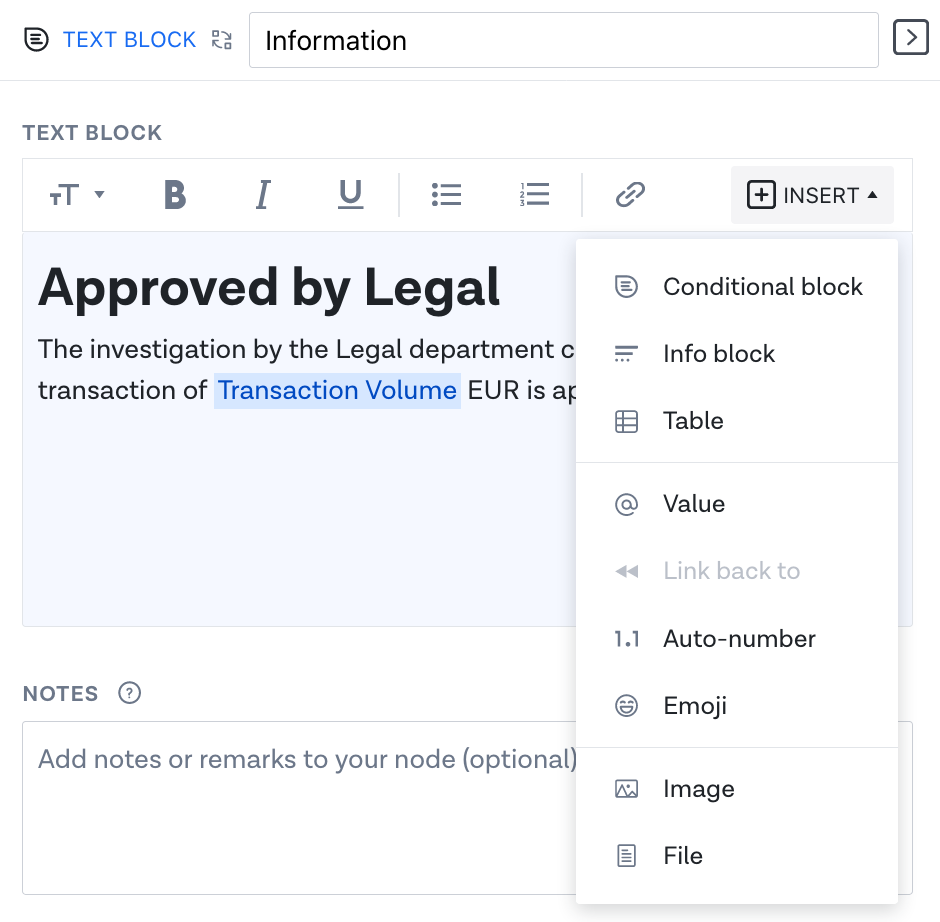 Limitations
Please note that you cannot insert content that is formatted as a table in your Text Block Value into a table inside your DOCX template! This will result in an error message and unsuccessful document generation.