Integrations Catalog
The Admin Console's new Integrations Catalog lists integrations that admins can install on their tenants. The Catalog allows admins to see which integrations are installed, which integrations are also configured, and which integration versions are available.
Type in date input
End users are now by default allowed to type in the date for date input nodes, next to using the date picker. Limitation: If custom format inside the editor sidebar got selected, typing in the date via Keyboard is not supported.
❔❕ Find out more: Date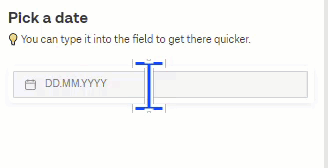 Configure numbers to only allow integers
Authors can now configure number inputs to only allow whole numbers to be entered.
❔❕ Find out more: Number input