Note on legacy behavior: "Service" renamed to "Application"
What previously was called Services within the BRYTER platform is now renamed to Applications making it more self-explanatory and convenient for our customers.
Further, the Service Frontend is now referred to as Publish Application.
This article will help you understand:
- how Publish Application combines various components of an Application (Mdules and Data Views) on one single page
- why you would use Publish Application


- how you can configure in Publish Application




- what limitations apply
What is Publish Application?
Publish Application allows authors to select and combine various components of an Application on one single landing page. With Publish Application, you can now deliver complete Applications (several Modules and – soon natively – Data Views).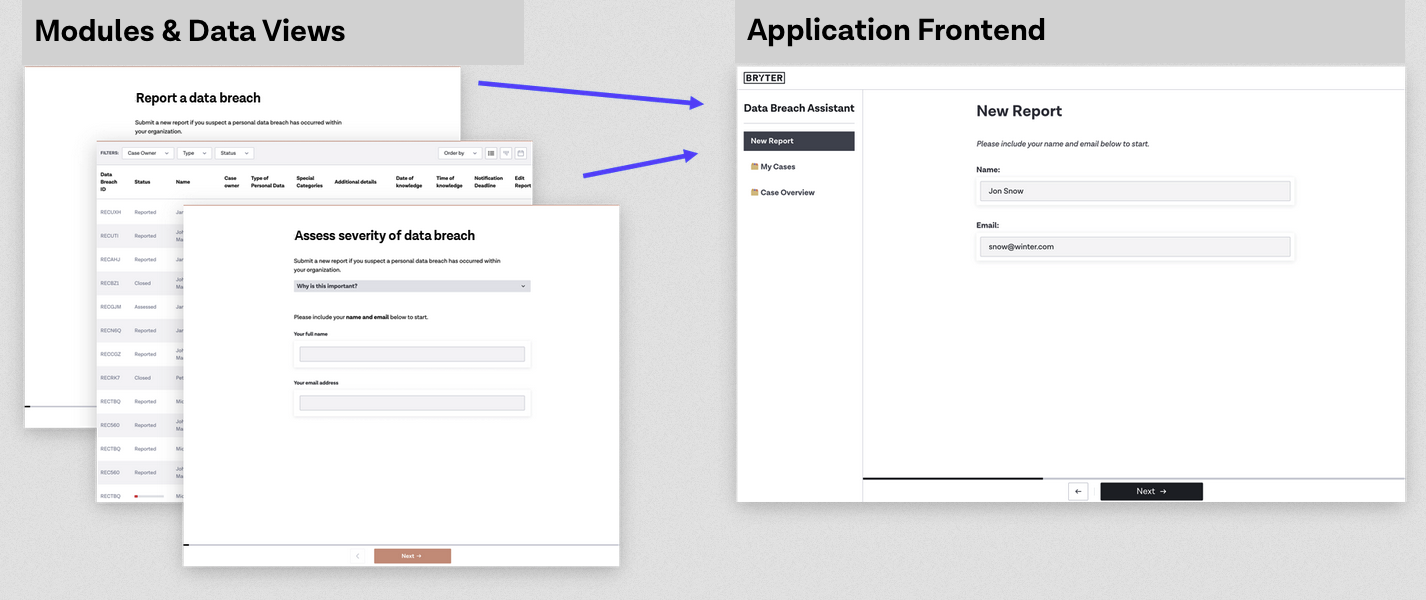 Please note: Data Views need to be made available with separate Modules that only contain a redirect result.
Why would you use Publish Application?
With Publish Application, you can merge different "entry points", i.e. several Module URLs, into one stand-alone page. This will also allow easy navigation between the components of your Application.
You now only need to share one URL for the Publish Application which can be shared and accessed by any authenticated end-user. This authenticated end-user can be anyone with a user role mapped in the Admin Console or in your identity provider when using a SAML integration.
In Publish Application:
Authors can publish one Application and select individual components that should be included on the Published Application page
The Application can be tested before activating the LIVE Application
The URL can be shared and accessed by any authenticated user
Example use cases
Data Breach Assessor
The Data Breach Assistant helps companies assess, document and report suspected data breaches according to requirements set out in the GDPR. The tool saves valuable hours for companies by simplifying their complex obligations.
Innovation Tracker: Use case pipeline
A published Application allows project managers to offer one page to submit new use case ideas and assess their feasibility. Colleagues can view an overview of all submitted use case ideas - through a Data View – and add their own – through a Module. Whereas project managers can use Modules and Data Views to qualify and prioritize submitted ideas as well as to keep track of their status.
How does Publish Application work?
Structure of a published Application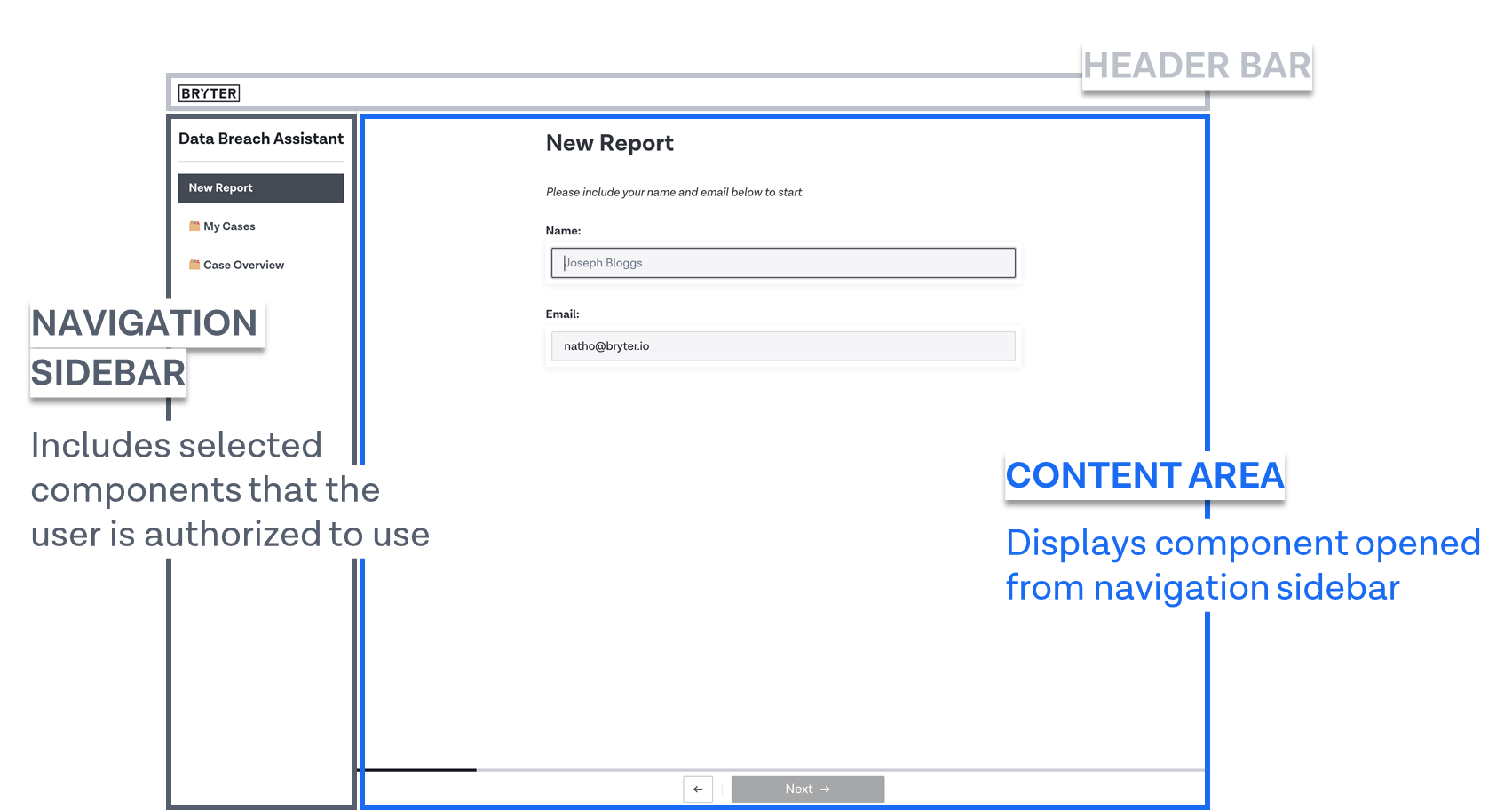 Access control
Only authenticated end-users can access a published Application. This refers to end-users with an admin, author, or user role attributed in the BRYTER Admin Console.
As to which Modules actually appear and can be used by these authenticated end-users, this depends on access settings in the publishing menu of each Module. More information and a step-by-step guide on how to restrict access to only authenticated end-users can be found in the article 🚀 How to restrict access to published Modules for selected end-users.
❗ Please note that Modules secured via Only accessible via an API key will not appear in the Publish Application navigation.
How to set up and use Publish Application
Publish Application configuration
In an Application, select Publish Application to open the Publish Application configuration.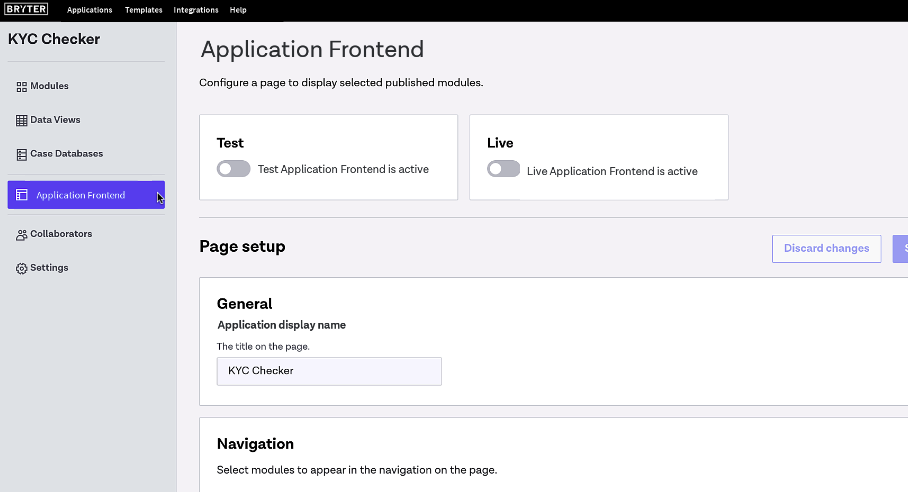 Adding Modules to Publish Application page
Configure the page by selecting the Modules that should appear in the Publish Application navigation.
Authors can also change the display name of the Application or Modules and can rearrange the order of Modules. Changes to the name in the configuration will only affect the execution view for end-users and not change the name of the Modules in the Application.
Save changes and test your published Application or use the generated URL to share it with end-users.

When ready, activate "Live" toggle to activate LIVE Publish Application. This will create a unique URL for the LIVE environment of the Publish Application.
Adding Data Views to a Publish Application
Data Views cannot be directly selected in the Publish Application configuration. But authors can use Modules that only contain a redirect result node to link to a Data View and display a Data View in Publish Application.
In a newly created Module, add a Redirect Result Node (and delete the automatically added Input Node) and choose Data View. Select the correct Data View from the list below.
In the Publish Application configuration, add this new Module and save the new configuration. The Data View will now appear on the Publish Application page.
Adding custom views or integrating external pages in Publish Application
Following a similar approach to Data Views, authors can also integrate external webpages. Repeat the steps shown above to integrate a URL using a Custom URL in a Redirect result node in a separate Module.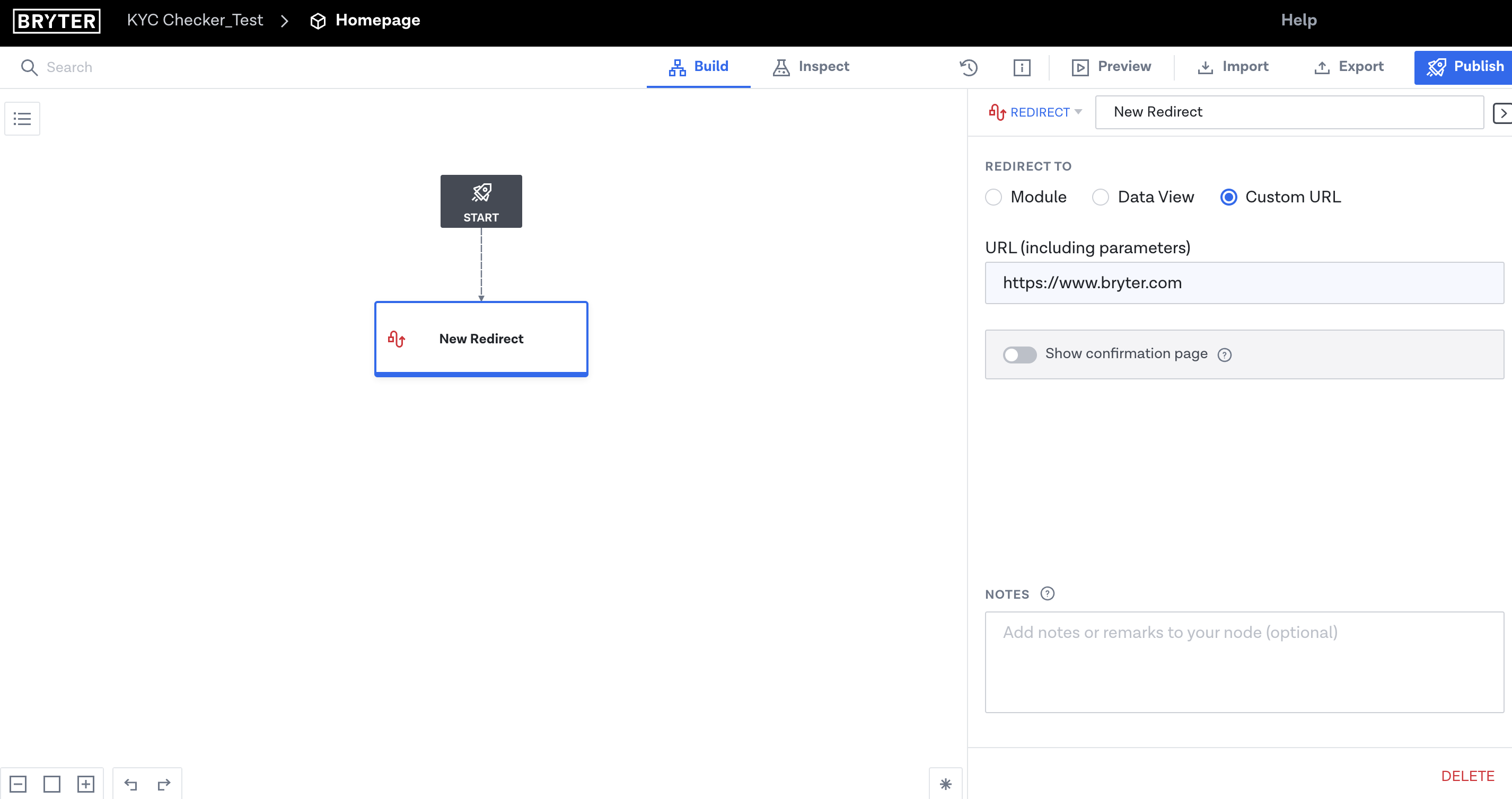 If the website has no conflicting security settings (see limitations below), it will be displayed in the published Application and can be used as expected.
Testing and sharing a published Application
Save changes in the configuration in case you have not done it yet and activate the Test toggle. The Test published Application is now available. Click Open Test to test the published Application configuration or Copy link to share with colleagues
Please note:

When saving changes, any updates will be applied automatically to the TEST and LIVE published Application pages
When ready, activate "Live" toggle, to activate LIVE published Application
Open LIVE to test the published Application configuration or Copy link to share with colleagues
Known/current limitations
Select Data Views in Publish Application configuration is not yet available and Data Views do not appear in the navigation. They can only be included with a Module and a redirect to the Data Ciew.
Come back later and restart page will link to an individual Module, not back to the published Application
Resume Module session when switching between components (when switching between components of a published Application, the session data will not be stored)
Modules secured via Only accessible via an API key will not appear in the Publish Application navigation
Custom theming
Responsive design for smaller devices
Configuration of landing page
Websites can only be included with a Module containing a redirect result if the website in question allows iframe embedding. Websites setting a

x-frame-options: SAMEORIGIN header cannot be displayed due to their security settings
The following limitation is by design:
Published Applications can only be used by authenticated users