A Redirect Result node allows authors to easily link two modules or to run through a module several times by looping back to the beginning of the module. When using a module as a navigation tool that directs the user to other relevant BRYTER tools, the Redirect Result node can enable a seamless experience. Let us assume you have built several self-service and document generation tools. New users, either internal or external, might not know where to look for these or which specific module they actually need. In this case, it might be helpful to build a "front door" that leads to the appropriate module and acts as a "parent" module.
Step-by-step guide to running a module multiple times
In embedded modules, a Redirect Result node is a particularly user friendly way to re-start or repeat a module.
Add a single Input node to ask users whether they would like to restart or conclude the respective modules.
Add a regular Result and a Redirect Result node underneath to allow for these two path. Remember to set the conditions in the transitions right.
If users choose to restart or assess another case, simply redirect to the same module by selecting it in the Select module picker. You can also choose to carry over some values with a URL parameter.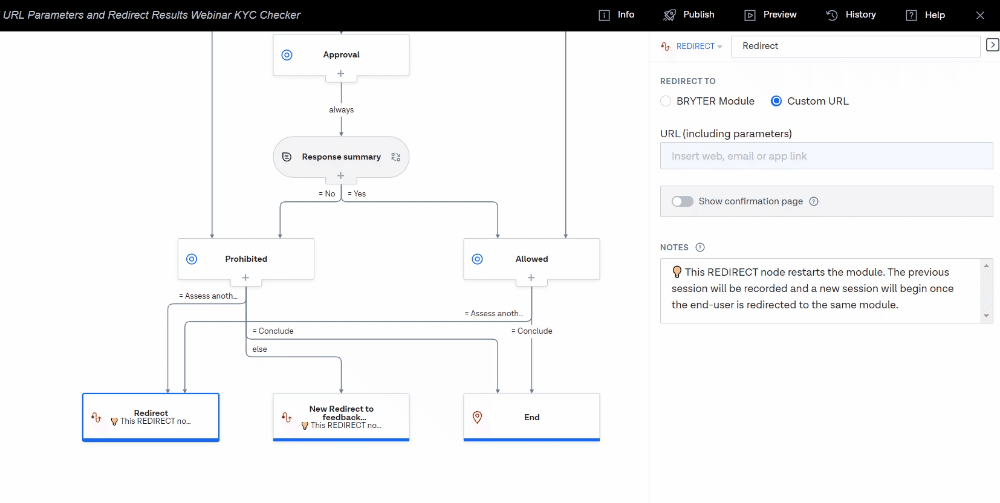 Step-by-step guide to linking published modules
Link from a parent module into a "child" module with a Redirect Result and pass values with URL Parameters:
Add a Redirect Result node and select the published module that you want to redirect to.
Select Add parameters.
Type in a URL Parameter key - this key needs to be used as the Query Parameter Name of the URL parameter node in the receiving "child" module.
Type or reference a URL Parameter value - this value will be passed with the URL parameter and is picked up with the URL Parameter node. The value can be used in a transition or referenced in the "child" module.
In the below example, the name entered in an Input node will be passed through to the next module 'Red Flag Checker'. In the Red Flag Checker module, you need to include an URL Parameter Action node called name to pick up the value passed through:
Advantages of linking modules
There are several advantages when using a Redirect Result node to link modules:
better overview of the most in-demand child modules because a Redirect result node will finish a session in the recorded stats section
build smaller modules and thus keep a better overview
transfer data between modules with URL parameter nodes to avoid typing the same information in manually twice