What are actions in data views?
An action button can be configured for each record in a data view and typically allows further processing of this record in a BRYTER module. In the below vacation request example, managers would see all pending vacation requests in a data view and could click on Review to open a BRYTER module that allows them to approve or reject the request and update the status from "Pending" to "Rejected" or "Approved"

Why would you use actions in data views?
Actions allow you to easily process the specific record at hand to either view more content than displayed in the data view or to update, add, or manage the record further. In our above example, the action button simplifies the cancellation or review of a request by eliminating unnecessary steps. Different URLs can be specified for Test and Live environments, e.g. linking to the same Module which is published in either TEST or LIVE environment.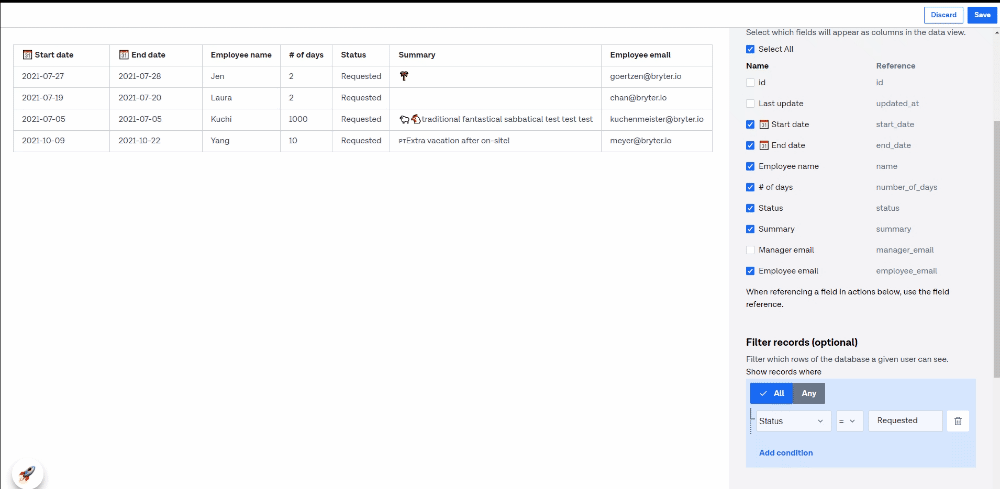 How to use actions in data views
💡 Please note that linking to non-module URLs is not supported in data view actions. We recommend the following workaround: publish a module that only contains an action node and a redirect result node with a configured custom URL.
Step-by-step guide
In the data view editor scroll to Action (optional)
Type in the text that should be displayed in an additional Action column into the field Link label
💡 Consider adding an emoji to highlight the Action in the data view
Select the Destination module from the dropdown under Link destination.

Once the destination module has been selected, the action column at the end of every record in your data view will display a clickable link. The user clicking on the link will be redirected to this module in a new window.
In most cases, you will want to continue adding or updating information for the specific record or case in your table. If you want to ensure that the module you are linking to is actually reading information saved for this specific record out of the underlying database, you need to add a URL Parameter. Similar to Redirect results, your Key should be the equivalent to the QUERY PARAMETER NAME in the URL Parameter node in the destination module.



How to use URL parameters in data view actions

Click on Add parameter
Type in the Key and select the correct Value from your case database. This value will be passed to the destination module.

In your module, ensure that you include a URL parameter that can pick up or receive this value. The QUERY PARAMETER NAME needs to be an exact match of the Key in your data view action.

In this example, the ID - the value which is passed through with the URL parameter - can now be used to read the record from the database.

Keywords: dataview; dataviews; Datenansicht; Dashboard; case overview