Authors very often would like to enforce a 'none of the above' or 'something else applies' option in multiple-select nodes to be set as exclusive. This would enforce that other options are deselected or grayed out and any transition leaving the node only needs to check if 'none of the above' or similar has been selected.
There's no built-in way currently to set one multiple-select options as an exclusive option. This however, can be built as follows using conditionality within an multi-input node.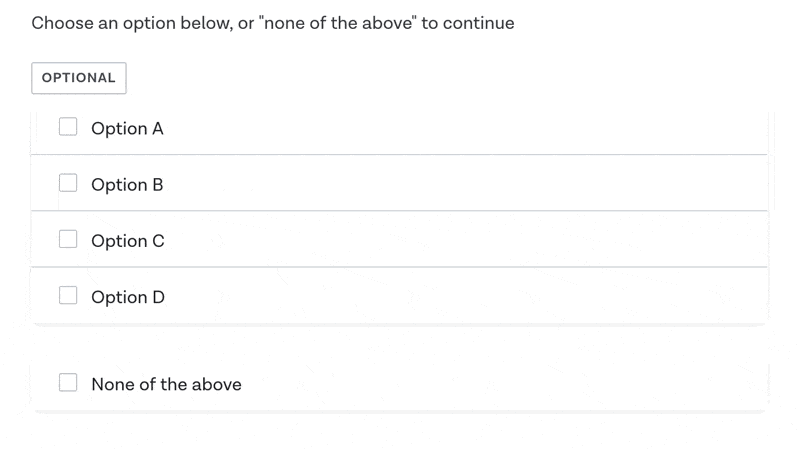 Step-by-step editor guide
First, create a multi-input node containing
an optional multiple-select of your "Valid options"
Non-optional multiple-select with only one option, "None of the above"
The upper content field will contain the actual question or prompt, whereas the sub-input content fields will be left empty to avoid unnecessary line breaks.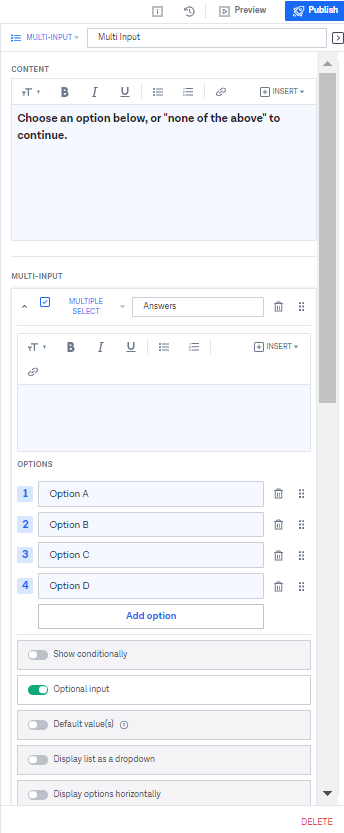 Provide all non-inclusive options in the first input field and set the node to optional. This node is in fact not optional but this little tweak is necessary to enable the navigation to be activated if in fact none of these options should be selectable if 'none of the above' will be selected by the user.
In the second sub-input node - another multiple-select node to ensure the same checkbox display - provide 'none of the above' or similar as the sole option and leave the content field empty.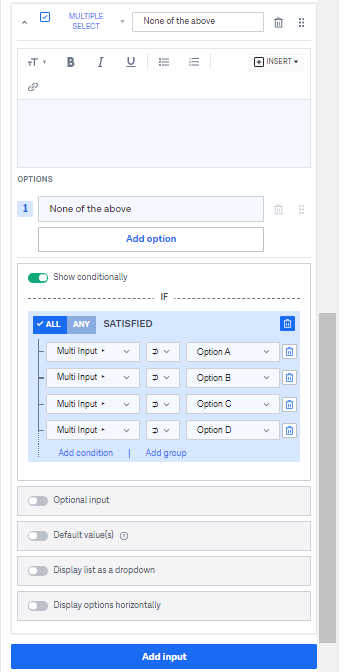 Toggle Show conditionally on and set the condition to ALL and account for all other options of the upper sub-input node to be not contained (doesn't contain ⊅).
Create two (or more) transitions out of this multi-input:
None of the above contains "None of the above"
else or more conditions based on the selection made in the upper sub-input node containing all other options
You'll be left with a multi-select that will only show 'none of the above' if no options were selected, and requires an answer to proceed.