A single select node can now populate its options with a list of country names, or any other list.
Authors can now build modules that prompt the wizard user to select a country from an autocomplete input, without having to maintain a list of country names in the module. Tenant admins can configure list of options in the Admin Console, for other similar lists, such as currencies, or US states.
This uses a new kind of integration called a 'data source' that provides data from outside the BRYTER platform. In general, integrations can now provide data sources that give BRYTER the ability to fetch lists of data from other systems. Populating a single select node's options dynamically each time the wizard executes is one way to use a data source.
Please note that this is a premium feature that needs to be enabled by your dedicated customer success manager. For further information, please reach out to your BRYTER Customer Success Manager or support@bryter.io.
Why would you use configurable single select options?
The purpose of this feature is first to avoid the need for authors to type in a long list of country names manually, and have to maintain that list separately in every module that uses it. Secondly, this feature should provide the basis for other configurable lists, such as the list of bank branch names.
This feature appears to the author as an addition to the single select node: a new button next to the Add option button that the author can use to select from pre-defined lists of options, such as Country names. Country names is a 'data source' that your Customer Success Manager can activate for your organization. In general, integrations can now provide data sources in addition to integration actions.
Once an admin edits the configuration, changes the list, and updates the configuration, new values will be fetched and there's no need to update the referencesin the single-select nodes that use options from a data source.

How to setup configurable single-select options
Configuration in the No-Code Editor
In the module editor, add a single select input node and name your node, for example Selected country or Country.

To the right of the OPTIONS heading, select the context menu (three dots) in the upper right corner to open the menu. Select Use options from a data source and on the Replacing existing options? alert, select Replace options.
Below the OPTIONS heading, select Choose a data source to browse cofigured data surces and choose the relevant source, for example Country names from the list.
The data source has been successfully uploaded when the title of the source is displayed as one Option. The text under the selected data source name shows the number of options the data source provides and the 'Last updated' time stamp is displayed.
Configuration in the Admin Console
Your customer success manager or your admin need to enable and configure the data sources in the admin console.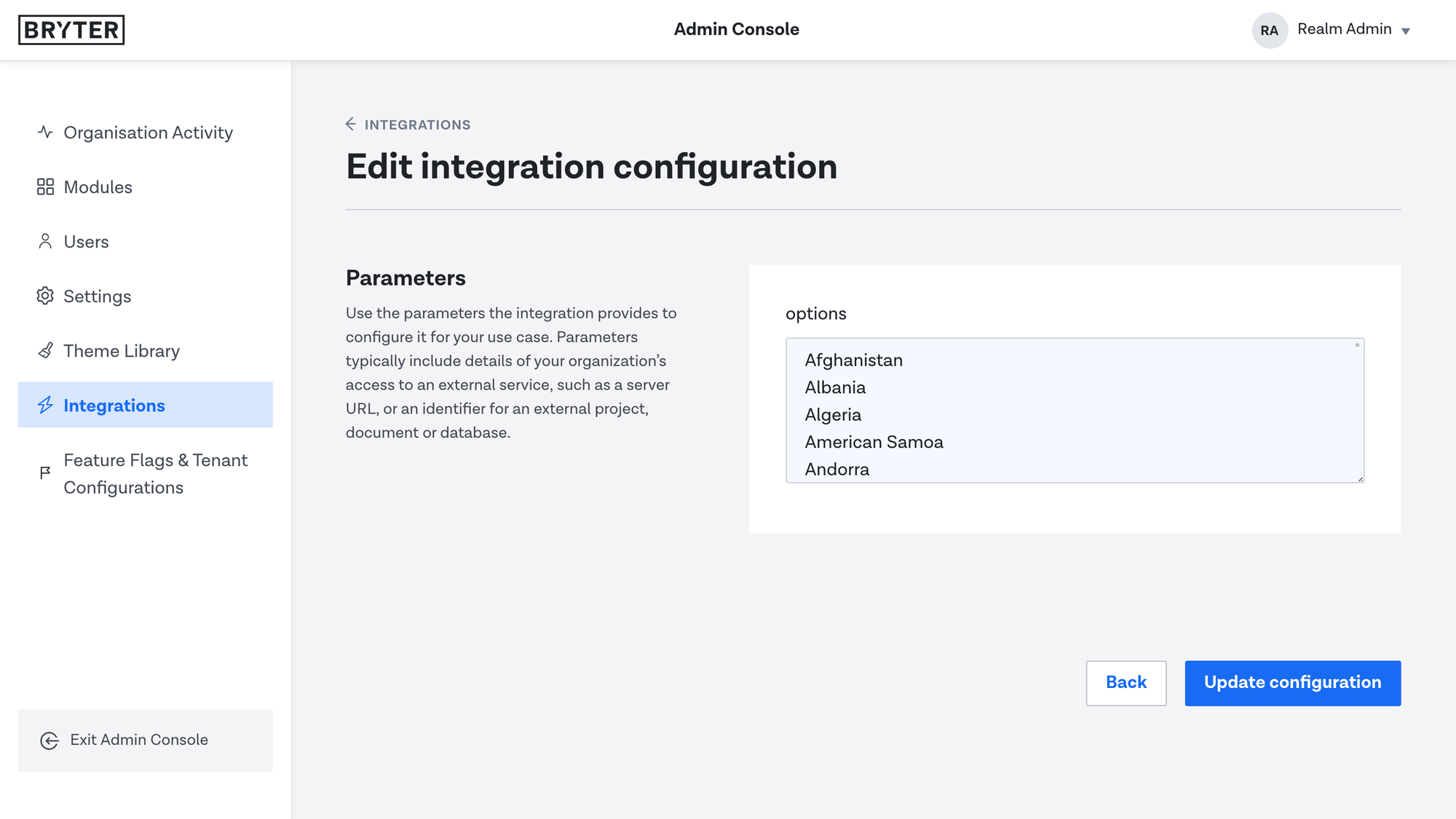 Display in published module
Configurable single select nodes in your published module or in preview will be displayed as drop-down menu:

Limitations
❗ Please note that these pre-configured options are currently only available in single select nodes and not as sub-input in a multi-input node. The display options are currently also limited and will only be displayed as a drop-down menu.