What is a handover action?
This action node is a hybrid between an input node and an action node - the author defines the position in a module where a handover process should occur. This handover action node hands over all following steps to another end-user.

Please note that this is a premium feature which needs to be enabled by your dedicated customer success manager. For further information, please reach out to your BRYTER Customer Success Manager or support@bryter.io. Additional pricing may apply.
Why or when do you need a handover action?
Whenever your use case idea requires approvals or several end-users are required to input values consecutively, a handover action might be suitable - especially, if you do not want to use databases and want email notifications to be triggered.
Example use cases
Decision-making processes or document automation that require sequential input from multiple people
Approval processes such as holiday approval, gift guidelines with legal approval, etc.
How do you use handover actions?
A handover action is a hybrid node (input + action) that triggers both a visible content displayed for the first end-user and an 'invisible' send email action to the designated second end-user.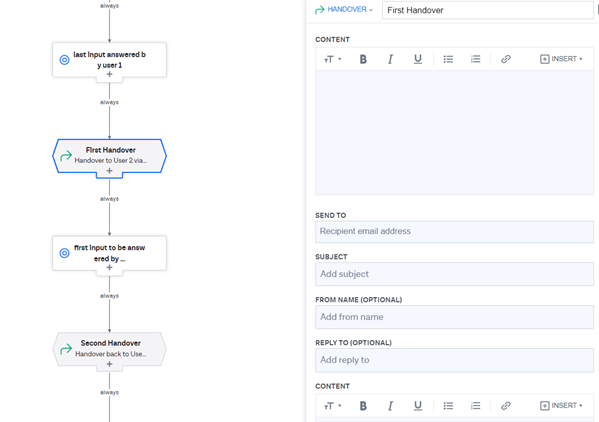 The Content field acts like a typical content field in input nodes whereas the lower part resembles the email action node and functions accordingly. In addition to the email content added by the author, a URL leading back to the module will be added automatically at the end of the module.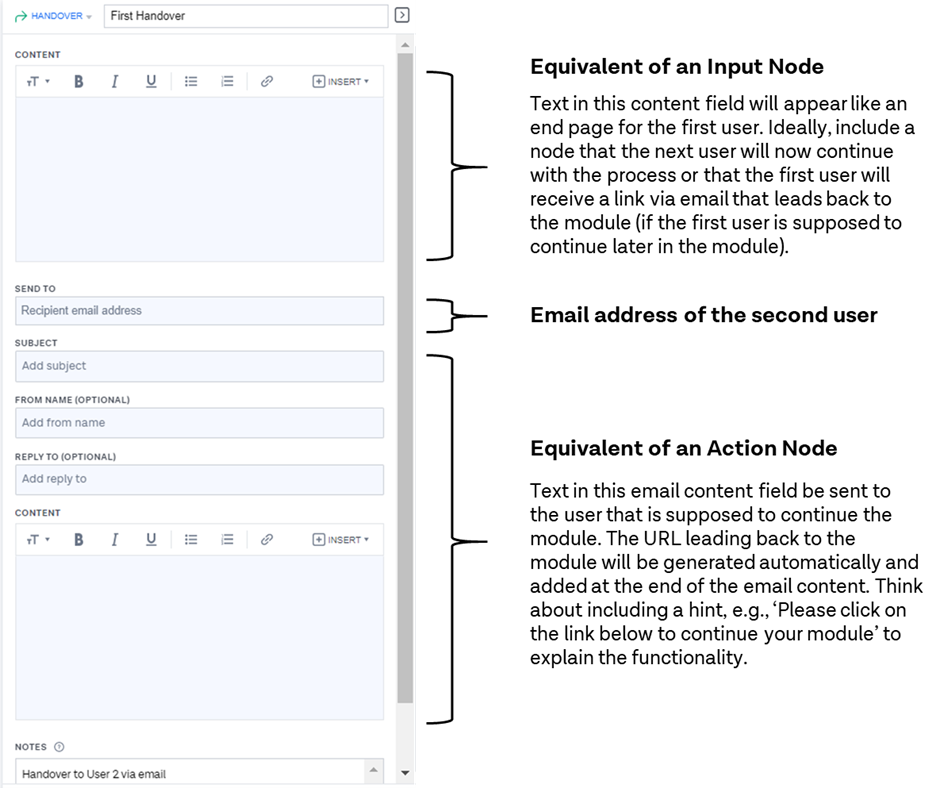 If you are using a handover in an approval process where the initial user should be guided back to the module, a second handover node should be inserted after an input node that is used for the approval process.
❗ Always add a node after a handover action. Ensure that the handover node is followed by an input or result node. This will be the screen that the second user will see once they click on the URL in the (handover) email.
Limitations
The handover is, by design, not supported for iframe-embedded modules. The URL sent via email action cannot redirect to that specific iframe environment but rather opens up as a new tab/stand-alone module. Because the handover action requires a module to be published to lead back to the receiver of the handover email, it can only be used effectively in a published environment. In preview mode, the handover will be skipped and cannot be tested to its full extent as the triggered email will not contain a link leading back to the module.
Keywords: hand over; delegate