What are Collections?
If a BRYTER author enables allow multiple responses inside the Node editor, the end-user can dynamically enter multiple entries of the same (multi-) Input Node. Once allow multiple responses is activated, the Node icon in the graph and list view will be replaced with a different, blue Collection icon.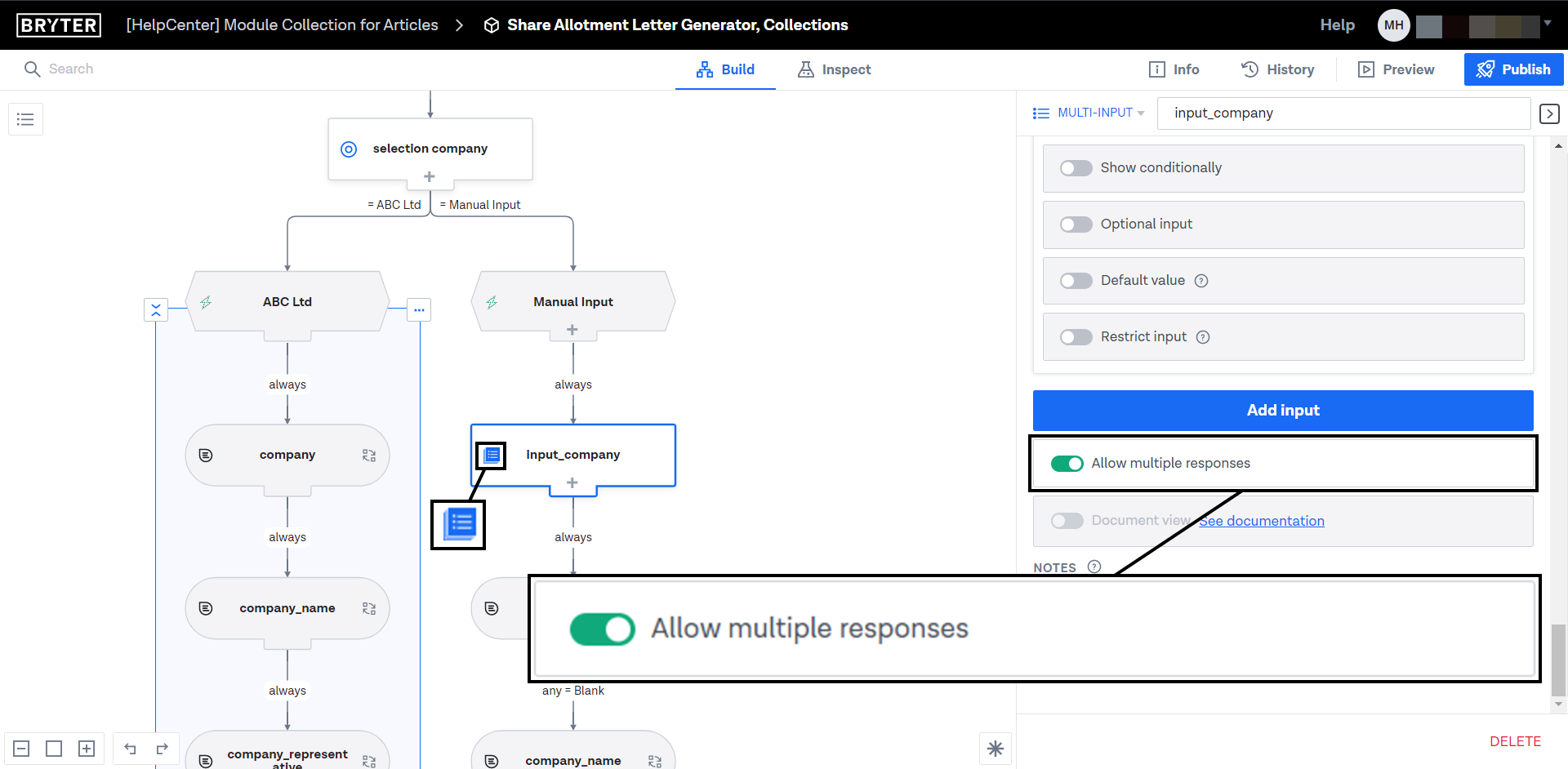 Why would you use Collections?
Collections allow you to dynamically collect the appropriate number of responses for a certain question. Authors do not need to set up Input Nodes for multiple entries and ask the end-users how many entries they are planning to provide.
The values entered for this input can be displayed in Nodes by @-referencing or could be used to populate a document or to be written into a database.
How do you use Collections?
Authors
1. Activate toggle Allow multiple responses in Input Node
Authors can enable Collections when editing a Node and switching on the toggle Allow multiple responses on the right-hand side in the list of options for Input Nodes.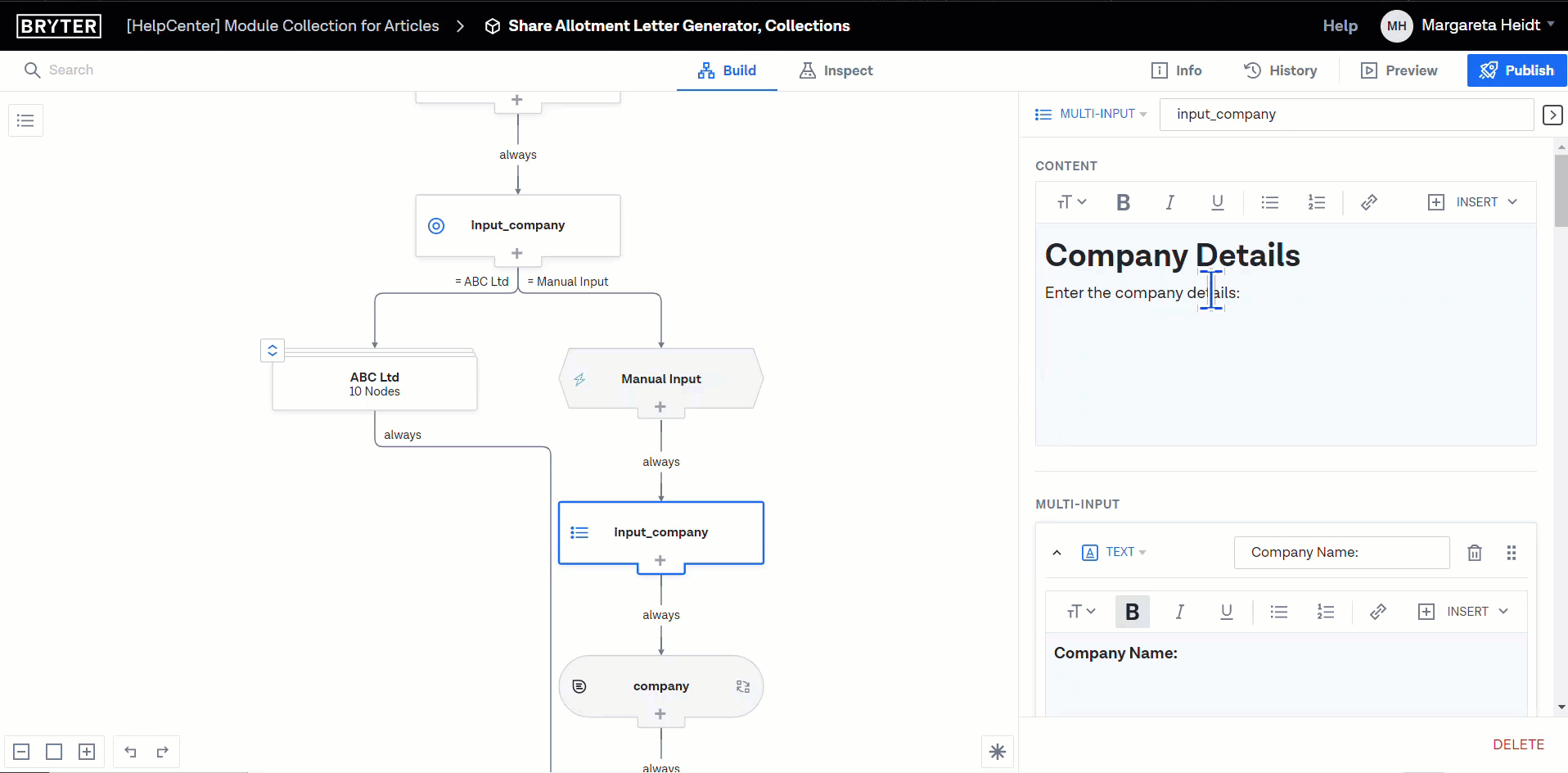 2. Reference Collection in Input Nodes, Result Nodes, and Text Block Value Nodes
For authors of the Module, collections can be referenced by using an '@' - sign in the content field of any Input Node, Result Nodes, and Text Block Value Nodes. This will add a "Collection Block" in which the inputs provided by the end-user can be displayed. Authors can also add text between the referenced values of a Collection Block.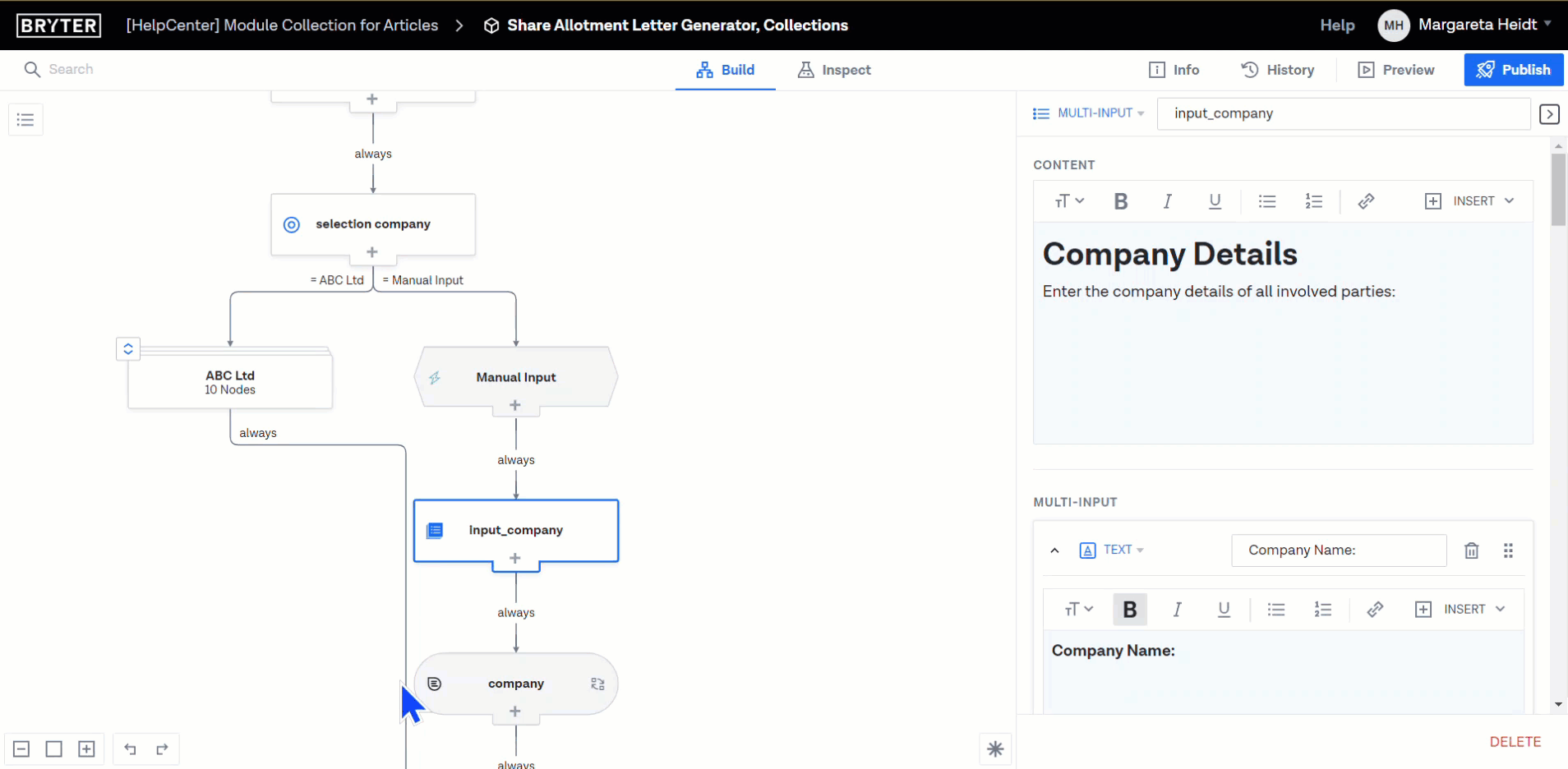 3. Set Conditions
Conditions set on Collection Blocks cannot be used as filters but only to verify if one of the entries for an input equals, contains, or matches a value. This means you cannot exclude an entry from a Collection Block but display different content if a certain entry satisfies the Condition.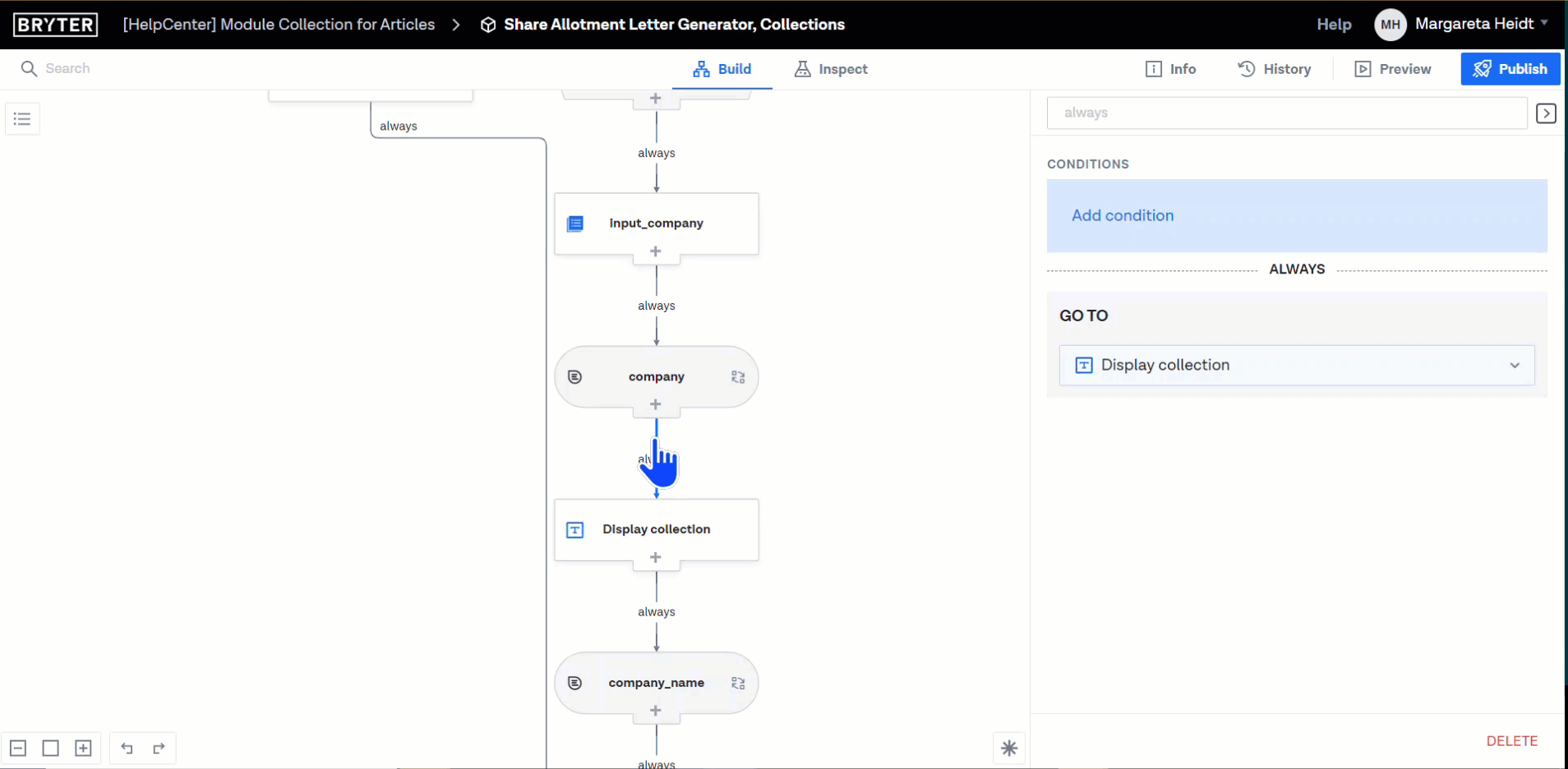 Conditions in Collections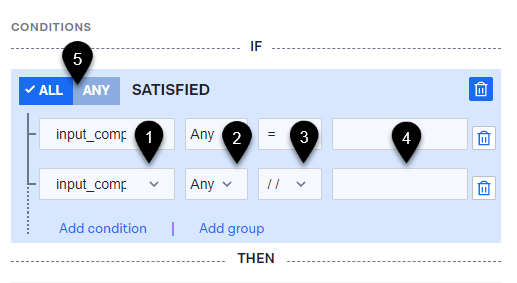 Select the relevant item in BRYTER: Nodes where allow multiple answers is activated, i.e. Collections, will be depicted with a darker blue icon.
Define the evaluation scope of the condition: Specifies which elements (ALL, ANY, or NONE) of the Collection must satisfy the (nested) condition
Select the correct operator: Depending on the Node type selected in (1), select how to condition the item.
Type or reference the value of the conditional statement
Logical connector: Defines how single lines of Conditions or groups of Conditions are connected with all ALL connecting Conditions with a logical AND and OR representing the logical OR
Collection Operation Action
So, you have the ability to collect and print the list of items generated through Collections. The Action node New Collection Operation allows you take one step further and enables you to perform a first set of operations to get information and aggregate data about these collections.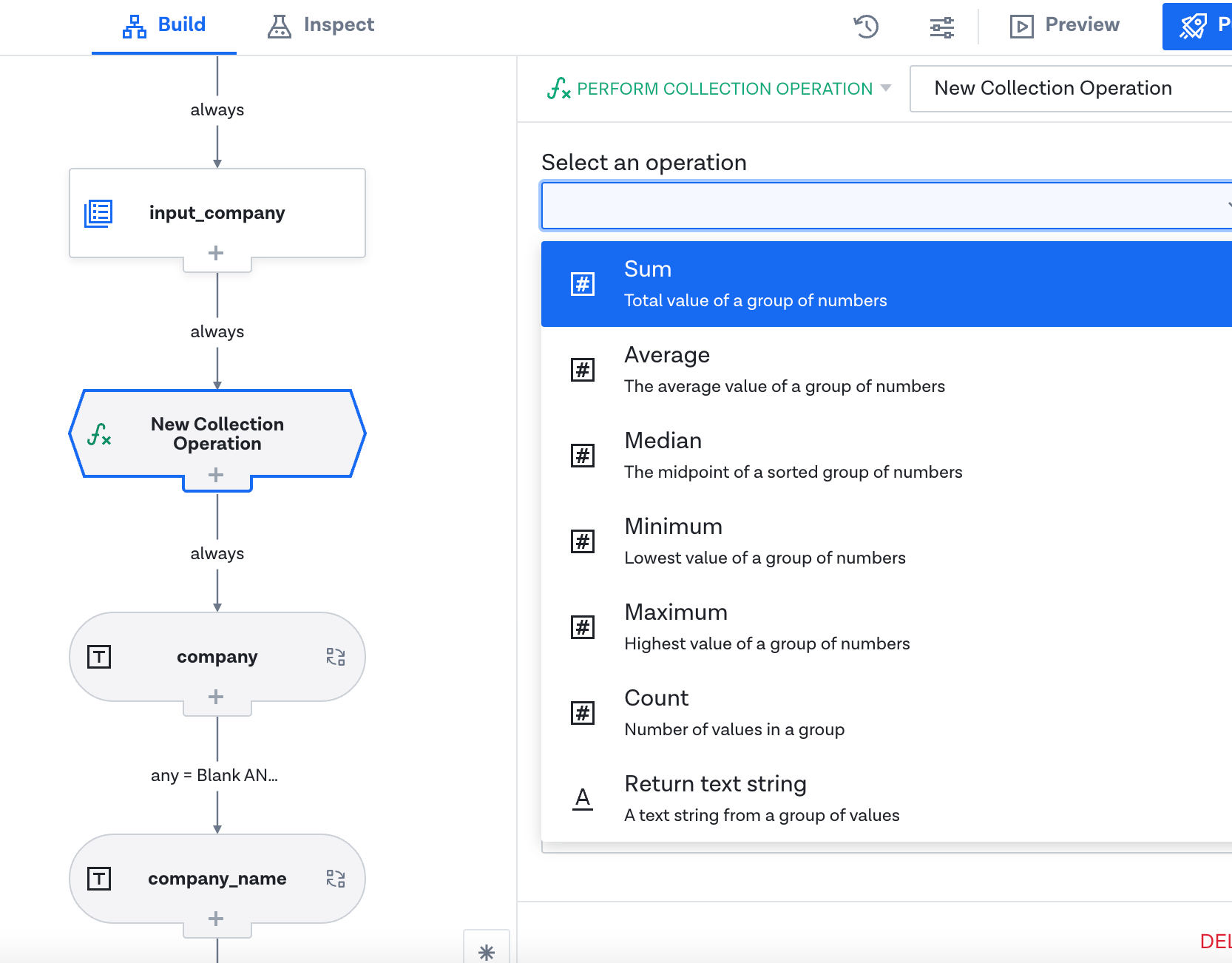 End-users
In the end-user interface of the published Module, the end-user will be presented with the option to add another entry when the Input Node, where allow multiple answers is activated, is displayed. The end-user can add up to 20 entries and delete entries that were not required. As soon as all required input fields in the respective entry are provided, the Next button can be selected.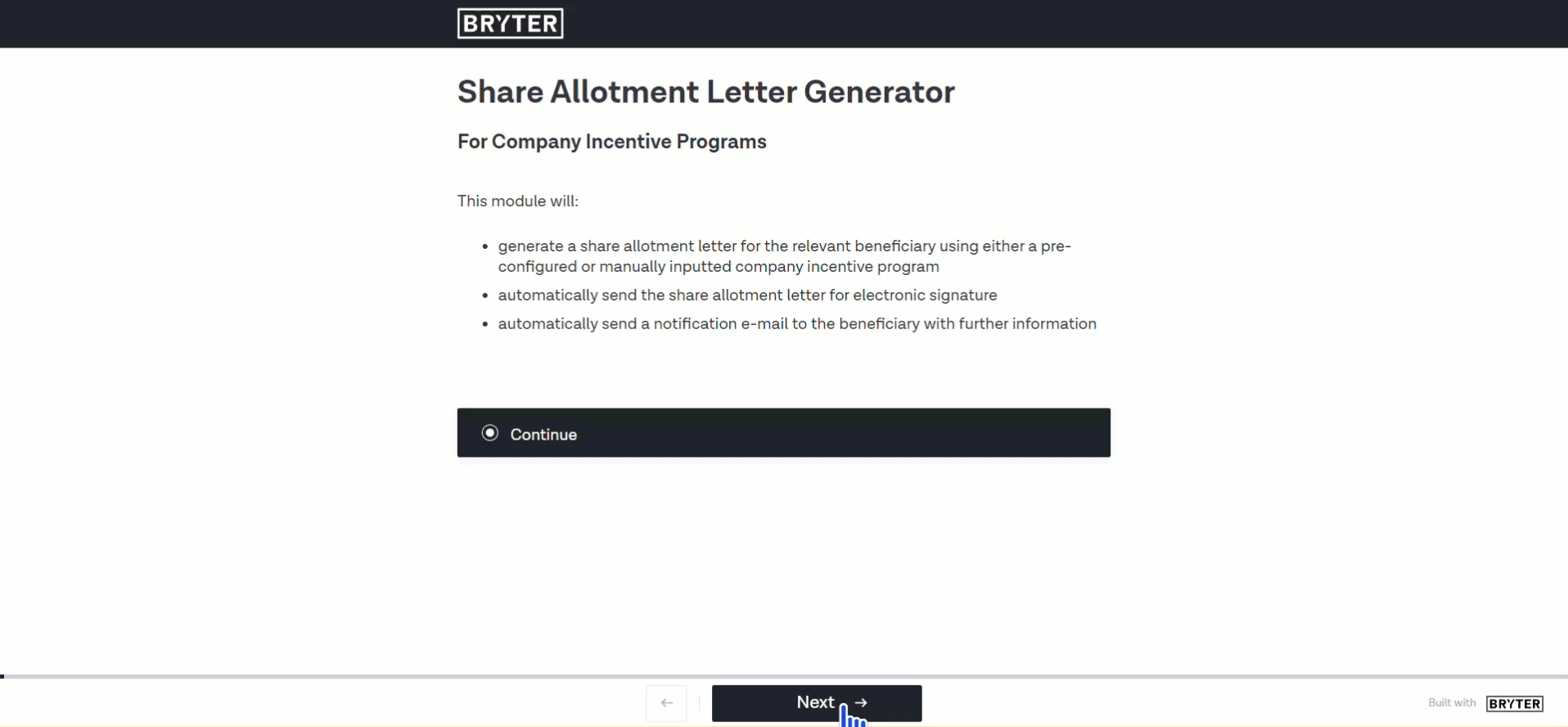 The entire Collection can be displayed to the end-user in any following content field of an Input Node or a Result.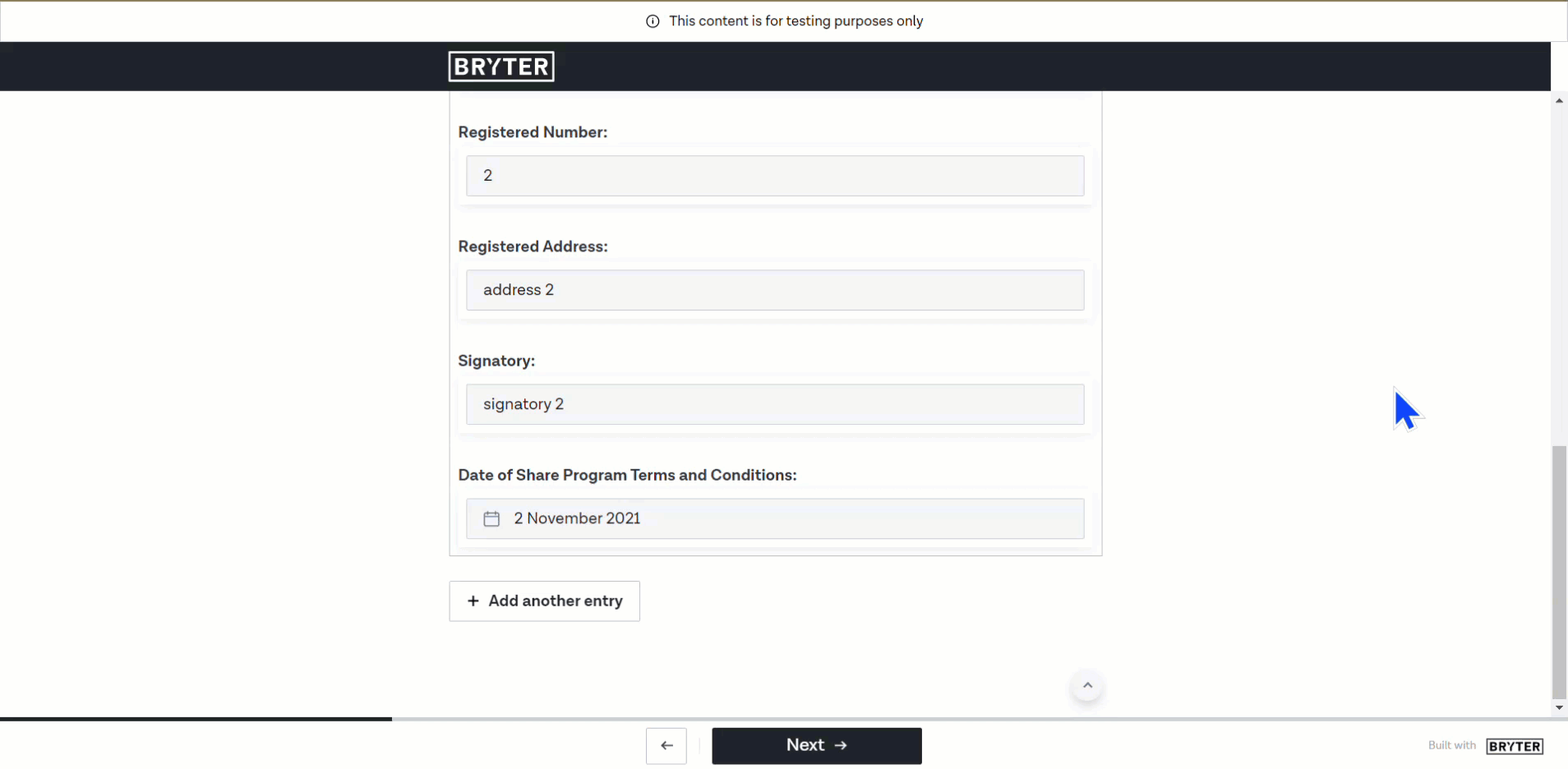 👍 Good use case examples: Board Meeting Generator
If you want to ask for attendees and absentees for a board meeting, you had to either set Input Nodes to optional or ask for the exact number first to display the correct amount of Input Nodes. With Collections, you can now enable dynamic inputs.
Other use case examples include:
Shareholder Agreements
Incorporation questionnaire
To-do lists or any bullet point list
👎 Bad use case examples
It's not possible to filter certain entries in a collection block and display those that only contain certain values. If your use case relies on this, you might need to consider setting up several Text Block Values or use several Input Nodes to let the end-user enter a pre-defined number of entries.
💡 Best practice
use an Info Block or add a hint in the content field of a Collection Node to let your end-users know that they can provide multiple entries
❗ Known limitations
Only up to 20 entries are allowed

Formatting applied inside a Collection Block cannot be rendered in a database, the Collection will appear as an unformatted string
Email Collections cannot be used to send bulk-emails
Collections are excluded from CSV exports
Auto-numbering cannot be applied currently
Collections cannot be displayed as default options