What are built-in values?
When the access publishing settings in a BRYTER module are set to Only accessible after login, built-in values can be used anywhere from different types of Nodes to the conditional logic of a Module through @-referencing. Built-in values include the Session ID, Resume Session URL, User Email, and different variations of a user's name (i.e., Full name, Given name, Last name).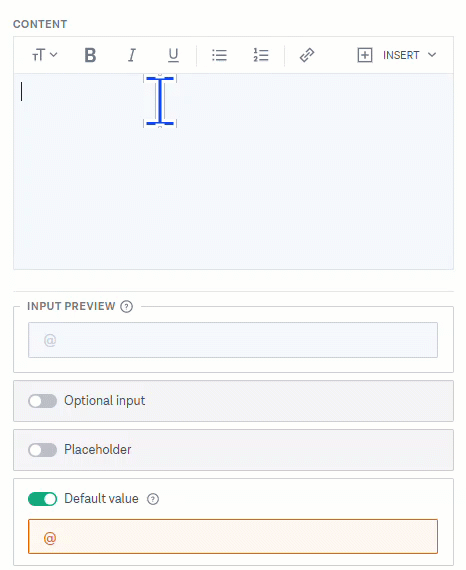 Why would you use built-in values?
In addition to creating values in your module by placing nodes and integrations, BRYTER also provides a number of 'built-in values' automatically in your module.
These built-in values can be used in both the content of your module (e.g in the content editor of input, result, send e-mail action, and text block value nodes) as well as in the conditional logic of your module and appear both when referencing existing values as well as setting conditions, within generated documents, hyperlinks or answer options.
How to use built-in values
When you set a BRYTER module to be 'Only accessible after login' when publishing your module, the end-user will need to login to BRYTER (either via a dedicated BRYTER user account or your organization's SSO) to be able to access the frontend of your module.
❗ Please note: Built-in values can only be used by authenticated end-users. You thus need to enforce authentication of end-users by ticking the access setting Only accessible after login as shown below.
This means that BRYTER is aware of both the name and the e-mail address of the end-user in this scenario. As such, you can utilize built-in values for the user's details to automatically use their name and e-mail address within your module.
The following values are available: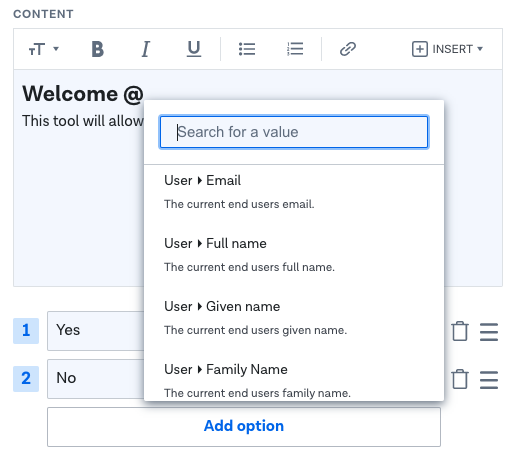 Note that, whilst you can always use these built-in user detail values when building your module, these values will appear as blank in the module front-end if your module is not set to 'Only accessible after login', when running your module in preview mode or if you have selected 'Do not save user answers for publishing statistics' when publishing your module.
Example use cases
Automatically email the module output to the end-user
In many modules, it makes sense to provide either the result content or a generated document in an email to the end-user for their records. By using the built-in user email value in the 'Send Email' action node, you do not need to separately ask the end-user for their email address, making the process quicker and more seamless.
Greet the end-user by their name
By referencing the built-in name fields in the content area of a node, you can greet the end-user by their name, giving your module a personal touch.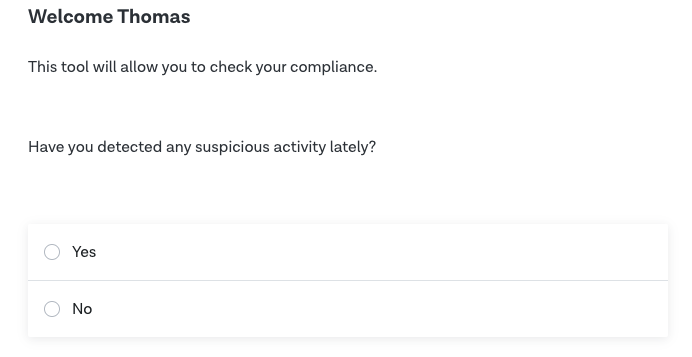 Automatically record user details to the module stats
Referencing built-in values inside text block value nodes means that these values will then appear in the data tab in your module's stats. This allows you to easily see which user each session of a module belongs to.
Procedure
Referencing a built-in value is the same as referencing any other value in your module. From the text input area of the desired node, simply type in "@". Once you start typing, a list of possible nodes or actions you can reference will appear. Then, just click on the relevant built-in value from the dropdown menu.
See our Referencing help article for full details.
Available built-in values
| | |
| --- | --- |
| Session ID | The session ID is useful to include it in generated documents (so that you know which session it originated from), and in advanced use cases where you might want to logically link multiple "child" module sessions to a "parent" session. |
| Resume Session URL | The Resume Session URL is a way for users to return back to a session at a later point to finish the session. It is the link that is visible in the Come back later and restart page modal of the Wizard which can now be used as a variable. |
| User > Email | Email address, as saved in the Admin Console or Active Directory, of the authenticated end-user. |
| User > Full name | Full name, first and last/family name, as saved in the Admin Console or Active Directory, of the authenticated end-users. |
| User > Given name | First name (Vorname), as saved in the Admin Console or Active Directory, of the authenticated end-users. |
| User > Family name | Last name (Nachname), as saved in the Admin Console or Active Directory, of the authenticated end-users. |