Authors can define a custom date format using the date formatting applied in Excel. The predefined date formats will still be available, but custom date formats provide authors with more flexibility.
These custom formats allow authors to enter date inputs or use date values depending on their internal style or specific requirements. Please note that changing the language and region settings of your module will also be applied on the custom date formats.
Procedure
In any date input, date value, or calculate dates node, authors can select a specific custom date format when selecting "Custom format" in the DATE FORMAT or OUTPUT DATE FORMAT field.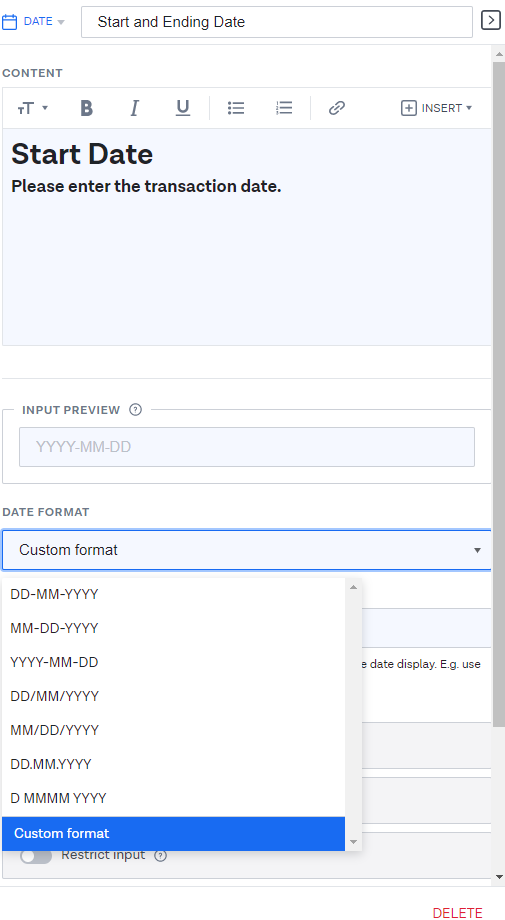 Once an author selects "Custom format", the author can define a custom date format. Next to the title of the DEFINE CUSTOM DATE FORMAT field, a preview of the defined custom date appears as displayed below. The predefined format will remain in the respective node, but authors can enter any other format according to their requirements or internal style.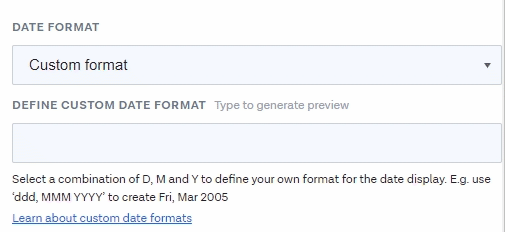 Overview of available date formats
The following table provides an overview of the available date formats and which input format is required:
Input
Example
Description
D
1..31
Day of month
DD
01..31
Day of month
Do
1st..31st
Day of month with ordinal
d
0…6

Day of the week as a numerical value from 0 to 6.

Sunday is 0, Monday is 1, and so on.

dd
Mo...Su
Day of the week name (according to the region and language setting in your module)
ddd
Mon...Sun
Day name (according to the region and language setting in your module)
dddd
Monday...Sunday
Day name (according to the region and language setting in your module)
M
1..12
Month displayed with 1 or 2 digits
MM
01..12
Month displayed with 2 digits and leading 0
MMM
Jan..Dec
Month name (according to the region and language setting in your module)
MMMM
January..December
Month name (according to the region and language setting in your module)
YY
14
Year displayed with 2 digits
YYYY
2014
Year displayed with 4 digits
ZZ
+12:00
Offset from UTC as +-HHmm