Authors can now insert emojis directly into the content field of nodes. Just select the Insert button in the editor and choose Emoji. Once the emoji is inserted into the text editor, you can use the header formatting options to change its size. You can also copy and paste the emoji from your content field into the node label or the notes field.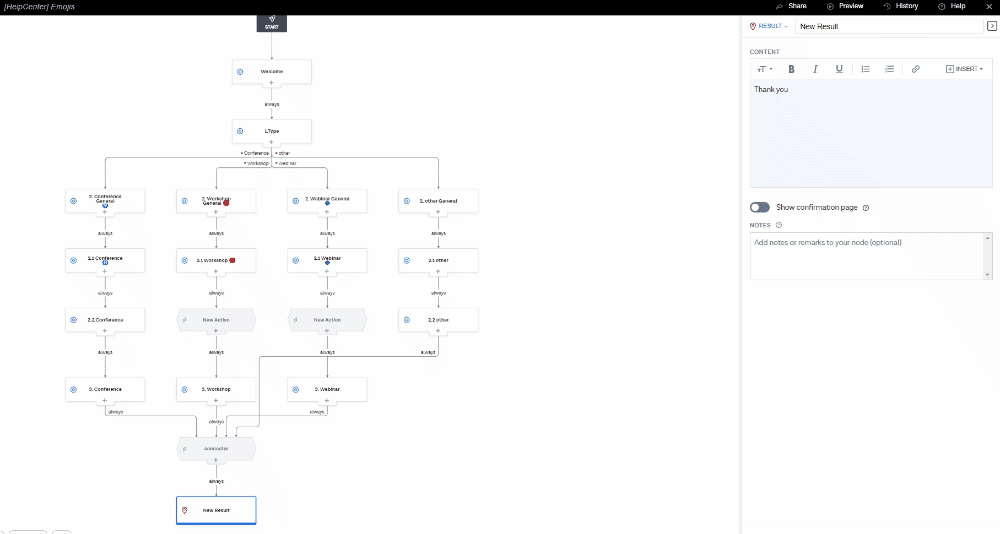 Example use cases
Create a lighthearted feedback questionnaire
Self-service or guidance modules are often rather formal, but internal-facing modules like feedback questionnaires could benefit from emojis to create a more welcoming user experience. Number and flag emojis or emojis like exclamation marks could also be used throughout your module to display warnings, red flags, or country lists to users and direct their attention to these visual triggers.
Use Emojis for collaboration
When working together on a module, emojis can be used in node labels or note fields to visually show which collaborator is working on specific nodes or sections. They could also denote which nodes require updates or changes.
Workaround to display emojis in downloaded stats in Excel
Excel does not open CSV files with UTF-8 encoding per default. Excel will display the emojis if you:
Open a new Excel file
Go to Data -> Get External Data -> Import Text File
In the popup window select Unicode (UTF-8) as File origin
Also choose delimiter and change it to comma
Finish
Alternatively for Mac users: if you open the file with Numbers, the emojis will display right away.