Insert files into the content area of a node, such as further guidance to assist the user. Your file can be downloaded by your end user via a link in the fend-user interface.
Procedure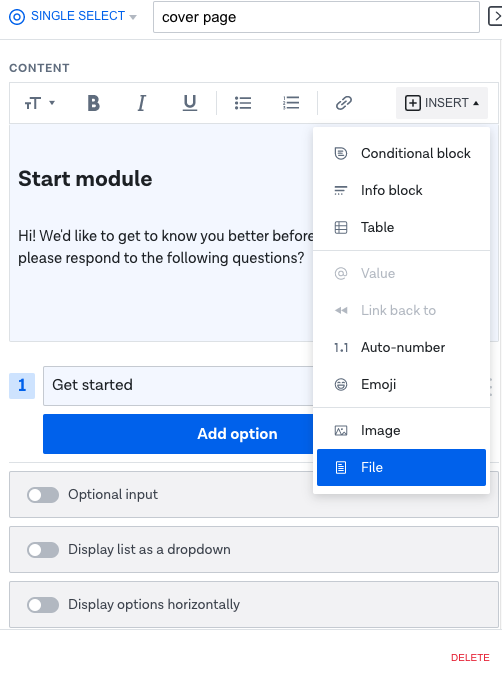 To insert a file, follow the steps below.
From the Content area of a node or action, click on INSERT.
Select File from the dropdown menu.
In the pop-up that appears, you can drag-and-drop a file from your computer to upload it.
Scroll to the bottom of the pop-up window and click INSERT.
The maximum file size is currently 20MB. You can upload common document (.doc, .xls, .ppt, .docx, .xlsx, .pptx, .odt, .ods, .odp, .pages, .numbers, .keynote, .txt, .csv & .pdf) and image (.png, .jpg, .gif, .jpeg, .webp) formats via this method as well as .zip files.
❗ In case files are bigger than 7 MB and at a later stage will be referenced in an Email Node, the file will be attached as a Hyperlink (which is active for 7 days and is hosted on a BYRTER unspecific URL).