Share your Application with anyone in your organization and collaborate on Modules.
What are collaborators?
You can share your Applications with everybody in your organization who has a BRYTER account. These people are called collaborators and they can work together with you on a Module if they are added as collaborators to the Application containing the Module. It is important to know that you cannot work synchronously on a Module together as this will create conflicts. Only one collaborator can work on a Module at a given time.
Why would you add collaborators?
Building Modules in an Application is usually a joint effort. If you are building a Module or several Modules in an Application alone, you might consider giving your colleague, who also has a BRYTER account, access to the Modules in case you are on leave or you are sharing the workload. As collaborators, both of you can edit or review and test or publish the Modules. Please note that you will see a Conflict detected error message should you and another collaborator edit the Module at the same time.
User groups with internal users can also help speeding up access management to your finished published Modules when restricting access for selected users only. If a team of your colleagues is testing and reviewing the module in development but you would like to ensure that the TEST URL can only be accessed by said team, define a user group
How can you add collaborators individually?
You can add collaborators in your dashboard by selecting the Collaborators tab in your Application. Enter their email address and click on the Add collaborator button next to the email field. If they have a BRYTER account, they are added as collaborator and their full name will be displayed in the collaborators list.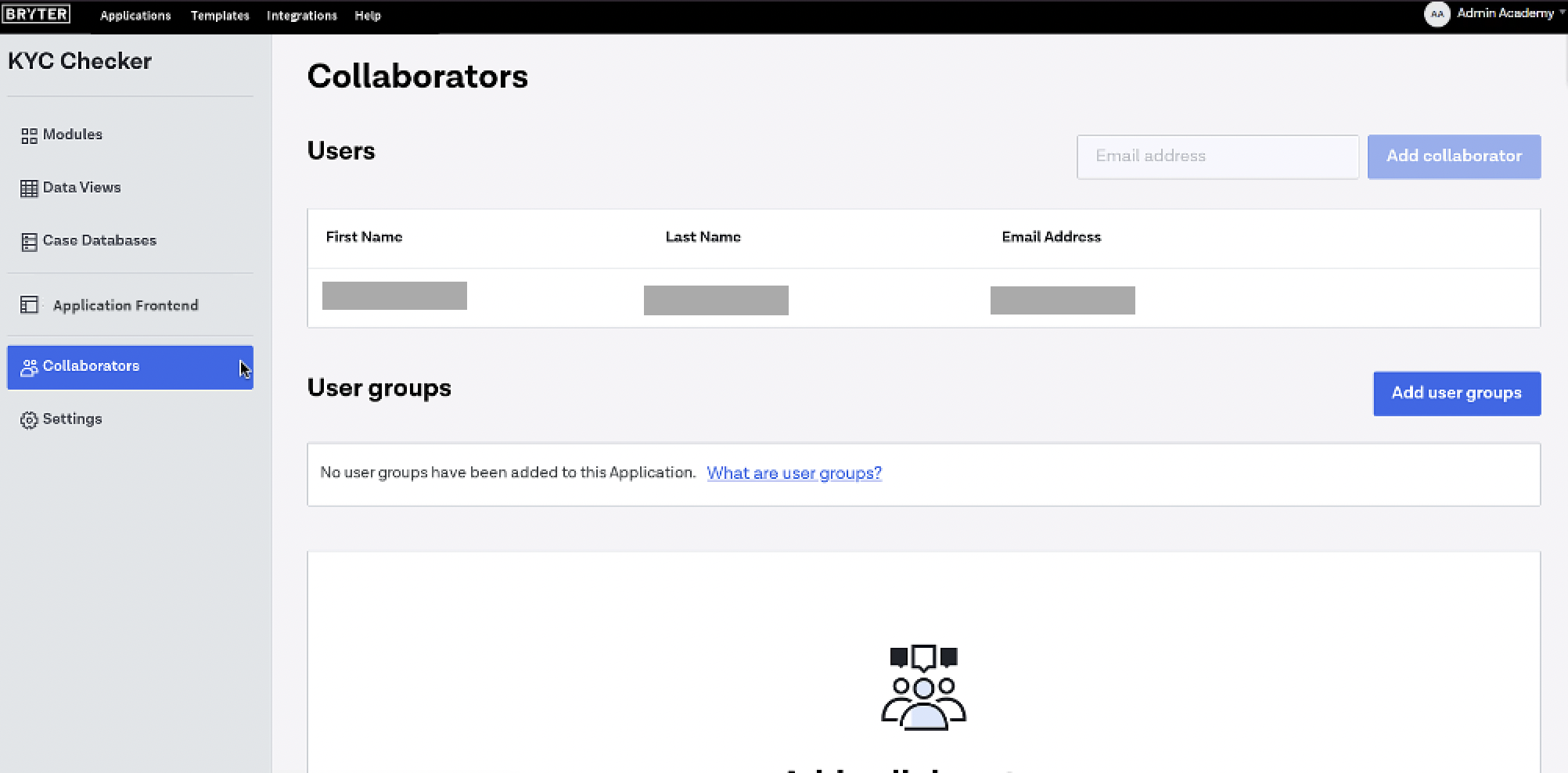 Collaborators are also displayed in the Applications list. Simply hover over the circles that display the initials of collaborators to see their full names.
How can you add several collaborators at once?
Additionally, you can also add a user group as a collaborator to the Application. All members of this user group will now have access to all Modules within the Application. Simply click on + Add user group in the Collaborators pop-up. You can now choose the user group from the list of all available groups on the tenant. The members of the added user group will be displayed in grey circles showing the initials of each member. Upon hovering over the circles, the full name of the member can be seen.