Updating values of action nodes like the Calculation Action, Date Calculation Action, or Create Text Block Action, can be incredibly beneficial and help to improve the usability and user experience of your Modules.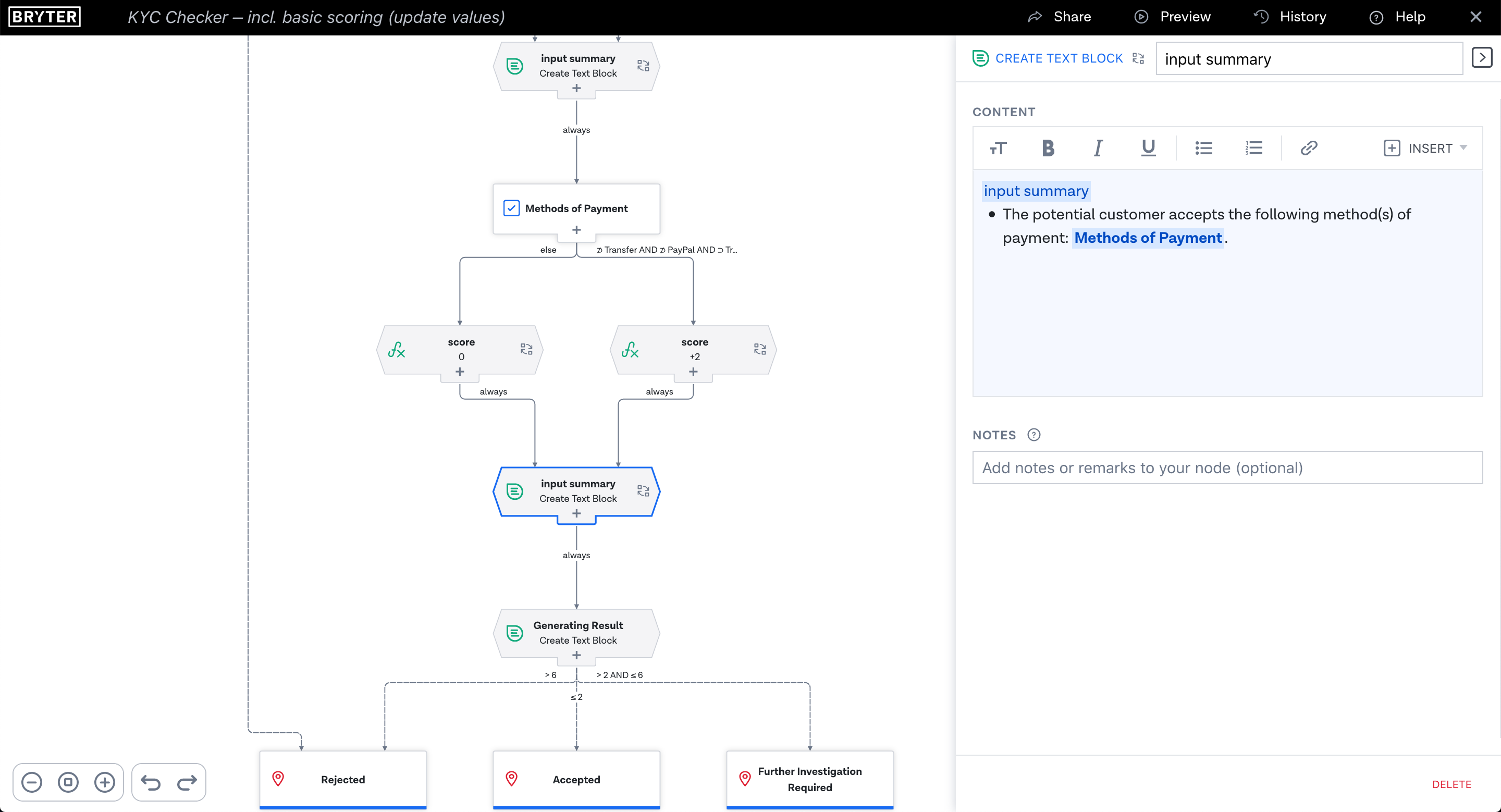 Updating a Text Block
Using Text Block Updates is a guaranteed way of increasing your module's usability. By combining Create Text Block actions and Referencing, you are able to get the most out of your module, while keeping it structured and lean.
In this example, we have created an Input summary that collects all information the user provides throughout the module. An empty Text Block action is placed at the very beginning of the module and given a distinct name. A new Text Block action is then placed after every input node. By typing out the name of the first empty Text Block action, you will be able to update the current node. Updating is necessary to link all relevant nodes together. Within the Text Block action, you can reference the previous Text Block action to include the information that was already collected and/or reference the most recent input node to collect the user input from that question. Additionally, you may choose to include text and styling elements like e.g. bold font or bullet points.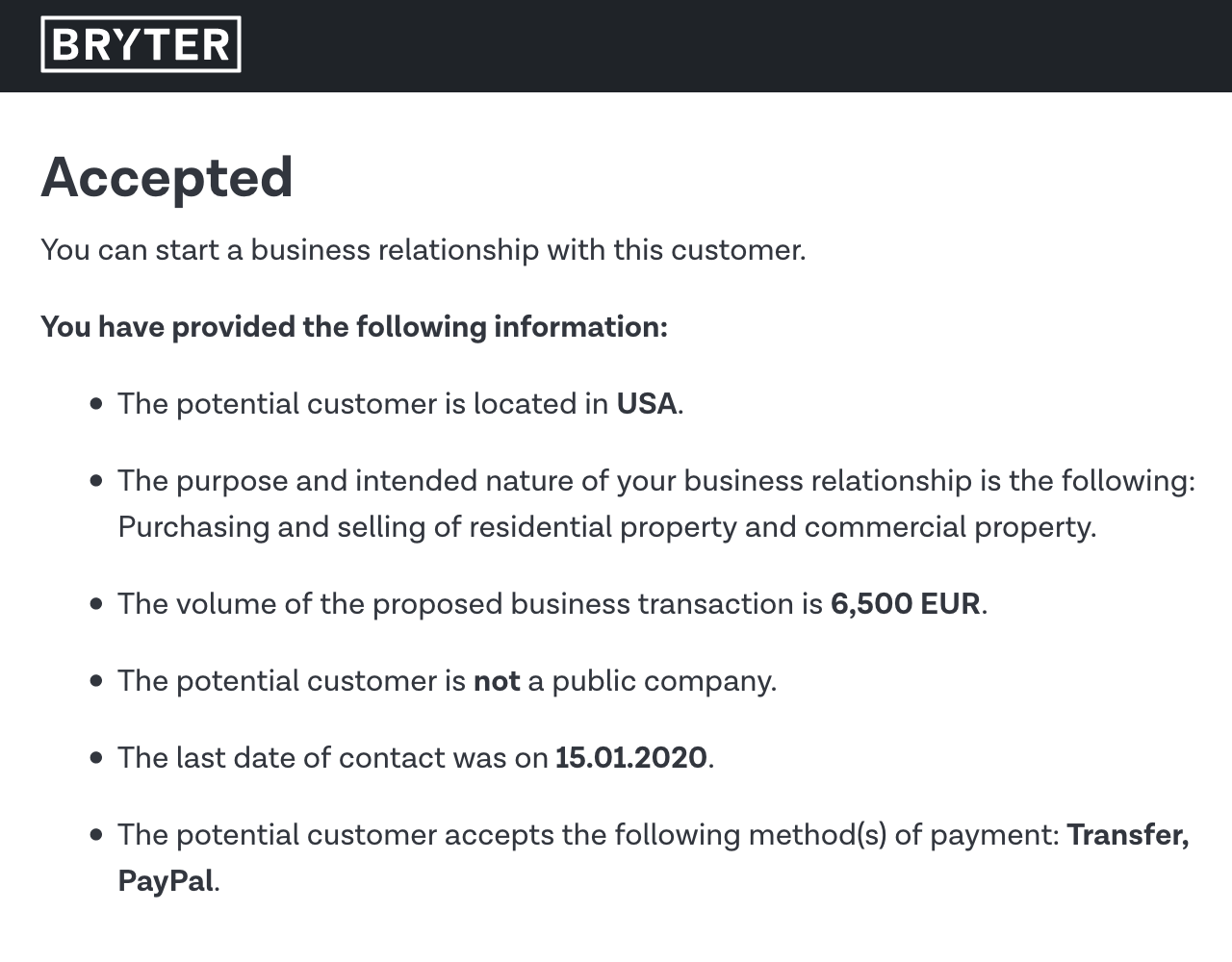 Then, when the Input summary node is referenced in, e.g., a Create Document action, a Send email action, or the Result node, the list of user inputs is not only displayed in a more presentable manner but without the hassle of exhaustive conditional logic, leaving the Backend as streamlined and simple as the end-user interface. Learn how to add a context-sensitive bullet point list as a Result in this article.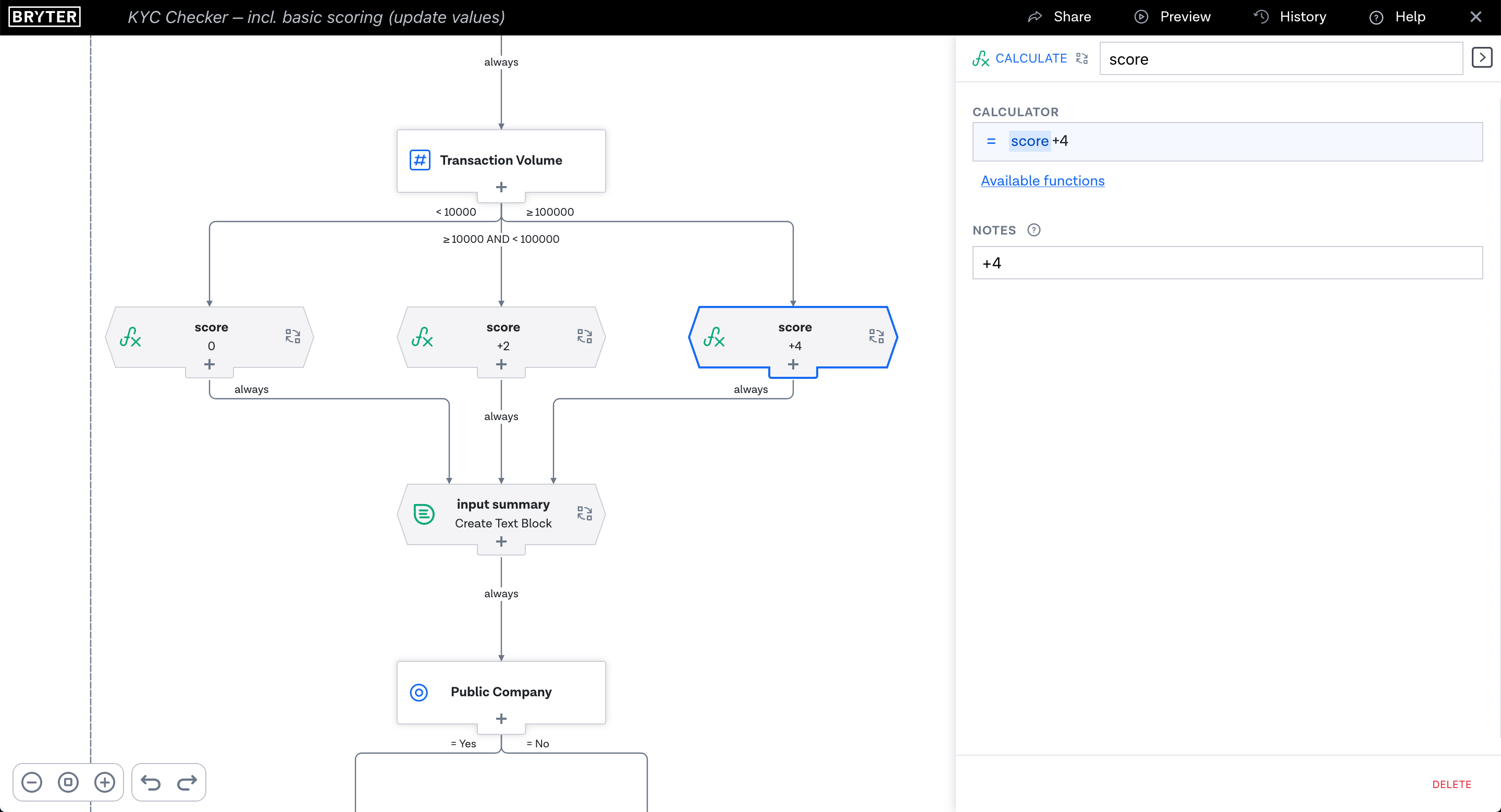 Updating a Calculation Action
When assessing the level of risk associated with a large number of different questions, you may wish to attach different weights to each of these questions to come to a conclusion in respect of the overall level of risk. Whilst this could technically be achieved by building an exhaustive conditional logic for all outcomes, a much simpler and robust way to achieve this is to set up a 'scoring' system within the module using Calculation actions.
A calculation action is placed at the beginning of your module and set to '0'. This action is your 'score' node that will collect the score throughout the module. Now, combine Input nodes and Conditional Logic through the use of Transitions to create different paths through the module. Place additional updated 'score' nodes to assign scores to certain paths. For example, a low-risk path could add a small number to the total score, and a higher-risk path could greatly increase the total score. To do this, 'score' is referenced in the node by typing out '@score' and the desired number to be added to the total score is inserted.
Finally, use 'score' to set your conditional logic and receive results based on the user's input.
Pro Tip: If this point system seems counter-intuitive to you, you can always set 'score' to a fixed max number and subtract penalty points rather than adding them up.

Image: More than 6 penalty points lead to a Rejection, while 3 to 6 penalty points require further investigation. Below, 2 penalty points lead to Acceptance.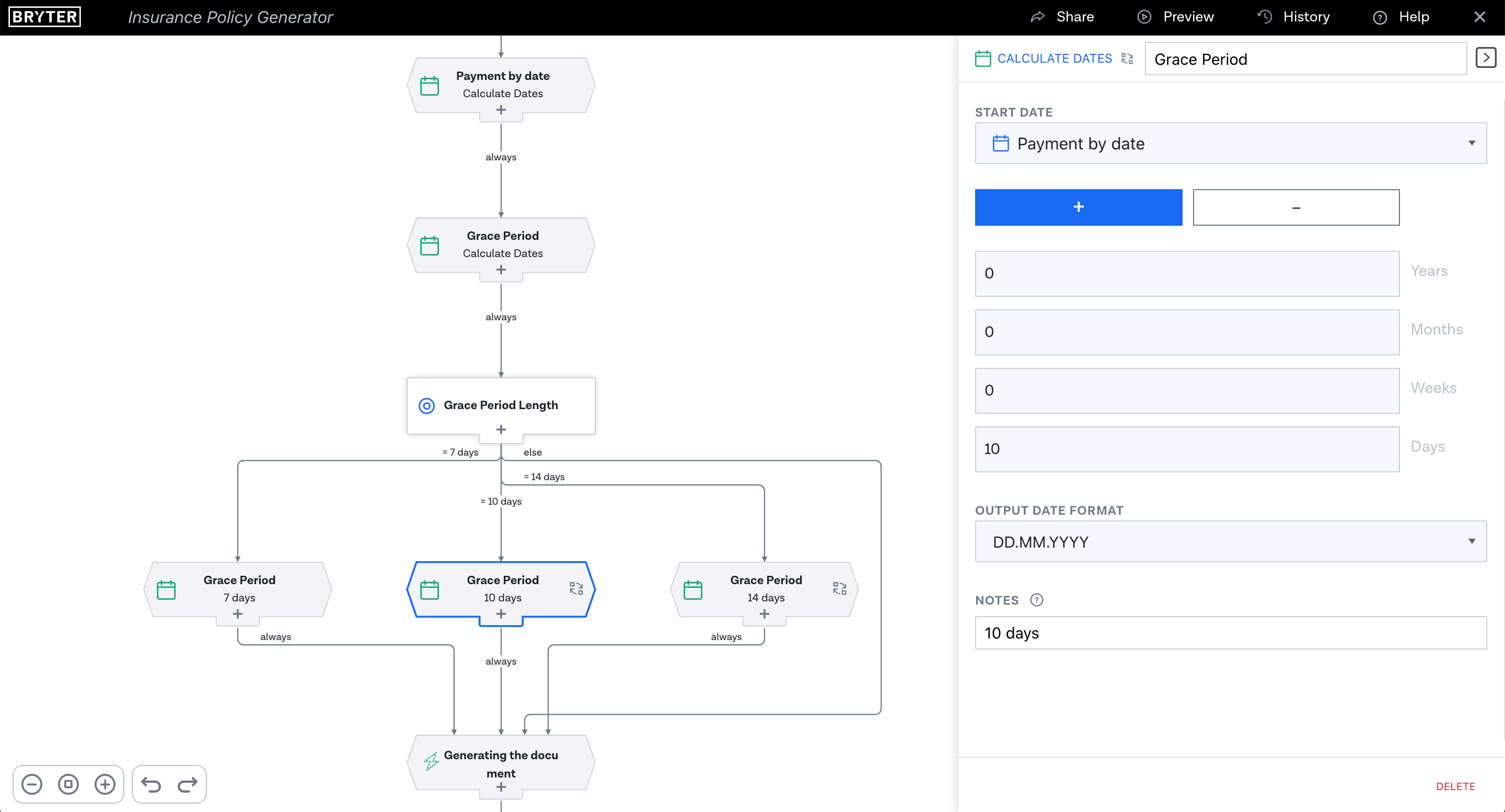 Updating a Date Calculation Action
Updating a Date Calculation action can come in handy when you are building a module that has adjustable terms and deadlines.
In our example, we are looking at an Insurance Policy Generator. At the end of the module, a document is generated and sent to the policyholder. The policyholder is informed of a fixed "Pay by" date. Before generating the document, the module user may choose to add a certain length of the grace period (7, 10, or 14 days). The user can also choose to skip the question. In this case, no grace period is added to the policy.
The utmost "Grace period" node stores the information that 0 Years, 0 Months, 0 Weeks, and 0 Days shall be added to the Start date 'Payment by date'. The following updated 'Grace Period' nodes are set to add 7, 10, or 14 days to 'Payment by date'.