Result nodes need to be added to your module to conclude the module and specific end-user session in the module stats. Every time end-users arrive at a result node, the module session will be marked as complete. If one of the paths in your graph does not end with a result node, Quick Check will display an error and guide the author to the detected error.
Two types of results exist:
Redirect result: Allows to redirect to another (or the same) module, data view, or external URL.
End result: Concludes the session and restricts end-users from clicking back when they reached an end result node.
What is a Redirect result?
A Redirect Result is a result type, which ends a session in the BRYTER module and enables a seamless transition from the original BRYTER module, to a separate BRYTER module or BRYTER data view or any external system accessible via URL. A redirect can be used to 'link' two modules or to repeat or loop again through the same module.
| | |
| --- | --- |
| Result node picker | Redirect result node |
| | |
Why would you use a Redirect result?
Redirect result nodes are an ideal option to direct the user to a given URL – this URL could be an intranet link, any website on the internet, or another module in the same service. Additionally, it might be used to enable looping, i.e. running through the module multiple times. This functionality is especially powerful in combination with a URL parameter. Module authors can use the URL parameter in a Redirect result node to transmit inputs from one module into another module.
Authors can easily choose a module from within a Service and be sure that their module will redirect to the same environment in which it's published. In the sidebar, authors can additionally append URL parameters easier to build for module to module redirects.
How do you use a Redirect result?
When creating a result node and choosing "redirect", the default is set to "BRYTER module". This option allows you to select a module that exists within a service, including the module currently being edited.
A module will always redirect to the same environment in which it's running. A TEST module will redirect to TEST, a LIVE module will redirect to LIVE. If the associated environment hasn't been published, the end user will receive an error. In the dropdown, the published environments of a selected module in the dropdown and will show an error if it does not match the current module's status. URL parameters can be built with a "Parameter Key" and "Parameter Value" pair via "Add Parameter". These are accessible in the destination module via the URL Parameter action, as before.
With the option 'Custom URL', an author can redirect to any URL outside of BRYTER. With this option, you can still use URL parameters
Exemplary use cases
Running a module multiple times
Using Redirect result nodes can also allow you to run through the same module multiple times. Users could restart their modules via refreshing their browser or clicking on an added link in a result node, which would open up a new tab where the module was running. However, in embedded modules, it is more user friendly to include a node before a simple result node or a redirect result node, to ask users whether they would like to restart or conclude the respective modules.
If they choose to restart or assess another case, simply redirect to the same module by selecting it in the Select module picker: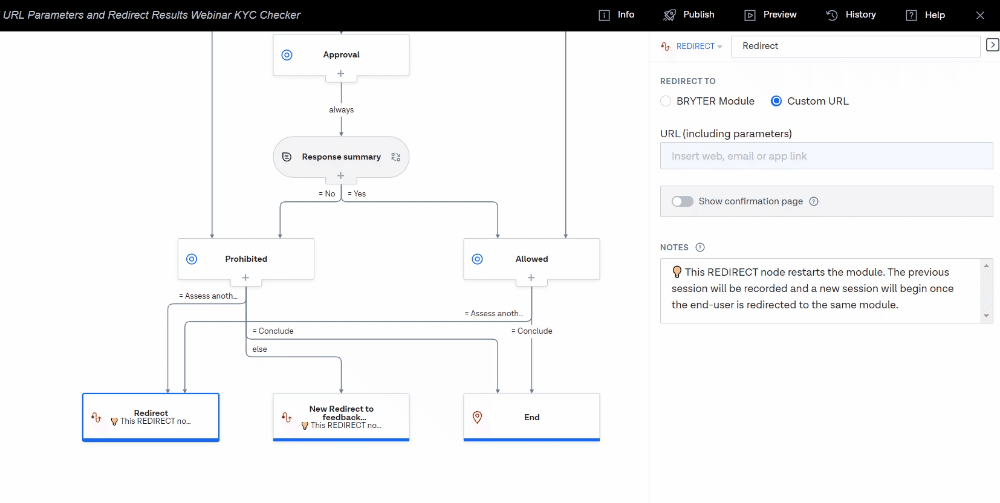 Linking into another published module
When using a module as a navigation tool that directs the user to other relevant BRYTER tools, the Redirect result node can enable a seamless experience. Let's assume you have built several self-service and document generation tools. New users, either internal or external, might not know where to look for these or which specific module they actually need. In this case, it might be helpful to build a "front door" that leads to the appropriate module and acts as a "parent" module. This parent module would lead to the possible "child" modules, via the URL to the respective published child module in Redirect result nodes. There are several advantages when using the Redirect result node in such use cases: you gain an overview of the most in-demand child modules because a Redirect result node will finish a session in the recorded stats section; you can build smaller modules and thus keep a better overview; and you can transmit data entered once in the parent module through URL parameter nodes in the child modules. This means that the user does not need to type the same information in manually.
In the below example, the name entered in an input node will be passed through to the next module 'Red Flag Checker'. In the Red Flag Checker module, you need to include an URL Parameter action node called name to pick up the value passed through:
Redirecting to a dashboard or overview built with a BRYTER Data view
Redirects to data views enable authors to create an integrated experience for end-users without the need to switch tabs or clicking on a Data view link embedded in a content field. End-users can be forwarded to a specific data view automatically after completing a module which is part of the same Service. They can consume and process cases displayed in a data view immediately and do not have to link with to the data view via Custom URL.
Redirects to data views work in both TEST and LIVE environment and will not break when a Service is duplicated.
Please note: End-users will only be able to see cases if records had been stored in the case database, i.e. only in Services with modules published to either TEST or LIVE which contain a Database action node.
Seamlessly "integrating" with other downstream systems/UIs
Are you using a BRYTER module to guide you to the right internal tool, intranet page, or another in-house system? The use of a Redirect result node is a great feature to help your users "connect the dots" and guide them through a pre-defined process. By way of example, your BRYTER module might provide guidance regarding a legal matter, leading the user directly to the respective intranet page that contains further material, or to a website containing the correct legal matter experts.
To redirect to a URL and not a different module, choose Custom URL and paste the URL into the URL field. If you would like to pass through values with a URL parameter, these can be appended with the URL parameter approach explained here or in this webinar.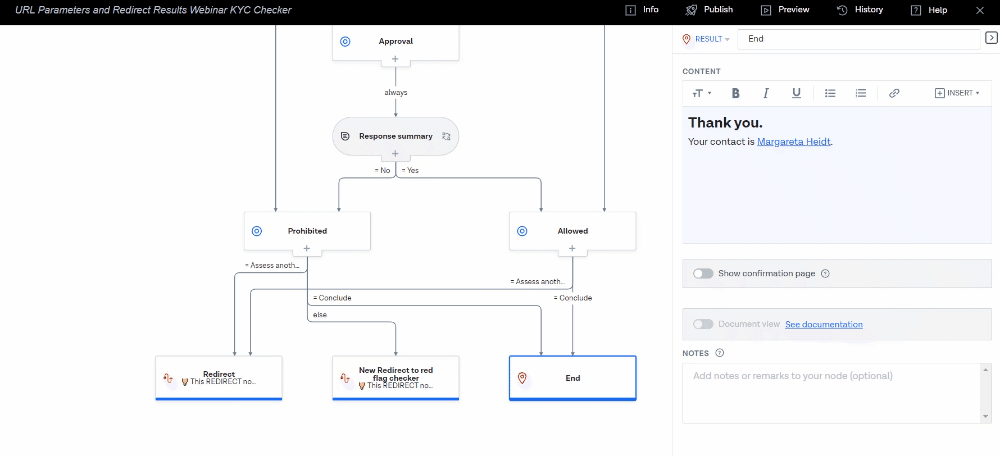 If you are thinking of completely integrating another system with BRYTER, reach out to your Customer Success Manager who can offer further advice.
Build smaller modules or partition very large and complex modules
Using a redirect result node can – as mentioned before – function as a great way to split existing large modules with many branches or to connect smaller or consecutive modules. Like this, a module author is better equipped to maintain and review modules.
Keywords: urlpara; urlparameter