In BRYTER, there's a hierarchy for accessing the platform, similar, for example, to a content management system for websites. Currently, there are three types of users, including admins, authors, and users who all have a designated account in the BRYTER admin console or your active directory.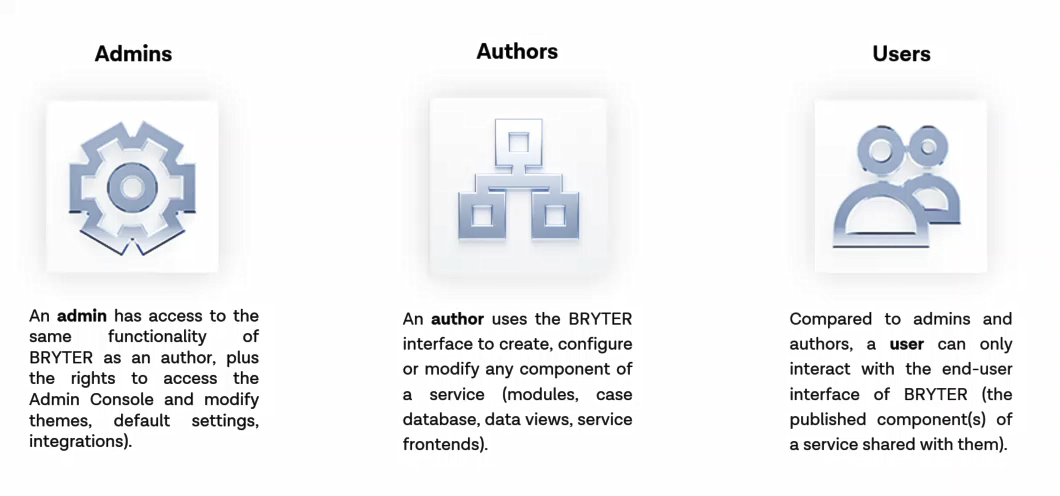 Users
Users can access the end-user interface only, which means all Modules, Data Views, or published Applications published by authors. They do also need a BRYTER account if you want to restrict access to a published end-user interface. It is also possible to restrict access to a module for specific personalized user accounts. Contact your customer success manager for more information on personalized user accounts.
Authors
Authors are the creators of Applications and all their components. Every author has their own personalized BRYTER account. They can access the workspace, including all Applications they have created or Applications they were added to as collaborators. Therefore, they are able to create Applications and modules, delete modules, add other collaborators to modules and finally, publish modules. Within the publishing settings, they can set specific restrictions, as well as view the statistics of a module. Usually, the amount of author accounts you can have in an organization is set within your contract. To remove any author account (if you are not using the SAML integration), please contact your Customer Success Manager.
Admins
There should be at least one admin within your organization using BRYTER. An admin has access to the same functionality of BRYTER as an author, plus the possibility to access the Admin Console. The Admin Console is the central hub for the entire organization. Here an admin can view statistics of the entire organization, including all modules and user sessions. An admin can access any module built by an author, by adding themselves as a collaborator. It is also possible to add new users and provide them with author or user roles. To remove any admin account (if you are not using the SAML integration), please contact your Customer Success Manager.
Keywords: profile; role