Publish your modules to separate 'Test' and 'Live' environments to share them for both testing or live use with your internal colleagues and/or external users.
Example Use Cases
Development Environment – Test the latest version of your module whilst building
The development environment is automatically updated after each change you make to your module, allowing you to instantly preview the end-user interface of your module and test it yourself.
Certain features are not available in the development environment, such as file uploading or sending emails and using case databases or integrations. User statistics and inputs are not stored in a database or collected in the module stats.
Test Environment - Get a colleague's opinion on your module
Before sharing or updating your module for your clients, sometimes it is good to get a second opinion from a colleague. You can publish your module in the test environment to get an URL to share with your colleagues via email or direct messaging. Then, your colleagues can open the link in a web browser and test drive your module. You can update the module available on the test environment after you make amendments and 'Unpublish' the test environment when testing is complete.
The test environment is watermarked and has the added benefit of storing user statistics independently of your live module.
Live Environment - Share your module with your users
Publish your module on your live environment to post it on your website or to generate a link that you can send directly to your users. Users can interact with your module in a web browser of their choice and submit their data. You can choose whether or not to collect user statistics. Additionally, you can allow users to save their partially completed modules and return to them via a personalized link at a later time.
Procedure
Follow the steps below to publish your module to both the test and live environments.
From the top navigation bar, select Publish.
To instantly preview the latest version of your module, select Preview in the Development box.
When you're ready to share a test version of your module with others, select Publish to Test.
To change your test settings (General Settings and Access Settings) select

Test Settings

in the three dot context menu.
You will then be able to access your front-end test environment by selecting

Open Link

within the Test box. You can also copy the URL, view your test statistics, try the module as a bot, or un-publish your test environment via the context menu.
You can send this URL to your colleagues or external testers via email or secure messaging.
When you are ready to launch the live version of your module for real-world use, select the

Publish to Live

button to configure the General Settings and Access Settings.
After confirming to publish to live via the

Apply Live Settings

button, you will then be able to access your front-end live environment by clicking on

Open Link

within the Live box.
Publishing Settings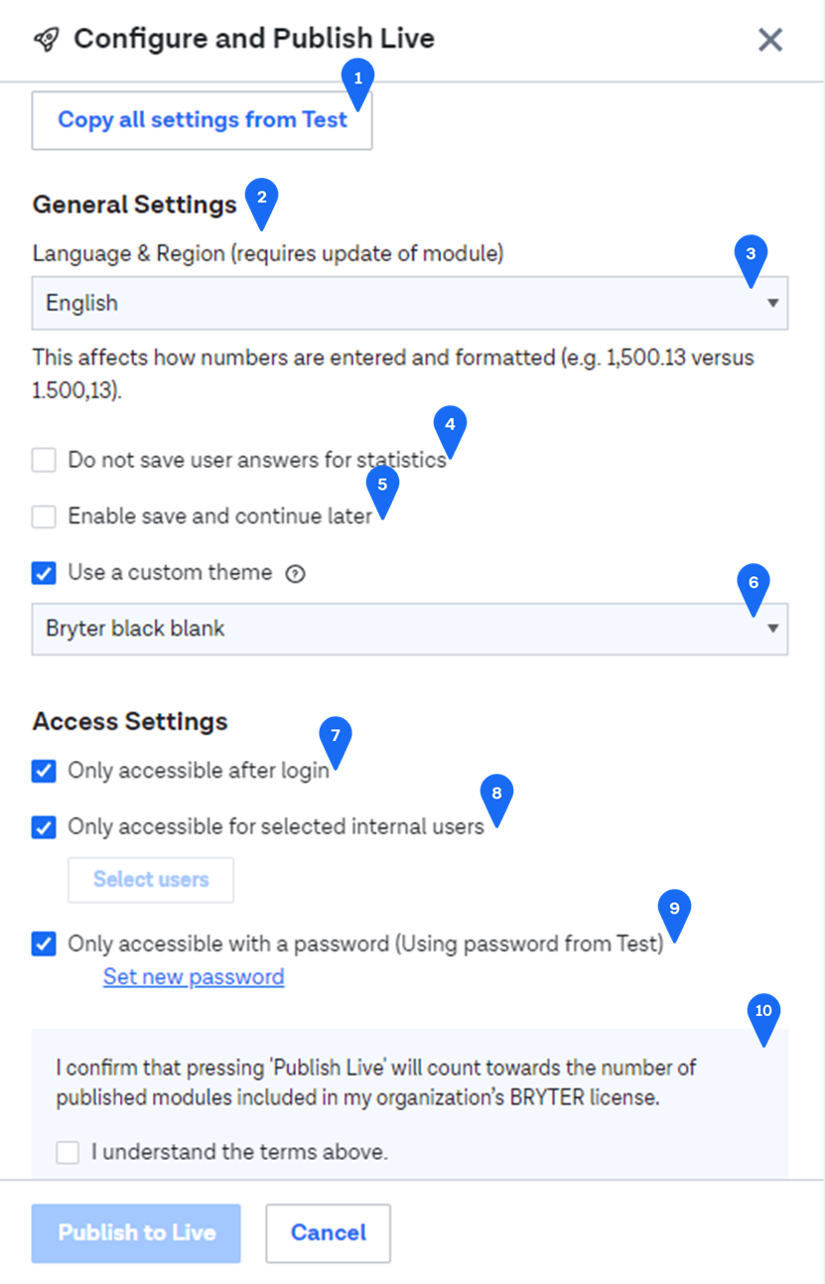 [ 1 ] Access Settings
Access Settings are independently applied to the test environment or live environment of your module. In the Configure and Publish Test dialog you can select the Copy all Settings from Live to transfer both General and Access settings to your test module.
[ 2 ] General Settings
General Settings apply to your module overall and will take effect in both the Test and Live environments of your module.
[ 3 ] Language & Region
This changes the default answer options from English to German as well as the number formatting in the published Application. If set to German, users can use the comma instead of the dot to enter decimal numbers.
[ 4 ] Save user answers for statistics
Opt-in or out of tracking your user's responses for statistics. Toggle this option off to disable data storage and thus be GDPR-compliant. Note that
Analytics for the Test environment and Live environment are stored separately.
[ 5 ] Come back later and restart this page
Sometimes, your user will need more time to respond to the questions in your module. For instance, they may need to find the date of last contact or to consult their colleagues for more details. In these scenarios, it is useful to provide your users with the option to save their progress in the module and to continue at a later time.
If you enable this option, your users will see a link at the bottom of their module labeled Save and continue. If they click on this link, they will receive a personalized URL which they can use to return to the module at a later time.
[ 6 ] Custom theme
Toggle on this option to select a custom theme from the drop down menu. Your BRYTER solution comes prepackaged with two BRYTER themes: BRYTER and BRYTER Black. Additionally, your admin can create new custom themes upon request.
[ 7 ] Only accessible after login
Your module will only be accessible with users who are able to log in to BRYTER in your organization.
[ 8 ] Only accessible for selected internal users
In the publishing dialog, check the '[ 7 ] Only accessible to logged-in users' setting which reveals the stricter '[ 8 ] Only accessible to selected internal users' setting. Authors can restrict published modules to specific users. This can be set independently for Test and Live environments, and different environments can also have different sets of allowed users. For example, authors can define a specific audience for testers by typing or pasting their email addresses.
Please note that the user has to already exist (either as Author or Module User) on the tenant and you have to first publish the module on the environment before you can add selected users.
[ 9 ] Password protect module
Use this option to add a password to protect your module. Only users with the correct password can access your module via the link you provide.
[ 10 ] Consent message - optional -
Your admin might have added a consent message to be confirmed by the author publishing the module to the Test or Live environment. Modules can only be published once this consent message has been acknowledged once activated by the admin.
Published module configurations
You can access the published module configuration by clicking "⚙️ Configure" in the right-hand-side corner of the publication suite. This enables authors to make selections as to which features they want or do not want to show when using their module. This includes 1) navigation, 2) progress bar, and 3) scroll assist. Previously, these settings were located in the themes editor in the Admin Console which can only be accessed by admins.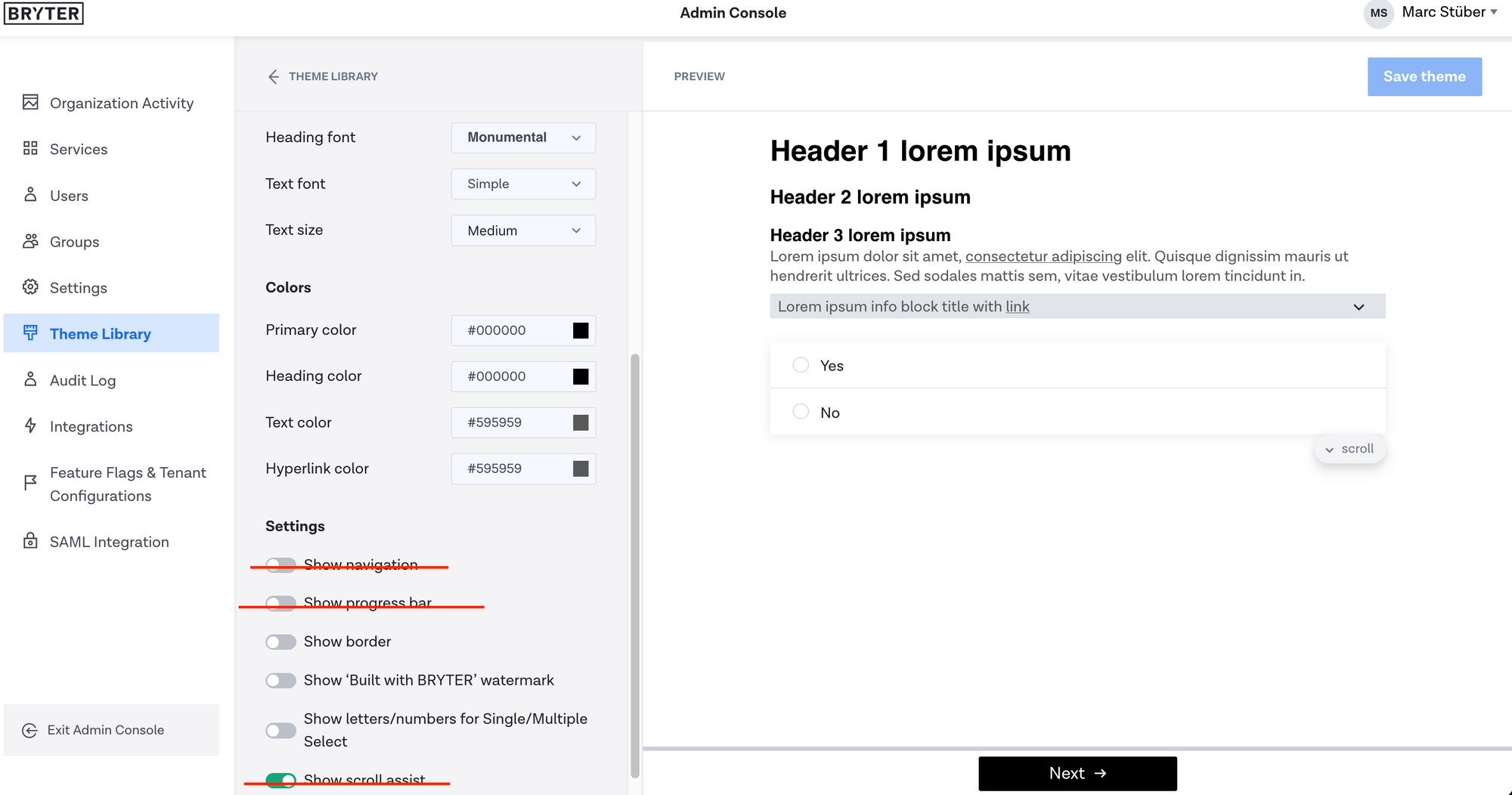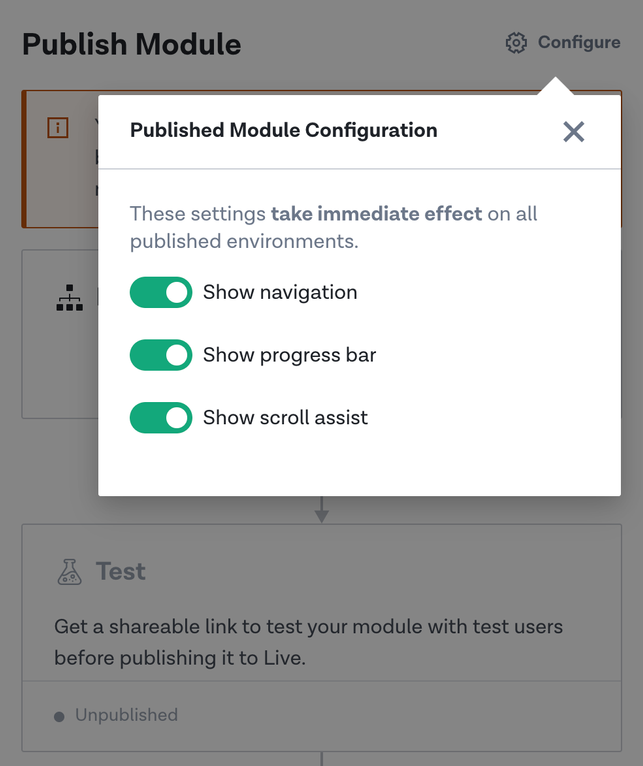 Version History
Every time you publish your modules on the Test or Live environment, the version history also displays badges to indicate if the respective version of the module has been published. A grayed-out badge will be displayed for previously published modules in the version history list.