Use an Info block to provide your user with hints, disclaimers or additional information.
Exemplary use cases
Explain a complicated question
Use an Info block to explain terms or words you use in the module. For example, you can title the Info block with "This word means…" and add the explanation into the content.
Justify a result
If the result is based on a particular regulation, you can include that regulation in the module for your user. For instance, you can provide the result and the interpretation of the regulation in the Content area of the node. Then, use the Info block to add display the regulation itself.
Procedure
To insert an Info block, follow the steps below.
From the Content area of a node or action, click on INSERT.
Select Info block from the dropdown menu.
In the Content area, you'll see an embedded text box labeled "Info block". See below on how to populate the Info block's parameters.
Parameters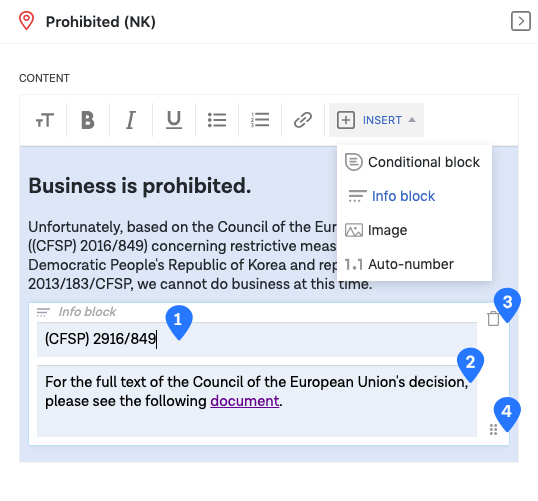 [ 1 ] Info block title
In this text area, enter a title. Note that this will be visible to your users.
[ 2 ] Info block content area
In the content area of the Info block, provide the information you wish to display. Note that text formatting options are available to you from within the info block.
[ 3 ] Trash icon
Use the trash icon to delete the Info block.
[ 4 ] Reorder icon
Use the 6 dots next to the Info block content area to drag the Info block up and down.