Use the Calculation action to perform mathematical calculations on numbers. For example, you can convert between currencies or find the sum of weighted responses.
Example use cases
Convert currencies
If you and your user are working across multiple currencies, you can provide accurate currency conversions. Once the user enters a value in a given currency, you can reference the currency conversion rate from a live database and use the Calculation action to multiply the entered value by the rate to convert it to a different currency.
Score responses
Scoring is a technique to weight user responses. This is particularly useful in performing a risk analysis by summing up the total weighted responses using the Calculation action. After collecting and weighting the responses from your users, you can then evaluate the risk values using conditional logic.
Procedure
Follow the steps below to create a Calculation node to your module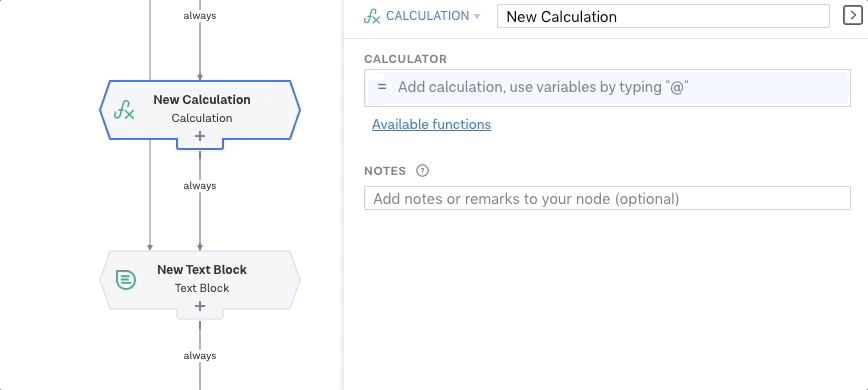 Click the plus icon " + " on a node.
Select New Action.
In the attribute editor that opens choose Calculation.
Double-click New Calculation and give your calculation a name. This name will not be displayed to your users.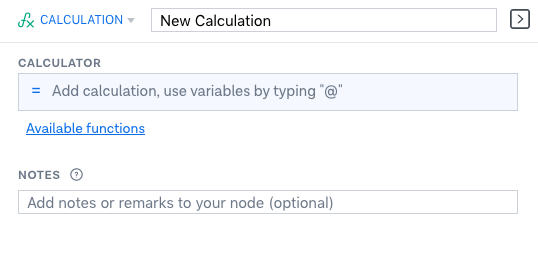 You should now see two empty parameters on the attribute editor, CALCULATOR and DESCRIPTION, as shown above.
Parameters
Calculator
Use this field to input a mathematical operation, just as you would in a spreadsheet calculator like Microsoft Excel. If you need help getting started, check out the list of available mathematical operations below. Use these operations while referencing values from other nodes in your module in order to perform calculations on them. Keep in mind that you cannot use commas "," as decimals. Instead, decimals require a dot "."
Don't worry: if we detect an error as you input operations and variables into this field, you will see a red warning triangle to the right of the field.
Description
In this field, you can provide an optional description for your calculation. This descriptor will display in the overview of your decision tree and help you keep track of what your calculation is doing. Your users will not be able to see your description.
List of most frequently used mathematical functions
ABS: Returns the absolute value of a number. The absolute value of a number is the number without its sign.

EXP: Returns e raised to the power of a given number
MAX: Returns the maximum value in a list of arguments
MEDIAN: Returns the median of the given numbers
MIN: Returns the minimum value in a list of arguments
POWER: Returns the result of a number raised to a power
PRODUCT: Multiplies its arguments
QUOTIENT: Returns the integer portion of a division
RANDBETWEEN: Returns a random number between the numbers you specify
ROUND: Rounds a number to a specified number of digits
ROUNDDOWN: Rounds a number down, toward zero
ROUNDUP: Rounds a number up, away from zero
SQRT: Returns a positive square root
SQRTPI: Returns the square root of (number * pi)
SUM: Adds its arguments
List of all available mathematical functions
ABS: Returns the absolute value of a number
ACOS: Returns the arccosine of a number
ACOSH: Returns the inverse hyperbolic cosine of a number
ACOT: Returns the arccotangent of a number
ACOTH: Returns the hyperbolic arccotangent of a number
AGGREGATE: Returns an aggregate in a list or database
ASIN: Returns the arcsine of a number
ASINH: Returns the inverse hyperbolic sine of a number
ATAN: Returns the arctangent of a number
ATAN2: Returns the arctangent from x- and y-coordinates
ATANH: Returns the inverse hyperbolic tangent of a number
CEILING: Rounds up a number to the nearest integer or to the nearest multiple of significance
COS: Returns the cosine of a number
COSH: Returns the hyperbolic cosine of a number
COT: Returns the hyperbolic cosine of a number
COTH: Returns the cotangent of an angle
CSC: Returns the cosecant of an angle
CSCH: Returns the hyperbolic cosecant of an angle
DEGREES: Converts radians to degrees
EVEN: Rounds a number up to the nearest even integer
EXP: Returns e raised to the power of a given number
FACT: Returns the factorial of a number
FACTDOUBLE: Returns the double factorial of a number
FLOOR: Rounds a number down, toward zero
GCD: Returns the greatest common divisor
INT: Rounds a number down to the nearest integer
ISO.CEILING: Returns a number that is rounded up to the nearest integer or to the nearest multiple of significance
LCM: Returns the least common multiple
LN: Returns the natural logarithm of a number
LOG: Returns the logarithm of a number to a specified base
LOG10: Returns the base-10 logarithm of a number
MAX: Returns the maximum value in a list of arguments
MEDIAN: Returns the median of the given numbers
MIN: Returns the minimum value in a list of arguments
MOD: Returns the remainder from division
MROUND: Returns a number rounded to the desired multiple
MULTINOMIAL: Returns the multinomial of a set of numbers
ODD: Rounds a number up to the nearest odd integer
PI: Returns the value of pi
POWER: Returns the result of a number raised to a power
PRODUCT: Multiplies its arguments
QUOTIENT: Returns the integer portion of a division
RADIANS: Converts degrees to radians
RAND: Returns a random number between 0 and 1
RANDBETWEEN: Returns a random number between the numbers you specify
ROUND: Rounds a number to a specified number of digits
ROUNDDOWN: Rounds a number down, toward zero
ROUNDUP: Rounds a number up, away from zero
SEC: Returns the secant of an angle
SECH: Returns the hyperbolic secant of an angle
SERIESSUM: Returns the sum of a power series based on the formula
SIGN: Returns the sign of a number
SIN: Returns the sine of the given angle
SINH: Returns the hyperbolic sine of a number
SQRT: Returns a positive square root
SQRTPI: Returns the square root of (number * pi)
SUBTOTAL: Returns a subtotal in a list or database
SUM: Adds its arguments
SUMPRODUCT: Returns the sum of the products of corresponding array components
SUMSQ: Returns the sum of the squares of the arguments
SUMX2MY2: Returns the sum of the difference of squares of corresponding values in two arrays
SUMX2PY2: Returns the sum of the sum of squares of corresponding values in two arrays
SUMXMY2: Returns the sum of squares of differences of corresponding values in two arrays
TAN: Returns the tangent of a number
TANH: Returns the hyperbolic tangent of a number
TRUNC: Truncates a number to an integer
Keywords: percentage; percent; per cent; %