Use the Multiple select answer type in a node to allow your user to select one or more responses in answer to your question. For instance, you can perform a risk assessment based on the types of payment your user selects or create a checklist.
Example use cases
Evaluate your customer based on types of payments
Give your user the opportunity to submit one or more types of payments. Then, evaluate your customer based on the type of payment he has to offer. For instance, if he only selects cash as an option, the business risk will be higher.
Add clauses to a document based on checklist options
Let's say you want to add clauses to a document. Use the Multiple select answer type to create a checklist of options, where each option represents a clause. Then, your users can select one or more options (clauses) and you can reference these clauses to create a document.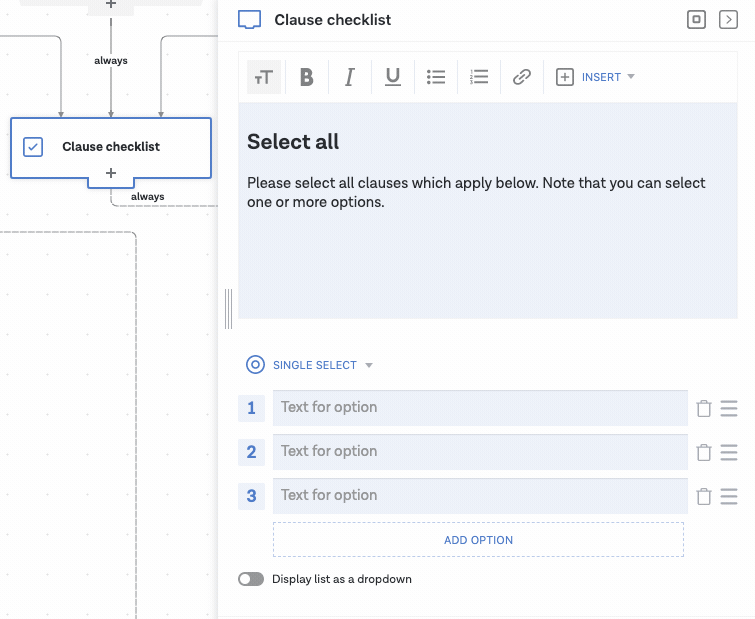 Also interesting:
Parameters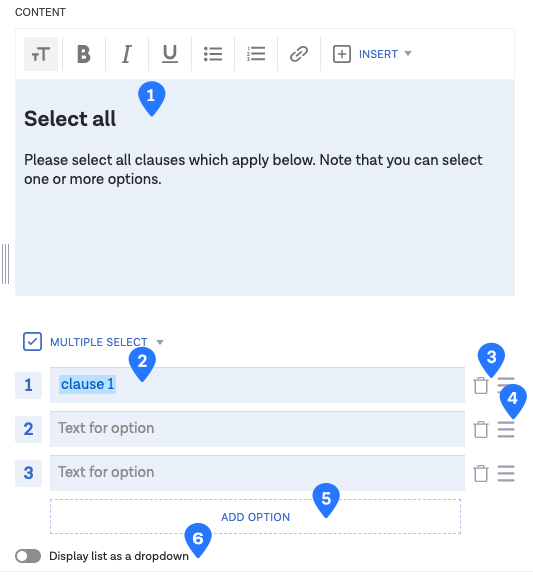 [ 1 ] Content
Use this area to ask your user to select one or more options. You can use the same formatting options available to you when you create other nodes in your module. As with other nodes, click on INSERT to add content insert items (conditional blocks, info blocks, or images). You can also reference values from other nodes in this field.
[ 2 ] Text input fields
In the numbered blank fields below the Content area, you can add your answer choices. Note that you can reference a value from another node.
[ 3 ] Trash can
Use the trash can icon next to an answer choice to delete the answer.
[ 4 ] Three bars
Use the three bars next to an answer choice to change the order in which the answer is displayed by dragging it up or down.
[ 5 ] Add option
Click ADD OPTION to add more answer choices.
[ 6 ] Display list as a dropdown
Toggle this button to display your response choices as a dropdown menu. This is highly recommended if you have more than five response options.